This content contains affiliate links. When you buy through these links, we may earn an affiliate commission.
Just as many movies about teens are rated R, many movies that should appeal to MG readers are rated PG-13, shutting out some younger MG readers. I dug around and found some good PG options, though! I stuck to this century, but did go back a bit further than I'd hoped in order to present a variety of genres and themes.
I found a few interesting things about movies for MG viewers, compared to movies for YA viewers. There are more MG movies about boys, but even fewer directed by women. I have also noticed that movies for/about tweens are most likely to be adaptations, so I have included both adaptations and movies not based on books that should appeal to readers of MG fiction.
Descriptions are from IMDb.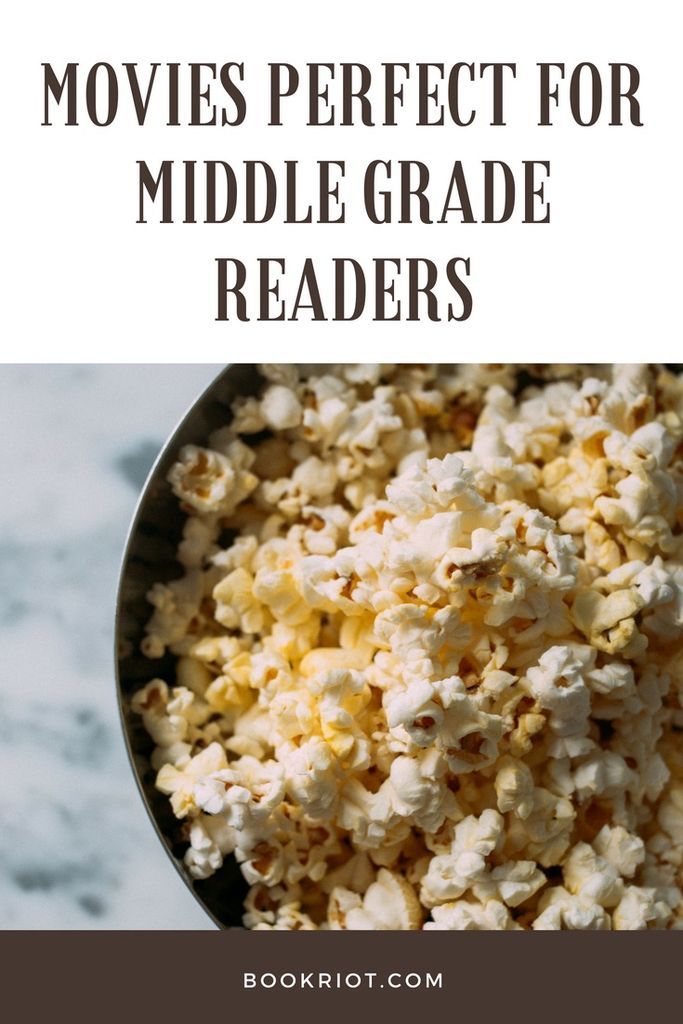 Movies For MG Readers
Inside Out (2015), d. Pete Docter, Ronnie Del Carmen
"After young Riley is uprooted from her Midwest life and moved to San Francisco, her emotions – Joy, Fear, Anger, Disgust and Sadness – conflict on how best to navigate a new city, house, and school."
Rated PG.
Super 8 (2011), d. J.J. Abrams
"During the summer of 1979, a group of friends witness a train crash and investigate subsequent unexplained events in their small town."
Rated PG-13
Zathura (2005), d. Jon Favreau
"Two young brothers are drawn into an intergalactic adventure when their house is hurled through the depths of space by the magical board game they are playing."
Rated PG.
Movies Adapted from MG Books
Jessica Darling's It List (2016), d. Ali Scher, based on Jessica Darling's IT List by Megan McCafferty
"Jessica Darling's older sister gives her the "IT List," a checklist on how to navigate the middle school popularity hierarchy. The instructions appear simple enough to follow, but like life, nothing is as easy as it seems."
Not Rated.
Diary of a Wimpy Kid (2010), d. Thor Freudenthal, based on Diary of a Wimpy Kid by Jeff Kinney
"The adventures of a 12 year old who is fresh out of elementary and transitions to middle school, where he has to learn the consequences and responsibility to survive the year."
This one is the first in a series (both book and movie)! Rated PG.
Fantastic Mr. Fox (2009), d. Wes Anderson, based on Fantastic Mr. Fox by Roald Dahl
"An urbane fox cannot resist returning to his farm raiding ways and then must help his community survive the farmers' retaliation."
Rated PG.
The Tale of Despereaux (2008), d. Sam Fell, Robert Stevenhagen, based on The Tale of Despereaux by Kate DiCamillo
"An unusually brave mouse helps to restore happiness to a forlorn kingdom after making friends with a gentleman rat."
Rated G.
ICYMI
First of all, you need to know that Deepali has been rounding up bookish Twitter and it has been so very good.
Sequel to CRAZY RICH ASIANS Moving Forward at Warner Bros
On SHARP OBJECTS and Not Demanding That Our Women Leads Be Perfect
12 Queer YA Books That Should be Adapted into Movies