This content contains affiliate links. When you buy through these links, we may earn an affiliate commission.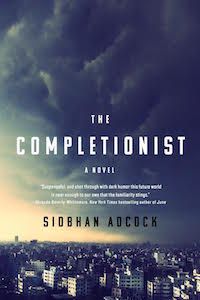 Siobhan Adcock is the author of the novels The Barter and The Completionist. Her short fiction has been published in Triquarterly and The Massachusetts Review, and her essays and humor writing have appeared in Salon, The Daily Beast, and Huffington Post. She lives with her husband and daughter in Brooklyn.
Twitter Handle: @siobhanster
---
Margaret Atwood recently reiterated on Twitter something she has often said about her 1984 classic The Handmaid's Tale: that she was very careful not to put anything in it that hadn't already happened (or that wasn't still happening) in the real world, somewhere.
Children ripped away from their parents, perhaps permanently, by a government claiming to act in the best interests of all? That's just some dystopian-novel plot twist, right? Gotta be. But as the events unfolding on America's southern border have proven this month, there is nothing speculative, or even really fictional, about the future Atwood's novel depicts.
The central tragedy of The Handmaid's Tale, and the related Hulu series for which Atwood is executive producer, is the heroine Offred's loss of her daughter. In fact, of all the horrifying losses women face in Atwood's story, from sexual freedom to written language, Gilead's widespread kidnapping of the children of handmaids is depicted as the most intimate and horrifying crime, the one Offred can barely make herself think about. Because it is unthinkable, that any version of the future—or the present—should sanction the forcible separation of parents and children.
Atwood's novel is a motivating work of art that's almost impossible to read without becoming a feminist—or that much more of a feminist than you already were. But it's the rare dystopian novel that can present a vision of the future in which women are more powerful, or even just less vulnerable (Naomi Alderman's 2016 novel The Power being a notable and awesome exception to the rule). Atwood's book is one of several powerful feminist dystopian fictions that reinforce how mothers, specifically, are at risk in the kind of state-created madness that typifies these chilling near-futures.
Octavia Butler's 1998 Parable of the Talents, as many of her fans now know, predicted so much about our current political moment that it even prefabricated a certain President's favorite catchphrase. Like Atwood's novel, the plot also concerns a mother-daughter pair struggling to find each other after a painful separation. Even in the disintegrating world this novel shows, after a two-decade apocalypse of "accidentally coinciding climatic, economic, and sociological crisis" (which the narrator tells us starts, oh, like, two years ago, NBD), nothing is as frightening as a mother and her child pulled apart.
If Atwood's is a dystopia made of authoritianism, and Butler's is a dystopia made of disintegration, the writer Megan Hunter has created a dystopia made of collapse in her 2017 novel The End We Start From, in which a young woman tries to keep her child alive in the aftermath of a flood that destroys London. As the narrator, a mother and a refugee, flees the violence and destruction of a dystopian near-future born of climate change and political turmoil, it's possible (more than possible) to read echoes of the desperate choices faced by the parents of young children fleeing violence and destruction for America in today's headlines.
Because there's more at stake in these feminist dystopian novels about motherhood than just kickstarting a page-turning plot line, of course. Mothers and fathers at our own border are right now, today, facing risks that may have once seemed as remote from contemporary American life as AI or floating cars.
Mothers in the dystopian futures we read about have more to lose than Harrison Ford's character in Blade Runner (although the writers of Blade Runner 2049 seem to have gotten that particular memo). Powerful feminist writers have amplified this point. It's up to all of us to make sure that dystopia stays on the page where it belongs, and where it can inspire and empower us to act in a way that preserves our humanity even in times that challenge it most. Conflict is at the heart of all great works of fiction. Empowering the disempowered is at the heart of all great works of progress.