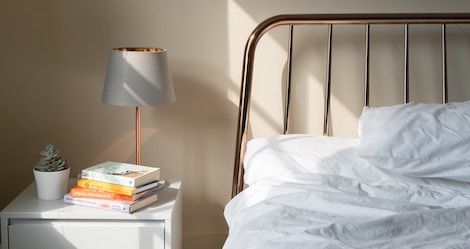 Lists
The 50 Most Common TBR Books, According To Goodreads Users
This content contains affiliate links. When you buy through these links, we may earn an affiliate commission.
In honor of Book Riot's release of TBR: Tailored Book Recommendations (it's like StitchFix, but for book recommendations so instantly 1000% more awesome), I dug into the data behind the most common to-be-read books according to Goodreads users. What's the classic book that everyone means to get to, but just hasn't yet? Which YA novel is on the most TBR lists? And which books published in the last two years are the most sought-after?
Disclaimers
I've got a few, so hold on.
First, these numbers are based on the most commonly-used Goodreads bookshelf about this topic: "to-read" with 1.1 billion shelved books. Of course, this takes into account only a small percentage of readers who actually use this tag to mark their TBR books. (But it's a billion, so we're at a good start.) All numbers given are from November 2018 and may not reflect stats you see later.
Next, I organized these into a few separate genres. Likely you've heard about the top ten TBR classics because they're books EVERYONE has heard about and means to read. But, by dividing into classics, YA, nonfiction, and new releases, I think you get a better picture of the types of books that are on reader's lists.
Finally, this list is a pretty stark example of how white-washed publishing was historically and continues to be. Many of these books were "buzzy" releases that garnered a lot of marketing dollars and attention or, in the case of classics, filled school curriculums. And, unfortunately, the vast majority of that attention went to white authors. It's only in the TBR books from the last two years—when publishing has begun making efforts towards inclusion—that we begin to see anything even remotely approaching the actual diversity of our population, and even that falls short.
Most Common TBR Books on Goodreads
With that being said, these are the top books Goodreads users absolutely can't wait to read.
TBR Books: The Classics
TBR Books: Contemporary Novels
TBR Books: YA and Middle Grade
TBR Books: Nonfiction
New TBR Books (2016–2018 Releases)
Since these books are bound to have fewer overall labels than older releases, I wanted to focus on the top TBR books released in the last two years.
---
Which of these books are on your TBR list? Hit the comments to share books you've been meaning to read but. just. haven't.
Want to dig into some other juicy Goodreads stats? Check out the highest-rated books on Goodreads and the most common DNFed books .
Finally, if you want to build out your own stack of books, get yourself over to TBR to get custom-made-for-you book recommendations.