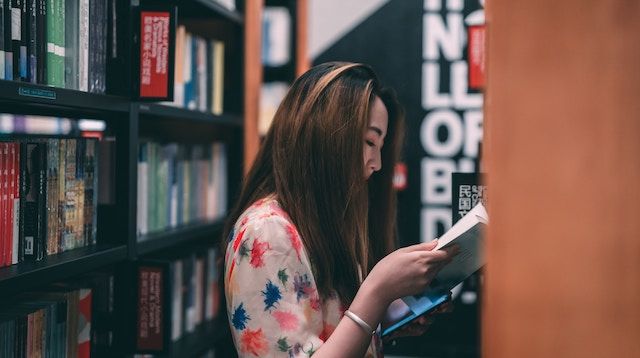 Libraries
The Most Popular Under The Radar Books In Libraries: Spring/Summer 2019
This content contains affiliate links. When you buy through these links, we may earn an affiliate commission.
Earlier this summer, I highlighted the most popular books in libraries that are under-the-radar from the first quarter of the year, thanks to the work of Panorama Picks. They've recently released their second quarter titles and numbers, highlighting those most popular books in libraries that aren't the best sellers for the months of April–June.
As noted in the previous post, the Panorama Project looks at the books most frequently requested at libraries across the U.S. and breaks down the popularity by region. This snapshot is extremely intriguing, as it not only gives the top-down perspective of the current big books, but it also gives a more micro level look at which books are popular in specific areas of the country. It's a neat means of seeing if some books are more popular in, say, the midwest than in the southeast, or in California as opposed to the northeast.
More, these are under-the-radar books, rather than simply the best selling titles that land on every widely available list and publication.
Panorama Picks acquires their information via aggregated and anonymous ebook borrower data and makes it freely available, with an interest in reaching the eyes of local booksellers who might be able to meet the demand of those patrons. Their criteria, as listed on their website, is as follows:
We create lists of the most in-demand titles in each category for eight regions around the country.

We then identify and rank the adult/young-adult fiction and non-fiction titles published in the last 12 to 24 months. These are titles booksellers are likely to have in stock that in many cases aren't enjoying significant sales.

Next, we weed out well known bestsellers, book club selections and other heavily promoted titles.
They're able to offer up a really nice range of titles, and, for readers, a new means of looking at what their neighbors are reading and maybe what they, too, might find interesting. (Note that, of course, this data is limited to ebook data, so it doesn't take into account those without ereaders, those who don't know or use library ebook services, or books which do not have an ebook format or are available to the library ebook market).
Regions are defined by those used for independent bookstores across the U.S. I've started with looking at the books overall, then broken them out by region. These numbers look only at adult fiction, adult nonfiction, and young adult books (both fiction and nonfiction). Worth noting: it appears anything in the comic format, unless very obviously for adults, ends up in YA. So some of the titles in the top 10 across regions don't exactly fit what YA more traditionally includes. But they're interesting to see nonetheless.
The Most Popular Under-The-Radar Library Books, April–June 2019
The titles below are limited to ten at most, ranked by highest library popularity.
Adult Fiction
This is such a fascinating assortment of titles, with a pile more titles landing on three of the regional lists. The list includes romance—always a solid library genre—as well as books by established genre authors who focus on women's reading interests like Mansell, Chamberlain, and Roberts.
Looking at the titles is fun here, too: we have sunlight and rain, as well as both a book and a bookshop.
Adult Nonfiction
Not included above are the pile of books appearing on three lists across the regions. It's not surprising that self-improvement, parenting, and books about health, food, and fitness top the list here. Titles that were on three lists included additional titles in these categories of nonfiction like Buttermilk Graffiti, You Do You, and Dr. Colbert's Keto Zone, among others.
Young Adult Fiction and Nonfiction
What I find most fascinating about the young adult lists are their spread of titles. While some books appear on half of the regional lists, most books within the lists see themselves only there or on one additional list. It seems as though the titles being borrowed within the YA category spanning fiction and nonfiction, as well as comics, allows for such a spread (that's pure speculation, of course!). It could also be indicative of general regional trends for genre and format among younger readers.

The Most Popular Under-The-Radar Library Books by Region, April–June 2019
California
Adult Fiction
Before I Let You Go by Kelly Rimmer

The Book of Essie by Meghan MacLean Weir

Strange Dogs by James SA Corey

The Book Club by Mary Alice Monroe

Song of a Captive Bird by Jasmin Darznik

Send Down the Rain by Charles Martin

The Glass Room by Ann Cleeves

Auntie Poldi and the Sicilian Lions by Mario Giordano, John Brownjohn

Only Human by Sylvain Neuvel

In the Distance by Hernan Diaz
Adult Nonfiction
The Colorful Dry Garden by Maureen Gilmer

The Years by Annie Ernaux, Alison L. Strayer

It's Not Always Depression by Hilary Jacobs Hendel, Diana Fosha

The Fourth Trimester by Kimberly Ann Johnson

Unfuck Your Brain by Faith Harper, PhD

This is Going to Hurt by Adam Kay

Buttermilk Graffiti by Edward Lee

The Baby-Led Weaning Family Cookbook by Tracey Murkett, Gill Rapley

The Displaced by Viet Thanh Nguyen

How to Be Single and Happy by Jennifer Taltz
Young Adult
Brazen by Pénélope Bagieu

Lost Crow Conspiracy (Blood Rose Rebellion, Book 2) by Rosalyn Eves

You Will Be Mine by Natasha Preston

The Freddy Files by Scott Cawthon

The Chaos of Standing Still by Jessica Brody

The Handsome Girl & Her Beautiful Boy by BT Gottfried

The Legend of Korra

The Promised Neverland, Volume 1 by Kaiu Shirai, Posuka Demizu

The Body by Stephen King

Frat Girl by Kiley Roache
Great Lakes (Illinois, Indiana, Kentucky, Ohio, Michigan)
Adult Fiction
A Devil of a Duke by Madeline Hunter

A Princess in Theory by Alyssa Cole

Convenience Store Woman by Sayaka Murata, Ginny Tapley Takemori

Death by Chocolate Cherry Cheesecake by Sarah Graves

Space Opera by Catherynne M. Valente

A Treacherous Curse by Deanna Raybourne

Pelican Point by Irene Hannon

The One You Can't Forget by Roni Loren

Night Moves by Nora Roberts

Three Days Missing by Kimberly Belle
Adult Nonfiction
My Morning Routine by Benjamin Spall, Michael Xander

You Do You by Sarah Knight

New Minimalism by Kyle Louise Quilici

The Book of Why by Judea Pearl, Dana Mackenzie

The Royal Art of Poison by Eleanor Herman

Off the Clock by Lauren Vanderkam

Finish by Jon Acuff

Army of None by Paul Scharre

Get Over It! by Iyanla Vanzant

The Yes Brain by Daniel J. Siegel, Tina Payne Bryson
Young Adult
Most Wanted by Rae Carson

The Summer of Broken Things by Margaret Peterson Haddix

Never Say Die by Anthony Horowitz

Dare Mighty Things by Heather Kaczynski

Sparks of Light by Janet B. Taylor
The Freddy Files by

Scott Cawthon

Lies You Never Told Me by

Jennifer Donaldson

August and Everything After by

Jennifer Salvato Doktorski

Haunting The Deep by

Adriana Mather

Fragments of the Lost by

Megan Miranda
Hawaii
Adult Fiction
Harry's Trees by Jon Cohen

Vampire's Faith by Rebecca Zanetti

One and Only by Jennifer Holiday

Dark Queen by Faith Hunter

Nightblind by Ragnar Jonasson

A Princess In Theory by Alyssa Cole

Sleep Like a Baby by Charlaine Harris

Watch Me Disappear by Janelle Brown

Highland Promise by

Alyson McLayne

Down A Dark Road by

Linda Castillo
Adult Nonfiction
Assume the Worst by Carl Hiaasen, Roz Chast

Strong As a Mother by Kate Rope

Complete Family Wealth by James E. Hughes, Jr., Susan E. Massenzio, Keith Whitaker

Surviving and Thriving with an Invisible Chronic Illness by Ilana Jacqueline

Logical Family by Armistad Maupin

Rick Steves Iceland by Rick Steves

Crazy Love by

Francis Chan

Food by

Mark Hyman

The Perfect Cookie by America's Test Kitchen
The Common Good by

Robert B. Reich
Young Adult
All That Was by Karen Rivers
In Her Skin by Kim Savage
Now You See Her by

Lisa Leighton, Laura Stropki

One-Punch Man, Volume 13 by

ONE, Yusuke Murata, ONE, Yusuke Murata

One-Punch Man, Volume 12 by

ONE, Yusuke Murata, ONE, Yusuke Murata

All We Can Do Is Wait by

Richard Lawson

Crystal Blade by

Kathryn Purdie

The Boyfriend Bracket by

Kate Evangelista

Neanderthal Opens the Door To The Universe by

Preston Norton

Spinning by Tillie Walden
Midwest (Illinois, Iowa, Kansas, Minnesota, Missouri, Nebraska, North Dakota, South Dakota, Wisconsin)
Adult Fiction
My Ex-Life by

Stephen McCauley

A Princess In Theory by Alyssa Cole
A Summer In Sonoma by

Robyn Carr

The Stolen Marriage by

Diane Chamberlain

The Secret Book & Scone Society by Ellery Adams

The Bookshop Of Yesterdays by

Amy Meyerson

The Book of M by

Peng Shepherd

Still Lives by

Maria Hummel

The Room on Rue Amélie by Kristin Harmel

Tin Man by

Sarah Winman
Adult Nonfiction
The Courage to Be Disliked by Ichiro Kishimi, Fumitake Koga

What To Expect Before You're Expecting by

Heidi Murkoff, Sharon Mazel

The Cadaver King and Country Dentist by

Radley Balko, Tucker Carrington, John Grisham

Building A StoryBrand by

Donald Miller

Resilient by

Rick Hanson, Ph.D., Forrest Hanson

Tip Of The Iceberg by

Mark Adams

Basic Witches by

Jaya Saxena, Jess Zimmerman

The Complete Make-Ahead Cookbook by

America's Test Kitchen

Keto Slow-Cooker and One-Pot Meals by

Martina Slajerova

Doing Harm by

Maya Dusenbery
Young Adult
Little Monsters by Kara Thomas
Fragments of the Lost by Megan Miranda
Sovereign by April Daniels
Amid Stars and Darkness by

Chani Lynn Feener

Fugitive Six by Pittacus Lore
Immortal Reign by

Morgan Rhodes

Hunting Prince Dracula by

Kerri Maniscalco

Ice Wolves by

Amie Kaufman, Levente Szabo

Reign Of The Fallen by

Sarah Glenn Marsh

Top Ten by Kate Cotugno
Mountains and Plains (Arizona, Colorado, Kansas, Montana, Nebraska, Nevada, New Mexico, Oklahoma, South Dakota, Texas, Utah, Wyoming)
Adult
Blue Ridge Sunrise by Denise Hunter

Girls Burn Brighter by

Shobha Rao

The Armageddon File by

Stephen Coonts

Bluebird, Bluebird by

Attica Locke

Send Down The Rain by Charlotte Martin
Freshwater by

Akwaeke Emezi

Survive The Night by

Katie Ruggle

An Inconvenient Beauty by

Kristi Ann Hunter

This Could Change Everything by

Jill Mansell

Space Opera by

Catherynne M. Valente
Adult Nonfiction
Fodor's Essential Italy 2018 by Fodor's Travel

When Einstein Walked with Gödel by Jim Holt

Dr. Colbert's Keto Zone Diet by Don Colbert

Basic Witches by

Jaya Saxena, Jess Zimmerman

Dare To Sketch by

Felix Scheinberger

The Self-Driven Child by

William Stixrud, PhD, Ned Johnson

Why Are All The Black Kids Sitting Together In The Cafeteria by

Beverly Daniel Tatum

A Life Less Throwaway by

Tara Button

Real Life Dinners by Rachel Hollis
Ready or Not! by

Michelle Tam, Henry Fong
Young Adult
In Some Other Life by Jessica Brody

Piper by

Jay Asher, Jessica Freeburg, Jeff Stokely

Never Say Die by

Anthony Horowitz

The Surface Breaks by

Louise O'Neill

Life Inside My Mind edited by Jessica Burkhart
Sightwitch by Susan Dennard
Now A Major Motion Picture by Cori McCarthy
All Out edited by Saundra Mitchell
Frat Girl by Kiley Roache
A Teen's Guide to Getting Stuff Done by

Jennifer Shannon, Doug Shannon
New Atlantic (Delaware, District of Columbia, Maryland, New York, New Jersey, Pennsylvania, Virginia, West Virginia)
Adult Fiction
The Music Shop by

Rachel Joyce

The Sun and Her Flowers by

Rupi Kaur

Iron and Magic by

Ilona Andrews

The Husband Hour by

Jamie Brenner

Red Clocks by

Leni Zumas

Everything Here Is Beautiful by

Mira T. Lee

The Broken Girls by

Simone St. James

The Western Star by

Craig Johnson

Women In Sunlight by

Frances Mayes

Night Moves by Nora Roberts
Adult Nonfiction
Rick Steves Paris 2018 by Rick Steves

Baby-Led Feeding by

Jenna Helwig

Invested by

Danielle Town, Phil Town

Powerful by

Patty McCord

The Secret Lives of Colors by

Kassia St Clair

Keto Lunches by

Stephanie Pedersen

The Beginner's Keto Diet Cookbook by

Martina Slajerova

Letters To The Church by

Francis Chan

Ask A Manager by

Alison Green

Rick Steves Italy 2018 by Rick Steves
Young Adult
Paper Hearts by Ali Novak
The Dangerous Art of Blending In by

Angelo Surmelis

The Wicker King by K. Ancrum
Never Say Die by Anthony Horowitz
Invictus by

Ryan Graudin

The Fourth Closet by

Scott Cawthon, Kira Breed-Wrisley

Wolves and Roses by

Christina Bauer

The IF In Life by

Rashad Jennings, Michael Strahan

The Nowhere Girls by Amy Reed
I Stop Somewhere by TE Carter
New England (Connecticut, Maine, Massachusetts, New Hampshire, New York, Rhode Island, Vermont)
Adult Fiction
A Princess In Theory by Alyssa Cole
Hellbent by

Gregg Hurwitz

Call Mr. Zebra by

Azareen Van der Vliet Oloomi

Night Moves by Nora Roberts
The Book Club by

Mary Alice Monroe

This Could Change Everything by

Jill Mansell

Her Body and Other Parties by

Carmen Maria Machado

My Ex-Life by

Stephen McCauley

The Summer List by

Amy Mason Doan

Provenance by Ann Leckie
Adult Nonfiction
New Minimalism by

Kyle Louise Quilici

The Secret Lives of Colors by

Kassia St Clair

Dr. Colbert's Keto Zone Diet by Don Colbert

The Bogleheads' Guide to the Three-Fund Portfolio by Taylor Larimore, John C. Bogle

The Third Door by

Alex Banayan

Unbeaten by

Mike Stanton

Would You Rather? by

Katie Heaney

Rick Steve's Paris 2018 by Rick Steves
Ayurveda by

Sahara Rose Ketabi, Deepak Chopra

How To Stop Feeling Like Sh*t by

Andrea Owen
Young Adult
Onyx and Ivory by

Mindee Arnett

Mask of Shadows by

Linsey Miller

Reflection by

Elizabeth Lim

Lies You Never Told by

Jennifer Donaldson

Now Is Everything by Amy Giles
What You Left Me by

Bridget Morrissey

Defy The Worlds by Claudia Gray
Kenzie's Rules for Life by

Mackenzie Ziegler, Maddie Ziegler

Nothing Happened by Molly Booth
Wolves and Roses by

Christina Bauer
Pacific Northwest (Alaska, Idaho, Montana, Oregon, Washington)
Adult Fiction
The Hunger by

Alma Katsu

Crimson Lake by

Candice Fox

The Gray Ghost by

Clive Cussler, Robin Burcell

More Than Meets The Eye by

Karen Witemeyer

Mr. Flood's Last Resort by

Jess Kidd

A Defense of Honor by

Kristi Ann Hunter

An Unkindness of Ghosts by Rivers Solomon
Grey Sister by

Mark Lawrence

The Sparsholt Affair by

Alan Hollinghurst

This Could Change Everything by

Jill Mansell
Adult Nonfiction
Modern Macrame by

Emily Katz

Brain Food by

Lisa Mosconi PhD

The Abundance of Less by

Andy Couturier

Ready or Not! by

Michelle Tam, Henry Fong

Algorithms of Oppression by

Safiya Umoja Noble

No More Mean Girls by

Katie Hurley

The Self-Love Experiment by

Shannon Kaiser

The Rational Bible by

Dennis Prager

The Green Witch by

Arin Murphy-Hiscock

The Million-Dollar, One-Person Business by

Elaine Pofeldt
Young Adult
Take Me On by Katie McGarry
Ink, Iron, and Glass by Gwendolyn Clare
The Mond Virus by Donna Freitas
Hope Nation by Rose Brock
My Hero Academia: Vigilantes, Volume 1 by Hideyuki Furuhashi, Betten Court
The Wicker King by K. Ancrum
Cross Fire by Fonda Lee
Bright Burns The Night by Sara B. Larson
Speak: The Graphic Novel by Laurie Halse Anderson and Emily Carroll
Berserker by Emmy Laybourne
Southeast (Alabama, Arkansas, Florida, Georgia, Kentucky, Louisiana, Mississippi, North Carolina, South Carolina, Tennessee, Virginia)
Adult Fiction
Night Moves by Nora Roberts
Survive The Night by

Katie Ruggle

Vampire's Faith by

Rebecca Zanetti

The Address by

Fiona Davis

A Princess In Theory by Alyssa Cole
Unbridled by Diana Palmer
The Book of Essie by

Meghan MacLean Weir

As Bright As Heaven by

Susan Meissner

Hellbent by

Gregg Hurwitz

The Room on Rue Amélie by Kristin Harmel
Adult Nonfiction
Own the Day, Own Your Life by Aubrey Marcus

The Financial Diet by

Chelsea Fagan, Lauren Ver Hage

You Do You by Sarah Knight
Crazy Love by Francis Chen
The Million-Dollar, One-Person Business by

Elaine Pofeldt

Real Life Dinners by Rachel Hollis
Less by

Rachel Aust

Invested by

Danielle Town, Phil Town

This Is Going To Hurt by Adam Kay
The Butchering Art by

Lindsey Fitzharris
Young Adult
Lies You Never Told Me by Jennifer Donaldson
A Conspiracy of Stars by Olivia A. Cole
Satellite by Nick Lake
Moonrise by Sarah Crossan
The IF In Life by

Rashad Jennings, Michael Strahan

Reign of the Fallen by

Sarah Glenn Marsh

Anger Is A Gift by Mark Oshiro
I Hate Everyone But You by

Gaby Dunn, Allison Raskin

The Nowhere Girls by Amy Reed
Runaways by

Christopher Golden