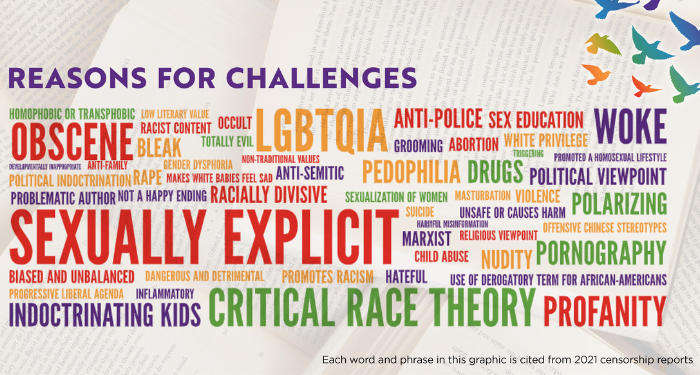 News
Here are the Top 10 Most Banned and Challenged Books of 2021
This content contains affiliate links. When you buy through these links, we may earn an affiliate commission.
The American Library Association's Office for Intellectual Freedom has released a list of the top 10 most challenged books of 2021. They tracked 729 challenges representing 1,597 books, but that is just the challenges that were either reported to the ALA or received significant media attention. They estimate about 90% of formal challenges go unreported and have no media coverage, while many more books are "unofficially" taken off the shelves or are never stocked at all for fear of being challenged.
Here are the top 10 most banned and challenged books of 2021, along with the reasons they were challenged.
The ALA shared a word cloud with the most common reasons books are banned or challenged. It also acts as a snapshot of the political discourse around these books in the last year, with "LGBTQIA," "critical race theory," and "woke" being some of the most common reasons. (Next to "sexually explicit," which coincidentally only seems to be applied to LGBTQIA books or books by and about people of color.)
You can see previous years' top ten most challenged books, as recorded by the Office for Intellectual Freedom, at the ALA website.
To keep up with censorship news, check out Book Riot's weekly Censorship News Round Up. To fight back against censorship and book bans, try the Anti-Censorship Tool Kit.