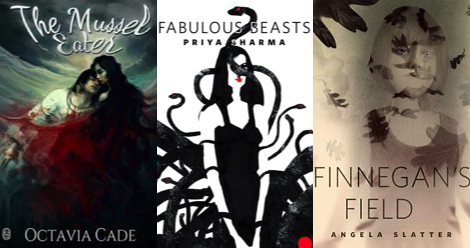 Feminism
7 Monstrous, Feminist, and Free Short Stories
This content contains affiliate links. When you buy through these links, we may earn an affiliate commission.
I first became familiar with the term 'monstrous feminine' in a science fiction film class I took in undergrad. The professor assigned us an essay after every film, and after watching the first Alien movie, I did some research and came across the term, popularized by Barbara Creed in Monstrous-Feminine: Film, Feminism, Psychoanalysis. And of course I wrote my essay about the monstrous feminine in Alien, which the professor loved. It was a definite win of an essay, though an idea already well-covered by academics.
After that, I started seeing the monstrous feminine everywhere, and, eventually, I found empowerment and agency in those representations. These female monsters did things I could only dream of, or didn't even know I dreamed of doing. They could enact all the anger and rage I felt toward patriarchal society, and then some. Horror can be a way of healing. We all dream of being a monster, and those dreams don't have to be bad ones.
As these short stories show, the monstrous feminine can be damn scary, but also empowering. If you're looking for some unique and scary Halloween reads, then look no further. And they're all free!
Trigger warning: these stories describe sexual and non-sexual violence.
Isabel Yap — the queen of the monstrous feminine in short stories. Four of her stories made my long list until I finally narrowed it down to "The Oiran's Song," but if you want more monster stories, check out her publications' list. Her writing combines the beautiful with the eerie. Trigger warnings abound: it's a tough read. The monster here is the Japanese oni, ogre-like creatures popular in Japanese mythology.
Snakes are creepy in and of themselves, but combine that with abuse, victimization, and gritty writing, and I'm both uncomfortable and moved. Which only the best horror fiction can pull off.
Vampires are loose in a woman's sanatorium. You may already be familiar with Malinda Lo from her popular YA novels Ash and Huntress. This story is a bit of a departure as it's geared toward adults, but fans of Lo will not be disappointed. It reminded me a bit of one of my favorite short stories, the classic The Yellow Wallpaper by Charlotte Perkins Gilman.
I know all of these are horror, but this one's especially dark, I think because the monster is a little girl. I like my fictional children fun and playful. Not . . . like this. Is she a changeling child, or not? This one seriously disturbed me the first time I read it. And the second.
Rib by Yukimi Ogawa
Another Japanese monster — the hone-onna — or skeleton woman. She should be terrifying, but this story subverts expectations when a little boy sees something more than a monster.
Hungry by Shveta Thakrar
This one's very short and not so sweet, in the best of ways. Most of Thakrar's stories tend to be gently complex with an edge, but "Hungry" contains all edge. When a rakshasi — a monster from Hindu mythology — awakens after centuries, she's very, very hungry.
Mermaids aren't scary, right? They wear shell bras and sing a lot and brush their hair with forks. There's no such thing as a scary . . . oh . . . wait. Never mind. Meet the pania from Maori mythology. They are not your fork-brushing, shell-wearing mermaids of Disney. But they are badass scary. And delightful.
What are your favorite stories that feature the monstrous feminine?
Save