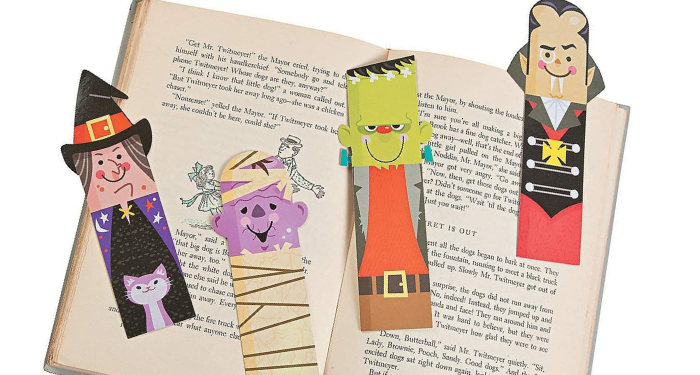 Book Fetish
The Best Monster Bookmarks To Add Some Thrills To Your Pages
This content contains affiliate links. When you buy through these links, we may earn an affiliate commission.
With Halloween just around the corner, it's the perfect time to give your reading a spooky makeover with some monster bookmarks!
As someone who is a total scaredy cat, spending October reading spooky books is not really something I can do, unless I want to lose a lot of sleep. But thankfully, reading horror or spooky books is not the only way to get into the seasonal spirit. Nor is it the only way to add a little spookiness to our reading lives. These adorable monster bookmarks can help get into the Halloween celebrations, even if you're not the type of person to pick up a spooky read.
There are also a variety of monster bookmarks, so there's something for everyone. From bookmarks of all of your classic monsters to adorable monster bookmarks. Bookmarks that are magnetic to bookmarks you can easily make with paper. There are DIY bookmarks to help you stretch your creative muscles, and can be a really fun activity to do with kids. And there are even printable bookmarks, which means you can have these in an instant!
Any of these bookmarks will help you get into the spirit of Halloween, so here are 12 monster bookmarks you should check out!
This magnetic monster bookmark is super adorable! $5
This loch ness monster bookmark is perfect for all your monstrous reading and it comes in a variety of colours! $10
These origami corner monster bookmarks are cute and easy to make yourself!
These laminated Halloween bookmarks come with a variety of monsters, including classics like Frankenstein! $11
These printable monster bookmarks have a variety of colourful and adorable templates. And they require a little bit of DIY too!
This monster bookmark kit is a perfect Halloween activity for kids! $7
These cute monster paperclip bookmarks are perfect accompaniments to your reading! $5
This magnetic zombie bookmark is perfect for any spooky read! $5
This printable bookmark is not only really colourful and adorable, but it's also extremely bookish. Perfect for any reader! $2
These cute embroidered bookmarks are the perfect reading companions for any kids! $8
This vampire-themed bookmark is perfect for all your spooky reads! $3
These Popsicle bookmarks are the perfect Halloween craft to do with kids!
---
Of course, after you've obtained the perfect monster bookmarks, you may want to try a bookmark that's a little different! Make sure you check out clever bookmarks for your kids, or some more fun DIY bookmarks…or maybe even these spooky bookmarks!