Horror
Modern Monsters: Three Books To Watch For
This content contains affiliate links. When you buy through these links, we may earn an affiliate commission.
Horror is universal, and no matter the time, there will always be monsters that continue to haunt us and perceive the world around us in new, uncanny ways. Some things, no matter the period, will always be able to tap into the primal fear that lurks in the back of our brains, encouraging us to move, to run, or to turn and face what's pursuing us. These three books below are taking that primal fear of monsters, ghosts, and werewolves, and finding new ways to explore, interpret, and interrogate them. These authors take the modern world, and using a mixture of real-world worries and age-old fears, find new ways to terrify us and investigate the human condition.
This Savage Song is Victoria Schwab's latest young adult novel, and it is one with chilling importance and symbolism, especially in the world we live in now. On an alternate earth, the United States as we know it has fractured, and the alternate history Schwab paints is bleak enough, but it pales in comparison to what has been unleashed in this alternate world: monsters. Born literally of the violent acts committed by human beings, these monsters stalk the world, living as they only know how to: through terror, fear, and blood. And in the divided city of Verity, it'll be two teenagers meeting that tip the precarious balance between two forces: Kate Harker, the cold, sharp daughter of a mobster ruling one half of the city, and August Flynn, a special breed of monster who's doing his best to be human and failing utterly. It's when these two meet that sparks fly, and fires catch. An incisive look at the terrible echoes that violence can cause, and the ripples that spread from hate, fear, anger, and pain, Schwab pushes the metaphors to their logical snapping point, and all through the young, forbidden relationship between a girl who wants to be monstrous, and a boy who's trying to be anything put. This novel rockets with the best of them, and if you're not breathless by the end, it's because you've forgotten how to breath.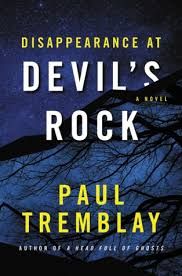 Disappearance At Devil's Rock by Paul Tremblay is his newest novel after his Shirley Jackson Award winning novel last year, A Head Full of Ghosts. When Elizabeth gets a call after midnight saying her teenage son Tommy has gone missing, it sends her and her family down a twisted path of loss, grief, anger, and terror. And when something looking like her lost son, a person wrapped in shadows and hiding in her room, appears, bearing hidden messages and notebooks of Tommy and his secrets, Elizabeth isn't sure what to believe. Tremblay tackles horror in our world of Snapchat, Minecraft, and more, and only uses this vein of modernity to make the horror that much more palpable; technology, more often than not, leads into a deeper tangle of truth and deceit. But the true horror here, as it tends to, focuses on that which people do to each other, and the ending of this book, as the truth comes out, left me breathless and in awe. Tremblay seamlessly blends the mundane and the supernatural, leaving you confused to which world you've stepped foot into. A stunning, sad, and terrifying novel about growing up, loneliness, family, tragedy, and identity, Disappearance At Devil's Rock isn't one to be missed.
Mongrels by Stephen Graham Jones is the great literary bildungsroman told from the perspective of a young man being raised by werewolves, and never quite sure if he's inherited the blood. Told in the expert voice of Jones, himself a veteran of literary horror, our young protagonist is shepherded through state after state, as his Aunt Libby and his Uncle Daryl, siblings who both share the blood, do their best to provide some semblance of normalcy. And yet, normalcy isn't in the blood, and time after time, they have to get back on the road. We follow our boy from the time he's a pup until he's verging on adulthood, through the southern United States, through the trials and tribulations of his family, and through the consequences of the wolf, which are myriad, bittersweet, sad, and many. As much as it is a novel meditating on identity, and loneliness, it is just as vested in exploring the ideas of family both born into and made, community, morality, and ultimately, finding the power to be who you are, no matter your past's long shadow, or what others want for you. Mongrels has teeth, and they sink to the bone.
In this summer of Stranger Things, these three authors and their worlds of darkness and hope in the face of such darkness can provide the horror fix you're craving.