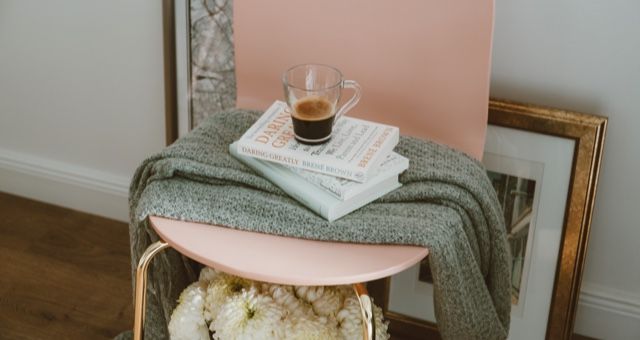 Lists
Millennial Pink YA Books
This content contains affiliate links. When you buy through these links, we may earn an affiliate commission.
Sometimes you know you just have to have a book for its aesthetic. I've bought a book just for its cover before. Let's be honest, we all have. Sometimes a cover is just so beautiful you just can't pass it up. And I'm not saying these 2019 millennial pink YA books all need to be in your collection (which would be the most epic pink bookshelf to ever exist); I'm just saying if you feel a need for more pink books in your life, 2019 is coming in clutch with some gorgeous options. And also that you should take cute pictures and post them everywhere because that would be awesome.
Laura Dean is Frederica's dream girl. There's only one problem: she's not a very good girlfriend. After some advice from a cryptic medium telling her to "break up with her," Freddy is more confused than ever. Because Laura Dean keeps coming back—and maybe it's not just Laura Dean who's the issue. Being a teenager in love in confusing. But with the help of an advice column, maybe Freddy can figure out how to fix her love life and be a better friend.
In the summer of 1958, Ruth and her family move from New York City to Atlanta, where she can be Jewish or popular, but not both. Soon she's sipping Cokes with a handsome boy named Davis at the all-white, all-Christian Club. Secretly, she still attends services at the local synagogue with her mother each week. There, she meets Max, serious and dedicated to social justice. He knows Ruth is torn between two worlds, hiding half of herself to fit in. And when a violent hate crime brings those two worlds into sharp contrast, she'll have to choose between belonging and sticking up for who she is and what she believes in.
Claire & Poppy have grown up as accidental social media stars thanks to their mom's blog going viral when they were babies. Attending NY fashion week is a blast, but there is a darker side to social media fame, too—especially if you didn't exactly choose it. Poppy loves the attention, but Claire wishes she could be "just Claire" sometimes. Her mom's old journals reveal a different story than her mommy blog, including a secret that could unravel everything.
Remy Tsai used to have a plan for how her life would turn out. She had a best friend, Elise, and a boyfriend, Jack—but that was before Jack was murdered. By Elise. Now Remy isn't even sure what tomorrow will bring. Was it self-defense? Or something darker? As police investigate what happened that night, Remy does the same, trying to figure out what really happened, looking for any shred of evidence that might save her friend…and prove to Remy that it wasn't just cold-blooded murder.
When Vivi comes into Jessica's life, she changes everything. She encourages Jess to channel her pain and anger into art and the future seems full of possibilities. But when Vivi suddenly passes away during their senior year, Jess throws all plans for the future and art school aside. Instead, she devotes all her time to a work-study program, letting her dreams for the future die. But a new friend helps her find a way to put all her pain and creativity to use. And even though she may never draw again, it's possible she might still find a future worth pursuing.
CJ Katsuyama has never lived up to her mom's type-A ambitions. She's content to work in her aunt's flower shop, where she discovers a hidden talent for arranging the perfect bouquet. But when CJ's mom decides to sell the shop to the very family who swindled her grandparents during the Japanese internment of WWII, the ensuing fight divides the family and the town. And for once, CJ thinks she's finally found something worth fighting for.
If I'm Being Honest by Emily Wibberley and Austin Siegemund-Broka
A modern-day retelling of Shakespeare's The Taming of the Shrew. Cameron is the queen bee of her private L.A. high school for a reason, but her brutal honesty can cause as many problems as it circumvents. Like when she potentially screws up everything with her crush, Andrew. In an attempt to win him back, Cameron sets out on a mission to "tame" herself. First step: make amends with Brendan, the guy she labeled with an unfortunate nickname in grade school. Now if only Andrew would notice. But the more Cameron gets to know Brendan, the more she realizes he appreciates her for who she is, honesty and all. So is it really worth changing herself for someone she's not sure even understand her anymore?
A suspension isn't exactly how Layla hoped to start off at her fancy new high school. Especially since she already stands out enough with her headscarf and her loud mouth. But Layla is determined to show everyone that she deserves her spot at this school and her scholarship. A big invention competition might give her the opportunity, but she's going to have to figure out exactly who she wants to be—and what she wants to prove—along the way.
Small town life has never bothered Sofie. She's content spending time with her four best friends and playing in the marching band. But when the band is invited to play in the Rose Parade, it's up to Sofie to find some way to get them all the way to L.A. Good thing their small town has a celebrity of their own. A fundraiser led by Megan Pleasant would be sure to raise all the money they'd need to make it to the parade. One slight problem thought: Megan very famously swore to never come back home.
Orpheus Girl by Brynne Rebele-Henry (October 8, 2019, from Soho Teen)
A reimagining of the Orpheus myth centered around two teen girls sent away to conversion therapy after being caught together. Friendly Saviors is a reeducation camp meant to "fix" Raya and Sarah. Raya vows to escape the camp, bringing Sarah along with her. And her determination only grows as she and the others are subjected to abusive treatment at the hands of the staff. A mythic story of determination and teen resilience.
No Big Deal by Bethany Rutter (August 8, 2019, from MacMillan Children's Books)
Emily Daly is cute, fashionable, hilarious, and also fat—something she has no qualms with. She likes herself and her body. When she meets Joe at a party, he becomes her capital-c Crush, and seems like a pretty perfect guy to boot. But the more they spend time together, the more doubts start to creep in. With her mom's constant fad diets and pressure to change, Emily has to fight hard to stay true to herself and love who she is. Emily Daly isn't about to change for anybody.
She's the Worst by Lauren Spieller (September 3, 2019, from Simon & Schuster Books for Young Readers)
April and Jenn used to be close, but the sisters drifted apart years ago. They're total opposites, and anyway Jenn's too busy between school and her boyfriend. But when April realizes her older sister is bummed about staying home for college, she decides they should spend a day revisiting the hits from their childhood in L.A. Except Jenn has been keeping a secret—one that could tear their feuding parents even further apart—and now they'll have to decide if their fractured relationship is even worth repairing.
A Match Made in Mehendi by Nandini Bajpai (September 10, 2019, from Little, Brown Books for Young Readers)
Simi Sangha comes from a long line of matchmakers, so when she sets up her cousin with a soon-to-be lawyer, everyone is thrilled that she has the family gift. But Simi doesn't have any interest in relationships right now. Instead, she channels her gift into a matchmaking app that takes off at her high school—even matching together a quiet girl with the star of the soccer team. Except that's not really in line with the status quo, and before long Simi has become that talk of the school…and not in a good way.
All-American Muslim Girl by Nadine Jolie Courtney (November 12, 2019, from Farrar, Straus and Giroux)
Allie Abraham has everything an all-American girl could want: straight A's, good friends, close-knit family, and an adorable boyfriend. The only problem is said boyfriend is the son of one of the biggest conservative shock jock's in the country. And neither of them know Allie's family is Muslim. She never meant to keep it a secret, but her parents don't practice their faith and to a lot of people it isn't exactly obvious. But as Allie watches the increasing Islamophobia sweeping the nation, she begins to dig deeper into her own faith and what it means. Can she be a good Muslim girl and still be the all-American sweetheart everyone sees her as, especially in a country that seems to view those as two mutually exclusive things?
Runners-Up (AKA books with a pop of Millennial Pink)
A fantasy romance set in modern-day Seoul. Miyoung is a gumiho, a nine-tailed fox who devours the energy of men to survive. Good thing there are plenty of bad men who won't be missed in Seoul. But when she steps in to save a human boy from a goblin attack, she puts herself—and her identity—at risk. The two begin to grow close, but dangerous forces are at work in the city. And Miyoung might have to choose between her life as a gumiho and this human boy she only just met.
Lou is determined to spend her summer working at the Magic Castle Playland the best yet. Especially when she finds out it will be the last. The small theme park is closing, but Lou has a plan to save it. She hopes. Add in some schemes to set up her best friend with a new girlfriend and her own hopeless crush on the cutest diving pirate ever, and it's pretty much a recipe for disaster. But what's a hot dog girl to do?
What's more millennial than Mean Girls? Maybe a Shakespearean Mean Girls dressed in all pink. Ian Doescher gives the classic 2000s comedy movie the Shakespeare treatment in William Shakespeare's Much Ado About Mean Girls. Between all the betrayal, rivalries, banter, and power struggles it seems like Mean Girls and Shakespeare might just be a match made in heaven.
The Babysitters Coven by Kate Williams (September 17, 2019, from Delacorte Press)
The Baby-Sitters Club meets Buffy in this supernatural teen adventure. Babysitting has always been more than just an after-school job for Esme. But when her best friend decides their babysitting club is no longer for her, and a semi-creepy new girl with a super cute brother starts telling her the weird things that have started happening around her are actually magic, it seems like she might have a new after-school activity: saving the world.
---
Can't get enough of these millennial pink YA books? If you want even more colorful ideas for your shelves check out these yellow romance novels and these rainbow book stacks and rainbow shelves.