Fiction
Midweek Giveaway: HUSH LITTLE BABY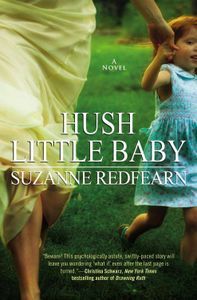 This midweek giveaway is sponsored by Hush Little Baby by Suzanne Redfearn.
If I stay, he will kill me. If I leave, he'll destroy Addie and Drew.
Jillian Kane appears to have it all – a successful career, a gorgeous home, a loving husband, and two wonderful children. The reality behind closed doors is something else entirely. For nine years, she has hid the bruises and the truth of her abusive marriage in order to protect Addie and Drew, knowing, if she left, Gordon would destroy her-destroy them.
When, in an act of desperation, she flees, her worst nightmare is realized, and she finds herself on the run with her two young children, no money, and no plan. With Gordon in hot pursuit, there is only one inescapable certainty: No matter where she goes, he will find her. Kill her. And take her children.
_________________________
Today we have 10 copies of Hush Little Baby to give away to lucky Riot readers. To enter, complete the form below by 11:59pm Eastern, Tuesday, November 19th. Winners will be randomly selected. This giveaway is open to readers in the U.S.
Oops! We could not locate your form.