Lists
A Reading List for Midterm Elections
This content contains affiliate links. When you buy through these links, we may earn an affiliate commission.
The 2018 midterm elections are important. How important, you ask? (Have you been following the news at all?) To put it this way: all of the seats in the House of Representatives, a third of the Senate, dozens of governorships, and a bunch of state legislature positions are all up for grabs. The outcome of the midterm election could impact legislation in Congress, the investigations regarding the Trump regime, SCOTUS nominations, and countless state laws. Roe vs Wade is in the balance, families are being indefinitely detained, every day brings new appalling stories—this election can be life and death for many people, literally.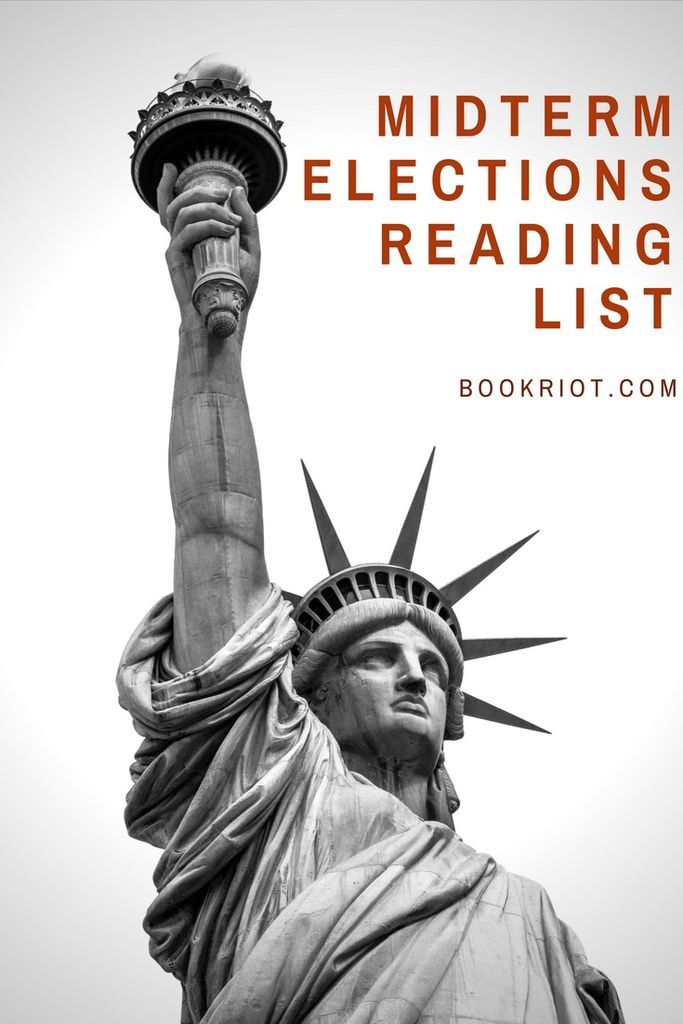 This election has the power to change things for years, even decades, to come. It also means it's crucial to become educated about various issues, learn about the candidates, and seek out factual, accurate information. Do your own fact-checking. Don't fall for sensationalism. Read various news sources. Read books from intelligent people with experience in their fields. Learn about history—namely, the rise of fascism in Europe and the rise of the Third Reich. Read about resistance movements throughout the last century. Ask questions of the candidates at town halls, and remember that they're supposed to work for YOU.
This is by no means an exhaustive or complete list. In fact, this doesn't even begin to scratch the surface, but such a list would be dozens and dozens, if not hundreds, of books long. I've tried to include books on a variety of pressing topics, but I'm sure there are some I've missed.
A Midterm Elections Reading List
An important, must-read book for the current political and social climate about hatred and anger. Taking a historical perspective, Mishra traces how these movements based in resentment, fear, and individualism take root and flourish.
This book blends memoir and reportage, leaving nearly no stone unturned, looking at the opioid epidemic. Macy traces the rise of oxycontin and how it took hold in rural areas, and how it became the widespread problem it is today.
This novel is an apt portrait of so many today, set during a fictionalized election that looks very familiar (hello 2016). At its heart is a middle-class family struggling to live paycheck to paycheck between non-tenure jobs, inadequate health insurance, and a house that's falling down around them, and wondering how they got to where they are when they followed all the "rules." Paired with a parallel story from the 1800s, the result is powerful.
Anger can be a powerful, mobilizing force, and this book illustrates this beautifully and brilliantly. This book should be required reading for everyone, but especially women.
Blending memoir and reportage, a devastating and smart examination of class and the working poor in America, particularly the rural working poor. An excellent portrait of an often overlooked group.
This comics anthology examines sex myths, women's health, sexual health, superheroes, and reproductive freedom—and proceeds go to Planned Parenthood, more necessary than ever right now.
Fountain examines 2016 from beginning to end, also bringing in two different points in history when the U.S. had to essentially reinvent itself from scratch and start again: the Civil War, and the Great Depression. This is not an easy read, but it's one of the best examinations of 2016 that I've read.
Immigrants are vital to America. This novel takes on the tenuous notion of the American Dream, class, race, and more. A story that is particularly timely.
A chilling examination of fascism's rise in Russia, and how it takes hold in various countries. Necessary reading, no matter what side of the political spectrum you're on.
Former Secretary of State Albright is brilliant, and her examination of fascism from a personal, academic, and political viewpoint is what we all need to read.
Filled with art and stories from Gail Simone, Javier Munoz, Gabby Rivera, Sonia Manzano, Rosario Dawson, and more, this comics anthology starring Superman, Aquaman, Wonder Woman, The Flash, and other DC superstars is a must-read. Proceeds benefit hurricane relief for Puerto Rico.
It can be really, really, REALLY hard to remember to hold on to hope sometimes, with the constant barrage of news stories. But activists and hope have always been present, and this book reminds us of such.
Before abortion was legal, it still existed in the United States. This is the story of the service Jane, who helped pregnant people avoid unregulated and dangerous abortionists, and helped them get safe abortions.
A powerful memoir by Moore, a Black Lives Matter activist, about survival, resistance, creating change, race, and more.
Part of the #Resistance? A must-read, by someone who's been there on the front lines against fascism.
This midterm election could drastically affect healthcare access and policies. Right now, our healthcare system is merely about business and profit. Read this to learn more about how we got where we are, and what needs to be done.
What books are you reading to learn more about current issues and events, and what matters most to you?
Looking for more? Check out Understanding the US Political System: A Reading List.