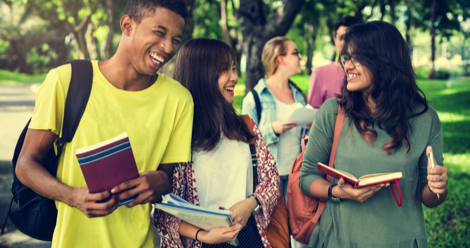 Children's
Books You Read in Middle School That Need to be Reread as an Adult
This content contains affiliate links. When you buy through these links, we may earn an affiliate commission.
This is a guest post from Veronica Vivona. Veronica received her B.A. in creative writing and sociology from the University of North Texas in 2015. She's a lover of overly spicy food, sparkly glitter nail polish, and intriguing middle grade novels. In her spare time, she loves to drink way too much coffee and hang out with her dog, Potato. You can find her on Twitter at @Veronica_Vivona.
---
Not everyone finds their love for reading at an early age. For a lot of people who grew up in schools where common core curriculum trumped critical thinking, books weren't necessarily introduced to students in a positive way. Highlighting important parts, understanding vocabulary, and recognizing form are all important aspects of building an academic foundation. However, that's not all there is to reading. But when these beautiful, incredible, somewhat tedious novels are given to kids who see reading them as nothing more than a chore, these books aren't given their proper respect.
The way we look at books and receive stories changes as we grow older. Now, change isn't a bad word here. It really isn't! We as humans grow and evolve. I know that I sure have. It's how we are able to revisit something old, like a favorite movie or place, and see it in a completely new light. As time goes by, we develop into different versions of our former selves. That's why I believe there is importance when it comes to revisiting long-forgotten novels.
For various reasons, the books we read as preteens aren't always given their fair shot. Or better yet, enough time has passed for us to fall in love with these novels once again. Some of the best novels I ever read in my adult life were originally intended to be read and appreciated by my 12-year-old self. And so, I'm here to tell you which ones you should revisit and give another chance:
If You Want to See History Through the Eyes of Empathy, Read:
As a young naïve child, I struggled to see the world outside of my comfort zone. Regardless to what I was taught, whichever museum I visited, or whatever book I read, it was difficult to fully comprehend the horrors that our history held.
And even as I read The Diary of a Young Girl by Anne Frank, there was a part of me that wouldn't be as open to the vulnerability of this young girl writing in her diary as she feared for her life. That's why when I read it again as an adult, my eyes were opened.
Years later I could see why I didn't necessarily understand the seriousness that was this book. Anne Frank wrote in her diary as her true self. She was young and a girl who, even during one of the darkest times in life, still found an interest in boys and had dreams of her future. She laughed and joked. She had fears and was uncomfortable with herself. She studied and got frustrated with being in such a cramped space. Reading this book as an adult will give you new insight into who Anne was and what her personal story truly was all about.
If You Want to Check Your Perspective on Romance, Read:
A story that made every girl in my 8th grade class embrace their love of romance turned out to be nothing but a history lesson on the true meaning of distaste. This story has nothing to do with love, but everything to do with control, hatred, and the desire to win.
Well, let me back it up. Romeo and Juliet were still fond of each other. That's all the same. But, as I revisited this play after I revisited Hey Arnold! on Hulu (there's an episode on Romeo and Juliet), I realized that this is all about family obligation more than anything else. And when your family hates someone, you hate them too and are even willing to die based on your hatred. That's what the play means.
The family politics and vendettas completely went over the head of my 13-year-old self. I was so focused on this romance between two teenagers that I didn't read the details. Going back to this play gave me a better perspective on it, not to mention all of its adaptations.
If You Want a Mystery Because There's a Good Chance You've Forgotten This One, Read:
I found The Westing Game for 20% off its already less than $10 price tag at a bookstore last year and couldn't resist picking it up. Reading the first page of the first chapter, I knew I had to keep going with it. I paid for it, went home, and continued on in my adventure.
Having read this novel plenty of times growing up, I had forgotten every part of it until I read it once again. It's as though I had found a long-lost love. For a novel filled with children, teenagers, and adults, it's one of those books that seemed to have grown up with me. With each new page came a better understanding of why I remembered loving this novel as much as I did.
For a Novel That Will Always Have More to Give, Read:
I always think it's marvelous that children are taught to read and appreciate novels such as this. Personally though, as a young sixth-grader, I wasn't as interested in Roll of Thunder, Hear My Cry—for no other reason than for the horrible teacher who was making me read it. This novel, for anyone who hasn't read it, is something special. For anyone who has read it, even those like me who never appreciated it, you need to read it again.
Following the saga of a family living in rural Mississippi back in the 1800s, this novel not only shows the hardships for everyone during that time, but how tense the relationships were between people of different races and how horrible white people were to those of color. Beyond that, though, the novel shines light on how history can repeat itself and how we are becoming too close to forgetting the pain and suffering from the past.
Told from a young perspective, this book is meant for everyone. And I mean everyone. This should be required reading for anyone, of any age, of any place or time, especially now.
---
Consider these novels as just the beginning of your adventure into your past. Revisiting novels from your childhood can bring so much more to your life and give you tons of perspective on what "books for kids" really means.