Children's
50 Must-Read Middle School Mystery Books
This content contains affiliate links. When you buy through these links, we may earn an affiliate commission.
I still can remember the very first mystery I ever picked up in my school library: The Mandie series by Lois Gladys Leppard. I've been devouring mysteries ever since, and I especially love mysteries for younger readers. They're lots of fun and can be high-stakes and suspenseful without being too dark or gory. Middle school mystery books are also awesome because they cover a wide range of time periods and settings, but all will encourage critical thinking and reasoning!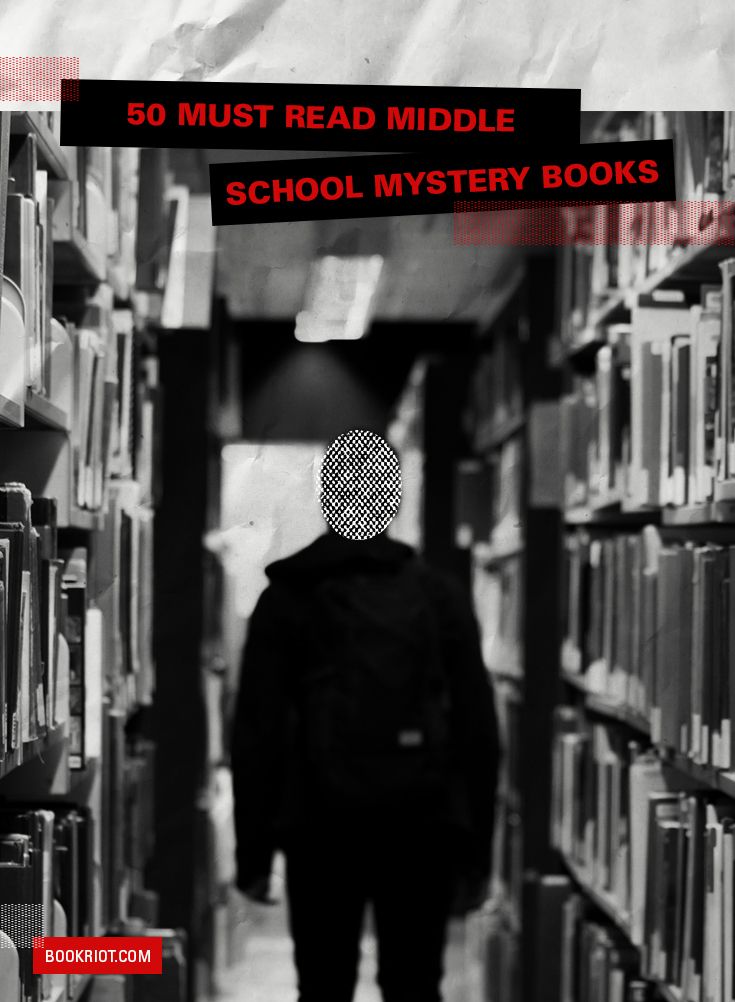 This list focuses on middle school mystery books, and I've broken it down in approximate grade levels, but every kid is different and may have different reading needs! Check out this list of 50 Must-Read Mystery Books for Kids and 50 Must-Read Young Adult Mysteries for more great reads!
Middle School Mystery Books for Sixth Graders
When Candice finds a letter in an old attic in Lambert, South Carolina, she isn't sure she should read it. It's addressed to her grandmother, who left the town in shame. But the letter describes a young woman. An injustice that happened decades ago. A mystery enfolding its writer. And the fortune that awaits the person who solves the puzzle.
So with the help of Brandon, the quiet boy across the street, she begins to decipher the clues. The challenge will lead them deep into Lambert's history, full of ugly deeds, forgotten heroes, and one great love; and deeper into their own families, with their own unspoken secrets. Can they find the fortune and fulfill the letter's promise before the answers slip into the past yet again?
Shortly after a fall-out with her best friend, sixth grader Miranda starts receiving mysterious notes, and she doesn't know what to do. The notes tell her that she must write a letter—a true story, and that she can't share her mission with anyone.
It would be easy to ignore the strange messages, except that whoever is leaving them has an uncanny ability to predict the future. If that is the case, then Miranda has a big problem—because the notes tell her that someone is going to die, and she might be too late to stop it.
Rising sixth grader Miss Moses LoBeau lives in the small town of Tupelo Landing, North Carolina, where everyone's business is fair game and no secret is sacred. She washed ashore in a hurricane eleven years ago, and she's been making waves ever since. Although Mo hopes someday to find her "upstream mother," she's found a home with the Colonel—a café owner with a forgotten past of his own—and Miss Lana, the fabulous café hostess. She will protect those she loves with every bit of her strong will and tough attitude. So when a lawman comes to town asking about a murder, Mo and her best friend, Dale Earnhardt Johnson III, set out to uncover the truth in hopes of saving the only family Mo has ever known.
Rosa Ramona Díaz has just moved to the small, un-haunted town of Ingot—the only ghost-free town in the world. She doesn't want to be there. She doesn't understand how her mother—a librarian who specializes in ghost-appeasement—could possibly want to live in a place with no ghosts. Frankly, she doesn't understand why anyone would.
Jasper Chevalier has always lived in Ingot. His father plays a knight at the local Renaissance Festival, and his mother plays the queen. Jasper has never seen a ghost, and can't imagine his un-haunted town any other way. Then an apparition thunders into the festival grounds and turns the quiet town upside down.
Something otherworldly is about to be unleashed, and Rosa will need all her ghost appeasement tools—and a little help from Jasper—to rein in the angry spirits and restore peace to Ingot before it's too late.
Eleven-year-old Neela dreams of being a famous musician, performing for admiring crowds on her traditional Indian stringed instrument. Her particular instrument was a gift from her grandmother—intricately carved with a mysterious-looking dragon. When this special family heirloom vanishes from a local church, strange clues surface: a tea kettle ornamented with a familiar pointy-faced dragon, a threatening note, a connection to a famous dead musician, and even a legendary curse.
When Kyle learns that the world's most famous game maker, Luigi Lemoncello, has designed the town's new library and is having an invitation-only lock-in on opening night, he's determined to be there! But the tricky part isn't getting into the library—it's getting out. Because when morning comes, the doors stay locked. Kyle and the other kids must solve every clue and figure out every secret puzzle to find the hidden escape route!
Nicholas is a math and music genius with no friends and a huge problem: His father has lost his job, and they'll have to sell their house, which holds the only memory Nicholas has of his younger brother. Just in time, Nicholas's senile grandfather arrives, filled with tales of priceless treasure he has hidden somewhere in town—but where?
With the help of misfit classmates, two grandfathers, a ghosthouse, hidden messages, séances, and an uncanny mind for numbers, Nicholas stages a nursing home breakout, tangles with high schoolers in smugglers' tunnels, and gets swept up in a duel with the biggest bullies in the neighborhood. Will it be enough to find the treasure and save his house?
It's the first real summer since the accident that killed Cedar's father and younger brother, Ben. Cedar and what's left of her family are returning to the town of Iron Creek for the summer. They're just settling into their new house when a boy named Leo, dressed in costume, rides by on his bike. Intrigued, Cedar follows him to the renowned Summerlost theatre festival. Soon, she not only has a new friend in Leo and a job working concessions at the festival, she finds herself surrounded by mystery. The mystery of the tragic, too-short life of the Hollywood actress who haunts the halls of Summerlost. And the mystery of the strange gifts that keep appearing for Cedar.
Daisy Wells and Hazel Wong are best friends at Deepdean School for Girls, and they both have a penchant for solving mysteries. In fact, outspoken Daisy is a self-described Sherlock Holmes, and she appoints wallflower Hazel as her own personal Watson when they form their own (secret!) detective agency. The only problem? They have nothing to investigate.
But that changes once Hazel discovers the body of their science teacher, Miss Bell—and the body subsequently disappears. She and Daisy are certain a murder must have taken place, and they can think of more than one person with a motive.
Determined to get to the bottom of the crime—and to prove that it happened—before the killer strikes again, Hazel and Daisy must hunt for evidence, spy on their suspects, and use all the cunning, scheming, and intuition they can muster. But will they succeed? And can their friendship stand the test?
Holes by Louis Sachar
Stanley Yelnats is under a curse. A curse that began with his no-good-dirty-rotten-pig-stealing-great-great-grandfather and has since followed generations of Yelnatses. Now Stanley has been unjustly sent to a boys' detention center, Camp Green Lake, where the boys build character by spending all day, every day digging holes exactly five feet wide and five feet deep. There is no lake at Camp Green Lake. But there are an awful lot of holes.
It doesn't take long for Stanley to realize there's more than character improvement going on at Camp Green Lake. The boys are digging holes because the warden is looking for something. But what could be buried under a dried-up lake? Stanley tries to dig up the truth in this inventive and darkly humorous tale of crime and punishment—and redemption.
Whether she's telling the truth or stretching it, Zora Neale Hurston is a riveting storyteller. Her latest creation is a shape-shifting gator man who lurks in the marshes, waiting to steal human souls. But when boastful Sonny Wrapped loses a wrestling match with an elusive alligator named
Ghost—and a man is found murdered by the railroad tracks soon after—young Zora's tales of a mythical evil creature take on an ominous and far more complicated complexion, jeopardizing the peace and security of an entire town and forcing three children to come to terms with the dual-edged power of pretending.
Zora's best friend, Carrie, narrates this coming-of-age story set in the Eden-like town of Eatonville, Florida, where justice isn't merely an exercise in retribution, but a testimony to the power of community, love, and pride. A fictionalization of the early years of a literary giant, this astonishing novel is the first project ever to be endorsed by the Zora Neale Hurston Trust that was not authored by Hurston herself.
A body on the tracks
A teenage terrorist
A mysterious wish-granting machine
The world's worst private detective
The second volume in the Guys Read Library of Great Reading is chock-full of mystery, intrigue, and nefarious activity. Featuring some of the best writers around, and compiled by certified guy Jon Scieszka, Guys Read: Thriller is a pulse-pounding collection of brand-new short stories, each one guaranteed to keep you riveted until the final page.
Footer Davis is on the case when two kids go missing after a fire in this humorously honest novel that is full of Southern style.
Here are some things that are true about Footer Davis:
1. She has a BB gun named Louise.
2. Walruses freak her out.
3. Her mom has bipolar disorder.
But she wants you to know that it's not that big a deal. She's just Mom, and usually she's fine except sometimes when she doesn't take her pills. But right now what's most important to Footer is what happened to those kids at the Abrams farm. See, there was a fire there a few nights ago, and those kids haven't been seen since. Pretty sure they got burned up. What Footer and Peavine—that's her best friend—want to know is who started the fire?
Ernestine Montgomery is the kind of kid who gets things done. She's smart, prepared, and always knows just what to do. But there's big trouble brewing inside the walls of the rambling old mansion where she lives…and only Ernestine can decipher the clues that point in one direction—murder!
Mia Chen is on what her mother calls a Grand Adventure. She's not sure what to make of this family trip to China, and didn't want to leave her friends for the summer, but she's excited about the prospect of exploring with her Aunt Lin, the only adult who truly understands her.
Then Aunt Lin disappears, right after her old nemesis, a man named Ying, comes to visit. Mia knows that years ago, when Aunt Lin and Ying were sent to the Fuzhou countryside to work as laborers, the two searched for an ancient treasure together—one that still hasn't been found. She's suspicious that their shared history might be linked to Aunt Lin's disappearance.
When Mia discovers an old map filled with riddles in Aunt Lin's room, she quickly pieces together her mission: find the treasure, find her aunt. Now, Mia, along with her big brother, Jake, must solve the clues to rescue the person she knows best in the world—and maybe unearth a treasure greater than her wildest dreams.
When a book of unexplainable occurrences brings Petra and Calder together, strange things start to happen: Seemingly unrelated events connect; an eccentric old woman seeks their company; an invaluable Vermeer painting disappears. Before they know it, the two find themselves at the center of an international art scandal, where no one is spared from suspicion. As Petra and Calder are drawn clue by clue into a mysterious labyrinth, they must draw on their powers of intuition, their problem solving skills, and their knowledge of Vermeer. Can they decipher a crime that has stumped even the FBI?
Middle School Mystery Books for Seventh Graders
Along the train lines north of New York City, twelve-year-old neighbors Myla and Peter search for the link between Myla's necklace and the disappearance of Peter's brother, Randall. Thrown into a world of parkour, graffiti, and diamond-smuggling, Myla and Peter encounter a band of thugs who are after the same thing as Randall. Can Myla and Peter find Randall before it's too late, and their shared family secrets threaten to destroy them all? Drawing on urban art forms and local history, Finding Mighty is a mystery that explores the nature of art and the unbreakable bonds of family.
There's a murderer on the loose—but that doesn't stop the girls of St. Etheldreda's from attempting to hide the death of their headmistress in this rollicking farce.
The students of St. Etheldreda's School for Girls face a bothersome dilemma. Their irascible headmistress, Mrs. Plackett, and her surly brother, Mr. Godding, have been most inconveniently poisoned at Sunday dinner. Now the school will almost certainly be closed and the girls sent home—unless these seven very proper young ladies can hide the murders and convince their neighbors that nothing is wrong.
Julie Berry's The Scandalous Sisterhood of Prickwillow Place is a smart, hilarious Victorian romp, full of outrageous plot twists, mistaken identities, and mysterious happenings.
Found running wild in the forest of Ashton Place, the Incorrigibles are no ordinary children: Alexander, age ten or thereabouts, keeps his siblings in line with gentle nips; Cassiopeia, perhaps four or five, has a bark that is (usually) worse than her bite; and Beowulf, age somewhere-in-the-middle, is alarmingly adept at chasing squirrels.
Luckily, Miss Penelope Lumley is no ordinary governess. Only fifteen years old and a recent graduate of the Swanburne Academy for Poor Bright Females, Penelope embraces the challenge of her new position. Though she is eager to instruct the children in Latin verbs and the proper use of globes, first she must help them overcome their canine tendencies.
But mysteries abound at Ashton Place: Who are these three wild creatures, and how did they come to live in the vast forests of the estate? Why does Old Timothy, the coachman, lurk around every corner? Will Penelope be able to teach the Incorrigibles table manners and socially useful phrases in time for Lady Constance's holiday ball? And what on earth is a schottische?
Abilene Tucker feels abandoned. Her father has put her on a train, sending her off to live with an old friend for the summer while he works a railroad job. Armed only with a few possessions and her list of universals, Abilene jumps off the train in Manifest, Kansas, aiming to learn about the boy her father once was.
Having heard stories about Manifest, Abilene is disappointed to find that it's just a dried-up, worn-out old town. But her disappointment quickly turns to excitement when she discovers a hidden cigar box full of mementos, including some old letters that mention a spy known as the Rattler. These mysterious letters send Abilene and her new friends, Lettie and Ruthanne, on an honest-to-goodness spy hunt, even though they are warned to "Leave Well Enough Alone."
Abilene throws all caution aside when she heads down the mysterious Path to Perdition to pay a debt to the reclusive Miss Sadie, a diviner who only tells stories from the past. It seems that Manifest's history is full of colorful and shadowy characters—and long-held secrets. The more Abilene hears, the more determined she is to learn just what role her father played in that history. And as Manifest's secrets are laid bare one by one, Abilene begins to weave her own story into the fabric of the town.
A riveting ghost story and captivating adventure, this tale will have you guessing at every turn!
Harper doesn't trust her new home from the moment she steps inside, and the rumors are that the Raine family's new house is haunted. Harper isn't sure she believes those rumors, until her younger brother, Michael, starts acting strangely.
The whole atmosphere gives Harper a sense of déjà vu, but she can't remember why. She knows that the memories she's blocking will help make sense of her brother's behavior and the strange and threatening sensations she feels in this house, but will she be able to put the pieces together in time?
Harper Raine faces new challenges ahead when her parents take the whole family to a remote tropical island for vacation. As Harper starts to have visions of the resort's history of disappearances and discovers more about the island's dark and fabled past, she must use her newly acquired spirit hunting talents to save everyone on the island from murderous spirits on the attack.
Twelve-year-old Katherine Bateson believes in a logical explanation for everything. But even she can't make sense of the strange goings-on at Rookskill Castle, the drafty old Scottish castle-turned-school where she and her siblings have been sent to escape the London Blitz. What's making those mechanical shrieks at night? Why do the castle's walls seem to have a mind of their own? And who are the silent children who seem to haunt Rookskill's grounds? Kat believes Lady Eleanor, who rules the castle, is harboring a Nazi spy. But when her classmates begin to vanish, one by one, Kat must face the truth about what the castle actually harbors—and what Lady Eleanor is—before it's too late.
It was 1798 when the Morningstarr twins arrived in New York with a vision for a magnificent city: towering skyscrapers, dazzling machines, and winding train lines, all running on technology no one had ever seen before.
Fifty-seven years later, the enigmatic architects disappeared, leaving behind for the people of New York the Old York Cipher—a puzzle laid into the shining city they constructed, at the end of which was promised a treasure beyond all imagining. By the present day, however, the puzzle has never been solved, and the greatest mystery of the modern world is little more than a tourist attraction.
Tess and Theo Biedermann and their friend Jaime Cruz live in a Morningstarr apartment—until a real estate developer announces that the city has agreed to sell him the five remaining Morningstarr buildings. Their likely destruction means the end of a dream long held by the people of New York.
And if Tess, Theo, and Jaime want to save their home, they have to prove that the Old York Cipher is real. Which means they have to solve it.
Until he got that cryptic warning, Christopher Rowe was happy, learning how to solve complex codes and puzzles and creating powerful medicines, potions, and weapons as an apprentice to Master Benedict Blackthorn—with maybe an explosion or two along the way.
But when a mysterious cult begins to prey on London's apothecaries, the trail of murders grows closer and closer to Blackthorn's shop. With time running out, Christopher must use every skill he's learned to discover the key to a terrible secret with the power to tear the world apart.
It's wintertime at Greenglass House. The creaky smuggler's inn is always quiet during this season, and twelve-year-old Milo, the innkeepers' adopted son, plans to spend his holidays relaxing. But on the first icy night of vacation, out of nowhere, the guest bell rings. Then rings again. And again. Soon Milo's home is bursting with odd, secretive guests, each one bearing a strange story that is somehow connected to the rambling old house. As objects go missing and tempers flare, Milo and Meddy, the cook's daughter, must decipher clues and untangle the web of deepening mysteries to discover the truth about Greenglass House—and themselves.
A bizarre chain of events begins when sixteen unlikely people gather for the reading of Samuel W. Westing's will. And though no one knows why the eccentric, game-loving millionaire has chosen a virtual stranger—and a possible murderer—to inherit his vast fortune, on things for sure: Sam Westing may be dead…but that won't stop him from playing one last game!
Twelve-year-old Colophon Letterford has a serious mystery on her hands. Will she discover the link between her family's literary legacy and Shakespeare's tomb before it's too late? Antique paintings, secret passages, locked mausoleums, a four-hundred-year-old treasure, and a cast of quirky (and some ignoble) characters all add up to a fun original adventure. Readers will revel in a whirlwind journey through literary time and space in real-world locales from Mont St. Michel to Stratford-Upon-Avon to Central Park!
It's 1951, and twelve-year-old Pete Collison is a regular kid who loves detective stories and radio crime dramas. When an FBI agent shows up at Pete's doorstep, accusing Pete's father of being a Communist, Pete is caught in a real-life mystery. Could there really be Commies in his family?
Tessa Woodward isn't exactly thrilled to move to rainy, cold Chicago from her home in sunny Florida. But homesickness turns to icy fear when unexplainable things start happening in her new house. Things like flickering lights, mysterious drawings appearing out of nowhere, and a crackling noise she can feel in her bones.
When her little brother's doll starts crying real tears, Tessa realizes that someone—or something—is trying to communicate with her. And it involves a secret that's been shrouded in mystery for more than one hundred years.
With the help of three new friends, Tessa begins unraveling the mystery of what happened in the house on Shady Street—and more importantly, what it has to do with her!
Clara can't believe her no-nonsense grandmother has just up and moved to Florida, leaving Clara and her mother on their own for the first time. This means her mother can finally "follow her bliss," which involves moving to a tiny apartment in Kensington Market, working at a herbal remedy shop and trying to develop her so-called mystical powers. Clara tries to make the best of a bad situation by joining the newspaper staff at her new middle school, where she can sharpen her investigative journalistic skills and tell the kind of hard-news stories her grandmother appreciated. But the editor relegates her to boring news stories and worse…the horoscopes.
Worse yet, her horoscopes come true, and soon everyone at school is talking about Clara Voyant, the talented fortune-teller. Clara is horrified—horoscopes and clairvoyance aren't real, she insists, just like her grandmother always told her. But when a mystery unfolds at school, she finds herself in a strange situation: having an opportunity to prove herself as an investigative journalist…with the help of her own mystical powers.
Deer Creek is a small town whose only hope for survival is the success of their Founder's Day Festival. But the festival's main attraction, a time capsule that many people believe hold the town's treasure, has gone missing.
Twelve-year-old Randi Rhodes and her best friend, D.C., are Bruce Lee–inspired ninjas and local detectives determined to solve the case. Even if it means investigating a haunted cabin and facing mean old Angus McCarthy, prime suspect.
They have three days to find the treasure…the future of their whole town is at stake! Will these kids be able to save the day?
Randi Rhodes and her fellow ninja detectives, DC and Pudge, were flying high after solving the Case of the Time-Capsule Bandit. But life in sleepy Deer Creek has begun to feel…a bit boring. There are no crimes to investigate! But a trip to New York City to visit Randi's aunt changes that! While the ninja detective trio explores Randi's old neighborhood in Brooklyn, they uncover an art theft. Except no one will believe them. So they'll just have to catch the criminals in the act…
Best friends and seventh graders Sophie Young and Grace Yang have made a game out of spying on their neighbors. On one of their midnight stakeouts, they witness a terrifying, bloody scene at the home of their bizarre middle-school counselor Dr. Charlotte Agford (also known as Dr. Awkward).
At least, they think they do. The truth is that Dr. Agford was only making her famous pickled beets. But when Dr. Agford begins acting even weirder than usual, Sophie and Grace become convinced that she's hiding something—and they're determined to find out what it is.
Soon the girls are breaking secret codes, being followed by a strange blue car, and tailing strangers with unibrows and Texas accents. But as their investigation heats up, Sophie and Grace start to crack under the pressure. Will solving the case destroy their friendship?
Jackson Greene swears he's given up scheming. Then school bully Keith Sinclair announces he's running for Student Council president, against Jackson's former friend Gaby de la Cruz. Gaby wants Jackson to stay out of it—but he knows Keith has "connections" to the principal, which could win him the presidency no matter the vote count.
So Jackson assembles a crack team: Hashemi Larijani, tech genius. Victor Cho, bankroll. Megan Feldman, science goddess. Charlie de la Cruz, reporter. Together they devise a plan that will take down Keith, win Gaby's respect, and make sure the election is done right. If they can pull it off, it will be remembered as the school's greatest con ever—one worthy of the name THE GREAT GREENE HEIST.
Jackson Greene is riding high. He is officially retired from conning, so Principal Kelsey is (mostly) off his back. His friends have great new projects of their own. And he's been hanging out a lot with Gaby de la Cruz, so he thinks maybe, just maybe, they'll soon have their first kiss.
Then Jackson receives a link to a faked security video that seems to show him and the rest of Gang Greene flooding the school gym. The jerks behind the video threaten to pass it to the principal—unless Jackson steals an advance copy of the school's toughest exam.
So Gang Greene reunites for their biggest job yet. To get the test adn clear their names, they'll have to outrun the school's security cameras, outwit a nosy member of the Honor Board, and outmaneuver the blackmailers while setting a trap for them in turn. And as they execute another exciting caper full of twists and turns, they'll prove that sometimes it takes a thief to catch a cheat.
Framed! by James Ponti
So you're only halfway through your homework and the Director of the FBI keeps texting you for help…What do you do? Save your grade? Or save the country?
If you're Florian Bates, you figure out a way to do both.
Florian is twelve years old and has just moved to Washington. He's learning his way around using TOAST, which stands for the Theory of All Small Things. It's a technique he invented to solve life's little mysteries such as: where to sit on the on the first day of school, or which Chinese restaurant has the best eggrolls.
But when he teaches it to his new friend Margaret, they uncover a mystery that isn't little. In fact, it's HUGE, and it involves the National Gallery, the FBI, and a notorious crime syndicate known as EEL.
Can Florian decipher the clues and finish his homework in time to help the FBI solve the case?
For twelve-year-old Emily, the best thing about moving to San Francisco is that it's the home city of her literary idol: Garrison Griswold, book publisher and creator of the online sensation Book Scavenger (a game where books are hidden in cities all over the country and clues to find them are revealed through puzzles). Upon her arrival, however, Emily learns that Griswold has been attacked and is now in a coma, and no one knows anything about the epic new game he had been poised to launch. Then Emily and her new friend James discover an odd book, which they come to believe is from Griswold himself, and might contain the only copy of his mysterious new game.
Racing against time, Emily and James rush from clue to clue, desperate to figure out the secret at the heart of Griswold's new game—before those who attacked Griswold come after them too.
Dan Brown meets Jason Bourne in this riveting middle-grade mystery thriller. When a young boy is discovered in Washington DC's National Gallery without any recollection of who he is, so begins a high-stakes race to unravel the greatest mystery of all: his identity.
As the stakes continue to rise, the boy must piece together the disjointed clues of his origins while using his limited knowledge to stop one of the greatest art frauds ever attempted. Digitally interactive, this breathtaking museum mystery offers QR codes woven throughout the book that bring renowned paintings to readers' fingertips.
Middle School Mystery Books for Eighth Graders
Rescued from the gallows in 1850s London, young orphan (and thief) Mary Quinn is surprised to be offered a singular education, instruction in fine manners—and an unusual vocation. Miss Scrimshaw's Academy for Girls is a cover for an all-female investigative unit called The Agency, and at seventeen, Mary is about to put her training to the test. Assuming the guise of a lady's companion, she must infiltrate a rich merchant's home in hopes of tracing his missing cargo ships. But the household is full of dangerous deceptions, and there is no one to trust—or is there? Packed with action and suspense, banter and romance, and evoking the gritty backstreets of Victorian London, this breezy mystery debuts a daring young detective who lives by her wits while uncovering secrets—including those of her own past.
In the town of Placid, Wisconsin, in 1871, Georgie Burkhardt is known for two things: her uncanny aim with a rifle and her habit of speaking her mind plainly.
But when Georgie blurts out something she shouldn't, her older sister Agatha flees, running off with a pack of "pigeoners" trailing the passenger pigeon migration. And when the sheriff returns to town with an unidentifiable body—wearing Agatha's blue-green ball gown—everyone assumes the worst. Except Georgie. Refusing to believe the facts that are laid down (and coffined) before her, Georgie sets out on a journey to find her sister. She will track every last clue and shred of evidence to bring Agatha home. Yet even with resolute determination and her trusty Springfield single-shot, Georgie is not prepared for what she faces on the western frontier.
Alistair Cleary is the kid who everyone trusts. Fiona Loomis is not the typical girl next door. Alistair hasn't really thought of her since they were little kids until she shows up at his doorstep with a proposition: she wants him to write her biography. What begins as an odd vanity project gradually turns into a frightening glimpse into the mind of a potentially troubled girl. Fiona says that in her basement, there's a portal that leads to a magical world where a creature called the Riverman is stealing the souls of children. And Fiona's soul could be next. If Fiona really believes what she's saying, Alistair fears she may be crazy. But if it's true, her life could be at risk. In this novel from Aaron Starmer, it's up to Alistair to separate fact from fiction, fantasy from reality.
16-year-old Marigold "Goldie" Vance lives at a Florida resort with her dad, who manages the place, and dreams to one day become the hotel's in-house detective. When Walter, the current detective, encounters a case he can't crack, he agrees to mentor Goldie in exchange for her help solving the mystery utilizing her smarts, random skills, and connections with the hotel staff and various folks in town.
Fade Out by Nova Ren Suma
(Previously published as Dani Noir.)
It's summer and Dani Callanzano has been abandoned by everyone she knows. Her dad moved out, her mom is all preoccupied being broken-hearted, and her closest friend just moved away. Basically it's the end of the world.
At least she has the Little Art, her favorite local arthouse movie theater. Dani loves all the old black-and-white noir thrillers with their damsels in distress and their low camera angles. It also doesn't hurt that Jackson, the guy who works the projection reel, is super cute and nice and funny. And completely off-limits, of course—he's Dani's friend's boyfriend, and they are totally, utterly perfect together.
But one day, Dani stumbles across a shocking secret about Jackson—a secret too terrible for her to keep. She finds herself caught in the middle of a love triangle with enough drama to rival the noir-est film noir she's ever seen.
Cadel Piggott has a genius IQ and a fascination with systems of all kinds. At seven, he was illegally hacking into computers. Now he's fourteen and studying for his World Domination degree, taking classes like embezzlement, forgery, and infiltration at the institute founded by criminal mastermind Dr. Phineas Darkkon. Although Cadel may be advanced beyond his years, at heart he's a lonely kid. When he falls for the mysterious and brilliant Kay-Lee, he begins to question the moral implications of his studies. But is it too late to stop Dr. Darkkon from carrying out his evil plot?
When your cousin goes missing under suspicious circumstances, who do you call? There's only one man for the job: a half-crazed, half-feral, one-eyed ex-governor named Skink. Skink joins 14-year-old Richard on a breakneck chase across Florida, undaunted by lightning storms, poisonous snakes, flying bullets, and giant gators. There are a million places cousin Malley could be, a million unpleasant fates that might have befallen her, but one thing is certain: in the Florida swamp, justice is best served wild.
Shortly after moving into an old, spooky home, thirteen-year-old Thomas Small and his family start hearing strange noises. The house has a past, and when Thomas discovers a hidden passageway that may have been part of the Underground Railroad, the family realizes the house has a history as well. To find out all there is to know about the House of Dies Drear, Thomas must explore secret rooms—and the secrets of lives lived centuries before, lives that tell the story of America's troubled early years.
Thomas Small and his best friend Pesty Darrow have been keeping the secret of the vast treasure that's hidden in Mr. Pluto's cave, once a stop on the Underground Railroad. Pesty also has to keep the treasure a secret from her family, who want it for themselves. And there are plenty more secrets in the underground passageways—hidden rooms, Indian legends, and terrifying ghosts. Now Thomas thinks that Pesty might be keeping some secrets from him, too. If they can't trust each other, how will they ever protect the treasure?
Aven Green loves to tell people that she lost her arms in an alligator wrestling match, or a wildfire in Tanzania, but the truth is she was born without them. And when her parents take a job running Stagecoach Pass, a rundown western theme park in Arizona, Aven moves with them across the country knowing that she'll have to answer the question over and over again.
Her new life takes an unexpected turn when she bonds with Connor, a classmate who also feels isolated because of his own disability, and they discover a room at Stagecoach Pass that holds bigger secrets than Aven ever could have imagined. It's hard to solve a mystery, help a friend, and face your worst fears. But Aven's about to discover she can do it all…even without arms.
Daniel is the back-up punter for the Erie Hills Elephants. Which really means he's the water boy. He spends football practice perfectly arranging water cups—and hoping no one notices. Actually, he spends most of his time hoping no one notices his strange habits—he calls them Zaps: avoiding writing the number four, for example, or flipping a light switch on and off dozens of times over. He hopes no one notices that he's crazy, especially his best friend Max, and Raya, the prettiest girl in school. His life gets weirder when another girl at school, who is unkindly nicknamed Psycho Sara, notices him for the first time. She doesn't just notice him: she seems to peer through him.
Then Daniel gets a note: "I need your help," it says, signed, Fellow Star Child—whatever that means. And suddenly Daniel, a total no one at school, is swept up in a mystery that might change everything for him.
San Francisco, 1900. The Gilded Age. A fantastic time to be alive for lots of people…but not thirteen-year-old Lizzie Kennedy, stuck at Miss Barstow's snobby school for girls. Lizzie's secret passion is science, an unsuitable subject for finishing-school girls. Lizzie lives to go on house calls with her physician father. On those visits to his patients, she discovers a hidden dark side of the city—a side that's full of secrets, rats, and rumors of the plague.
The newspapers, her powerful uncle, and her beloved papa all deny that the plague has reached San Francisco. So why is the heart of the city under quarantine? Why are angry mobs trying to burn Chinatown to the ground? Why is Noah, the Chinese cook's son, suddenly making Lizzie question everything she has known to be true? Ignoring the rules of race and class, Lizzie and Noah must put the pieces together in a heart-stopping race to save the people they love.
---
What are your favorite middle school mystery books?