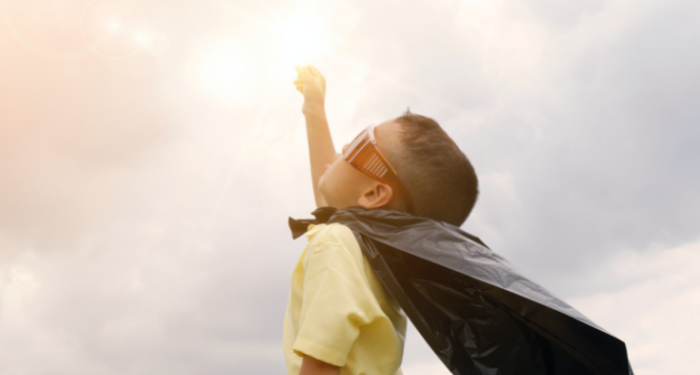 Superkids, have we got some super books for you! Adult superheroes may reign on the big screen, but what about their pint sized counterparts? Aspiring superheroes deserve their time in the spotlight, too! That's right, these middle grade superhero books are all about the kids trying out their powers for the first time. From superhero families with a legacy to uphold to regular kids imbued with incredible abilities, these middle grade superhero books are all kid power, all the time. Whether you're looking for an exciting read for a reluctant reader of have a super obsessed kiddo on your hands, these books are sure to astound and amaze.
Pizazz by Sophy Henn
There's nothing cooler than being super — unless you're 9-year-old Pizazz and stuck with the worst super power ever. Even though she comes from a family of superheroes, Pizazz doesn't feel like much of a hero. She may be saving the world on school nights, but she can't even make it onto the student council at school and using her super silly super-powers is a big no-go. Sometimes she just wishes she could be normal. But maybe being who she really is could be okay — especially if it means making some new friends along the way.
Almost Super by Marion Jensen
Every leap year, on February 29, all the members of the Bailey family over the age of 12 develop their superpowers. Today is the day for Rafter and Benny Bailey. They're hoping for something really cool like speedster abilities or super strength. Then, just their luck, they go and get the world's worst super powers: Rafter gets the ability to light matches on polyester and Benny to turn his belly button into an outie. What bad guys are they going to take down with powers like that? But when Rafter learns that the girl from the supervillain family in his algebra class thinks the Baileys are the villains, his world is turned upside down. Even if he didn't get the powers he wanted, maybe with the help of his brother and an unexpected new friend, he still might be able to save the day.
Cape by Kate Hannigan and Patrick Spaziante
After her father goes off to fight the Nazis, Josie O'Malley notices all the superheroes have disappeared, too. She may not be able to fly and control the weather like her idol, Zenobia, but maybe Josie can put her math skills to go use cracking puzzles for the government during the war. But then her entrance test is thrown out just because she's a girl. Luckily, an even more top-secret agency has had their eye on her. Along with two other superhero-obsessed girls, Josie is recruited to take on a shapeshifting henchman of Hitler and discover what's happened to all the missing superheroes. And the best part? They'll get their own superpowers along the way.
Bug Girl by Benjamin Harper, Sarah Hines Stephens, and Anoosha Syed
Being the girl obsessed with bugs isn't exactly winning Amanda Price a lot of friends in middle school. Especially Amanda's ex–best friend Emily who think's her love of bugs is super weird. Then a gang of mysterious invaders kidnap Emily and Amanda's moms, and Amanda develops incredible insect powers. With her new antennae and exoskeleton, she can take on the baddies and save the town. There's just one problem: Amanda's going to need her ex–best friend's help. That might be harder than saving the day.
Chews Your Destiny by Rhode Montijo
Gabby Gomez's mother always warned her against chewing too much bubblegum. But what's the worst that could happen? It's not like she's going to turn into bubblegum or something. Except that's exactly what happens. With her new super-stretching powers, Gabby can take on bad guys and save the day as her gummy-girl alter-ego. Now, Gabby's living the life of her dreams as the Gumazing Gum Girl — as long as she can keep her mother from finding out.
Sidekicked by John David Anderson
Life as a superhero sidekick is no walk in the park. Sure, Andrew Bean may be a part of a super-secret sidekick training program and have super senses, but his superhero mentor spends more time in bars than fighting crime these days. And keeping his sidekick duties and superpowers a secret from his parents is easier said than done. Middle school is hard enough without a secret identity. So when a long lost supervillain shows up, wreaking havoc on his city, Andrew has to figure out how to keep his two identities from crashing headlong into each other.
Study Hall of Justice by Derek Fridolfs and Dustin Nguyen
What happens when a young Bruce Wayne, Clark Kent, and Diana join forces in school? They create a junior detective agency, of course! Oh — not what you expected? Well, they are still kids, after all. But if they want to find out what strange things are going on with teachers behind closed doors at Ducard Academy, they'll have to band together to figure out their mysterious school, all before lunchtime!
Lightning Girl by Alesha Dixon
Aurora Beam lives a totally ordinary life with a totally ordinary family. Until one day she notices her little sister being picked on at the playground and beams of light shoot out of her fingers! Turns out, mom's been secretly living a double life as a superhero. As Aurora's own powers begin to manifest, she has to figure out how to balance school with all her new super training — not to mention keep her new abilities under wraps. And when her mother's long lost evil twin shows up, Aurora has to decide whether being tempted with evil would really be worth it.
The Astounding Broccoli Boy by Frank Cottrell Boyce
Rory Rooney likes to be prepared. That's why he's read his favorite book, Don't Be Scared, Be Prepared, so many times. Too bad the book never prepared him for suddenly and inexplicably turning green. Now he's stuck in an isolation ward with two other green kids and a hospital full of very confused doctors and nurses. But what if it isn't some strange new virus that has these kids turning green? What's if it's something altogether more astonishing? Maybe turning green is just the first step in becoming a superhero. Whatever it is, Rory is determined to get past hospital security and find out!
Electrigirl by Jo Cotterill and Cathy Brett
Being struck by lightning doesn't sound like something to get excited about — unless it gives you electricity superpowers! That's what happens to Holly. Now if she could just figure out how to stop blowing things up and get her best friend Imogen to talk to her again…Part novel, part graphic novel, and all fun. In addition to figuring out her new superpowers, Holly has to confront changing friendships and family relationships in this fun middle-grade superhero book.
---
That's it for our list of middle grade superhero books! Want even more superhero stories? Check out these 20 superhero books for kids of all ages, 7 superheroic reads, and 9 novels for superhero fans.