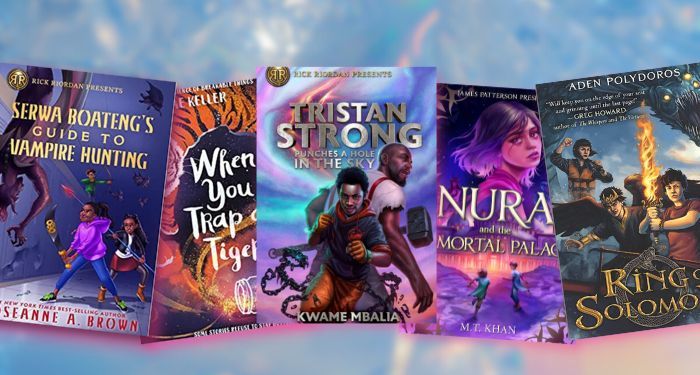 Children's
Middle Grade Fantasy That's Not Based on Christian Mythology
This content contains affiliate links. When you buy through these links, we may earn an affiliate commission.
Religion and mythology have often been part of fantasy novels. Whether they're written as allegories (Lewis's Narnia series), embedded more deeply in the themes (Tolkien's books, per his own descriptions of the books in his letters), or full of references (L'Engle's Wrinkle series), many fantasy books have elements of Christian mythology in them. Science fiction and fantasy (SFF) is a genre that practically lends itself to incorporating religion and spirituality into it: gods and mortals, miracles and plagues, tales that are larger than life and fantastical — what more could you want? (Although I realize that many people who are devoutly religious would feel the complete opposite, and see this as an abomination).
I admit that I've never read any of the Narnia books (at least that I remember), and all of the religious allusions in A Wrinkle in Time passed me by as a child. I'll be reading Tolkien with my son in the near future for homeschool, so I'll see about that one. But then again, when I was growing up, SFF never much appealed to me. As a teen — and even as a younger adult, I admit — when I thought about SFF, things like Narnia and Lord of the Rings were the first thing I thought of. I didn't even think of the Wrinkle series as SFF until embarrassingly late in life. It's only been fairly recently that I've embraced the genre, and especially with the explosion of more diverse stories. I don't think this is a coincidence. And with more diverse authors and characters also comes diversity in these stories with religion, spirituality, folktales, and mythology, opening up so many different worlds to explore.
While of course in YA and adult books there's Octavia Butler, Lavie Tidhar, N.K. Jemisin, Tomi Adeyemi, Naomi Novik, and many more authors exploring different kinds of mythologies, there are some really amazing middle grade SFF (especially fantasy) being written right now, too. I have whole stacks of middle grade fantasies piled up, waiting for me to have the time to read them all.
I've compiled some immersive middle grade fantasy novels that aren't rooted in Christian mythology, but instead, draw from a variety of different cultures and religions. This list barely scratches the surface of the books that are out there, but it's a good place to start.
Which one will you try first?
If you're looking for even more middle grade fantasy, check out this post on 20 of the best middle grade fantasy books, and this post on why adults should read middle grade books (with some recs!).