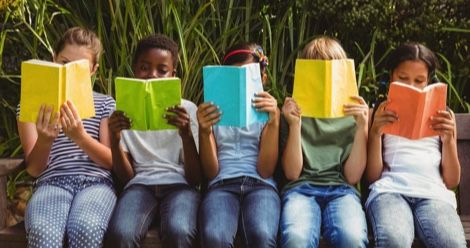 Children's
Children's Book Gift Giving Guide: Middle Grade Books
This content contains affiliate links. When you buy through these links, we may earn an affiliate commission.
*This list was originally published on The Kids Are All Right newsletter on December 2, 2018. Follow this link to subscribe to the newsletter for weekly children's book lists, news, and recommendations!
Yay, it's time for my annual gift giving guide for middle grade books published in 2018! ("Middle grade" is a loose term for readers 8–12.) As I have done in the past, I have grouped my favorites based on themes from classic children's books. Check out this list of over sixty middle grade books, sure to entire your young readers!
*Please note that all book descriptions are from Goodreads.
*If you're looking for more recommendations, check out my 2017 post here.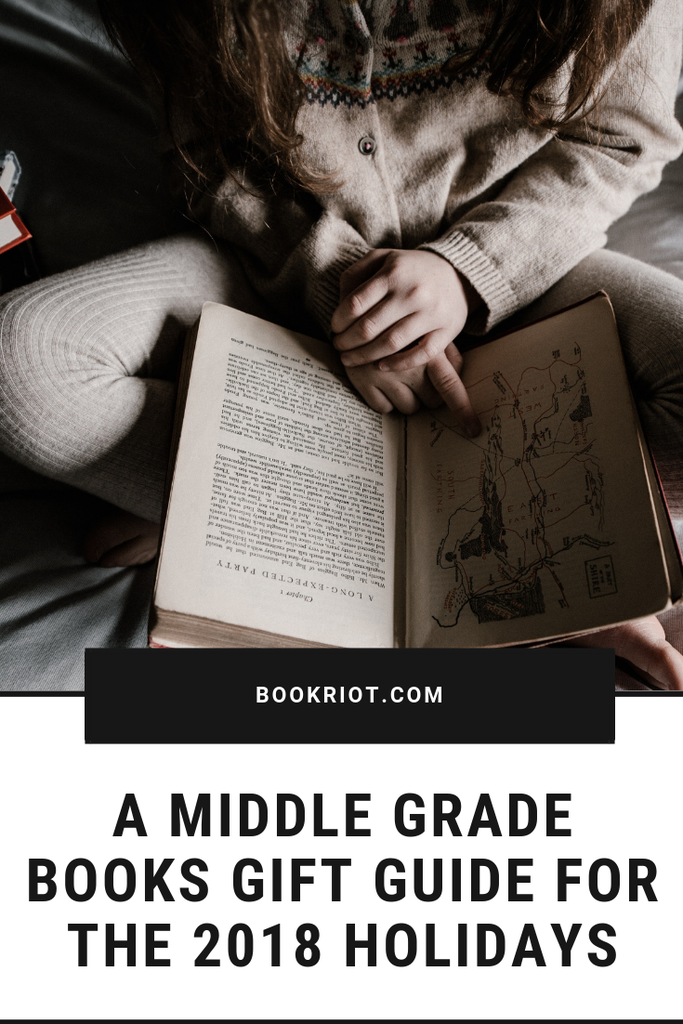 If you liked A Wrinkle in Time, try…
Claire Martinson still worries about her older sister Sophie, who battled a mysterious illness last year. But things are back to normal as they move into Windermere Manor . . . until the sisters climb a strange ladder in a fireplace and enter the magical land of Arden. There, they find a world in turmoil. The four guilds of magic no longer trust each other, the beloved unicorns have disappeared, and terrible wraiths roam freely. Scared, the girls return home. But when Sophie vanishes in the night, it will take all of Claire's courage to climb back up the ladder, find her sister, and uncover the unicorns' greatest secret.
Granted by John David Anderson
Everyone who wishes upon a star, or a candle, or a penny thrown into a fountain knows that you're not allowed to tell anyone what you've wished for. But even so, there is someone out there who hears it. In a magical land called the Haven lives a young fairy named Ophelia Delphinium Fidgets. Ophela is no ordinary fairy—she is a Granter: one of the select fairies whose job it is to venture out into the world and grant the wishes of unsuspecting humans every day. Today, however, is anything but typical. Because today, Ophelia is going to get her very first wish-granting assignment. And she's about to discover that figuring out how to truly give someone what they want takes much more than a handful of fairy dust.
Emily has lost control of her Amulet and is imprisoned in the Void, where she must find a way to escape the influence of the Voice. Meanwhile, Emily's brother, Navin, travels to Lighthouse One, a space station where the Resistance is preparing to battle the approaching Shadow forces that would drain planet Alledia of all its resources. Emily and Navin must be smarter and stronger than ever to ensure Alledia's survival.
Lucy Bluecrowne is beginning a new life ashore with her stepmother and half brother, though she's certain the only place she'll ever belong is with her father on a ship of war as part of the crew. She doesn't care that living in a house is safer and the proper place for a twelve-year-old girl; it's boring.But then two nefarious strangers identify her little brother as the pyrotechnical prodigy they need to enact an evil plan, and it will take all Lucy's fighting instincts to keep her family together.
If you liked Number the Stars by Lois Lowry, try…
After the murder of Emmett Till, thirteen-year-old Rose is struggling with her decision to stay in Mississippi. Torn between the opinions of Shorty, a boy who wants to meet violence with violence, and Hallelujah, her best friend who believes in the power of peaceful protests, Rose is scared of the mounting racial tension and is starting to lose hope. But when Rose helps Aunt Ruthie start her own business, she begins to see how she can make a difference in her community. Life might be easier in the North, but Mississippi is home and that's worth fighting for.
Harbor Me by Jacqueline Woodson
It all starts when six kids have to meet for a weekly chat–by themselves, with no adults to listen in. There, in the room they soon dub the ARTT Room (short for "A Room to Talk"), they discover it's safe to talk about what's bothering them–everything from Esteban's father's deportation and Haley's father's incarceration to Amari's fears of racial profiling and Ashton's adjustment to his changing family fortunes. When the six are together, they can express the feelings and fears they have to hide from the rest of the world. And together, they can grow braver and more ready for the rest of their lives.
It's 1947, and India, newly independent of British rule, has been separated into two countries: Pakistan and India. The divide has created much tension between Hindus and Muslims, and hundreds of thousands are killed crossing borders. Half-Muslim, half-Hindu twelve-year-old Nisha doesn't know where she belongs, or what her country is anymore. When Papa decides it's too dangerous to stay in what is now Pakistan, Nisha and her family become refugees and embark first by train but later on foot to reach her new home. The journey is long, difficult, and dangerous, and after losing her mother as a baby, Nisha can't imagine losing her homeland, too. But even if her country has been ripped apart, Nisha still believes in the possibility of putting herself back together.
Jason has just learned that his Afghan mother has been living illegally in the United States since his father was killed in Afghanistan. Although Jason was born in the US, it's hard to feel American now when he's terrified that his mother will be discovered—and that they will be separated. When he sees his mother being escorted from her workplace by two officers, Jason feels completely alone. He boards a train with the hope of finding his aunt in New York City, but as soon as he arrives in Penn Station, the bustling city makes him wonder if he's overestimated what he can do.
Life is quiet and ordinary in Amal's Pakistani village, but she had no complaints, and besides, she's busy pursuing her dream of becoming a teacher one day. Her dreams are temporarily dashed when–as the eldest daughter–she must stay home from school to take care of her siblings. Amal is upset, but she doesn't lose hope and finds ways to continue learning. Then the unimaginable happens–after an accidental run-in with the son of her village's corrupt landlord, Amal must work as his family's servant to pay off her own family's debt.
Resistance by Jennifer A. Nielsen
Chaya Lindner is a teenager living in Nazi-occupied Poland. Simply being Jewish places her in danger of being killed or sent to the camps. After her little sister is taken away, her younger brother disappears, and her parents all but give up hope, Chaya is determined to make a difference. Using forged papers and her fair features, Chaya becomes a courier and travels between the Jewish ghettos of Poland, smuggling food, papers, and even people.
Hideki lives on the island of Okinawa, near Japan. When WWII crashes onto his shores, Hideki is drafted into the Blood and Iron Student Corps to fight for the Japanese army. He is handed a grenade and a set of instructions: Don't come back until you've killed an American soldier. Ray, a young American Marine, has just landed on Okinawa. He doesn't know what to expect — or if he'll make it out alive. He just knows that the enemy is everywhere. Hideki and Ray each fight their way across the island, surviving heart-pounding ambushes and dangerous traps. But when the two of them collide in the middle of the battle, the choices they make in that instant will change everything.
If you liked Are You There, God? It's Me, Margaret by Judy Blume, try…
For as long as Robinson Hart can remember, it's just been her and Grandpa. He taught her about cars, baseball, and everything else worth knowing. But Grandpa's memory has been getting bad—so bad that he sometimes can't even remember Robbie's name. She's sure that she's making things worse by getting in trouble at school, but she can't resist using her fists when bullies like Alex Carter make fun of her for not having a mom.
Frankie knows she'll be in big trouble if Dad discovers she secretly posted a dating profile for him online. But she's determined to find him a wife, even if she ends up grounded for life. Frankie wants what she had before Mom died. A family of three. Two is a pair of socks or the wheels on a bicycle or a busy weekend at the B&B where Frankie and Dad live. Three is a family. And Frankie's is missing a piece.
When Natalie's science teacher suggests that she enter an egg drop competition, Natalie thinks that this might be the perfect solution to all of her problems. There's prize money, and if she and her friends wins, then she can fly her botanist mother to see the miraculous Cobalt Blue Orchids–flowers that survive against impossible odds. Natalie's mother has been suffering from depression, and Natalie is sure that the flowers' magic will inspire her mom to love life again. Which means it's time for Natalie's friends to step up and show her that talking about a problem is like taking a plant out of a dark cupboard and giving it light. With their help, Natalie begins an uplifting journey to discover the science of hope, love, and miracles.
Every Shiny Thing by Cordelia Jensen and Laurie Morrison
Lauren prides herself on being a good sister, and Sierra is used to taking care of her mom. When Lauren's parents send her brother to a therapeutic boarding school for teens on the autism spectrum and Sierra moves to a foster home in Lauren's wealthy neighborhood, both girls are lost until they find a deep bond with each other. But when Lauren recruits Sierra to help with a Robin Hood scheme to raise money for autistic kids who don't have her family's resources, Sierra has a lot to lose if the plan goes wrong. Lauren must learn that having good intentions isn't all that matters when you battle injustice, and Sierra needs to realize that sometimes, the person you need to take care of is yourself.
Every boy in the neighborhood knows Katy Gordon is their best pitcher, even though she's a girl. But when she tries out for Little League, it's a whole different story. Girls are not eligible, period. It is a boy's game and always has been. It's not fair, and Katy's going to fight back. Inspired by what she's learning about civil rights in school, she sets out to prove that she's not the only girl who plays baseball. With the help of friendly librarians and some tenacious research skills, Katy discovers the forgotten history of female ball players. Why does no one know about them? Where are they now? And how can one ten-year-old change people's minds about what girls can do?
Lou Bulosan-Nelson has the ultimate summer DIY project. She's going to build her own "tiny house," 100 square feet all her own. She shares a room with her mom in her grandmother's house, and longs for a place where she can escape her crazy but lovable extended Filipino family. Lou enjoys her woodshop class and creating projects, and she plans to build the house on land she inherited from her dad, who died before she was born. But then she finds out that the land may not be hers for much longer.
So Done by Paula Chase
Jamila Phillips and Tai Johnson have been inseparable since they were toddlers, having grown up across the street from each other in Pirates Cove, a low-income housing project. As summer comes to an end, Tai can't wait for Mila to return from spending a month with her aunt in the suburbs. But both girls are grappling with secrets, and when Mila returns she's more focused on her upcoming dance auditions than hanging out with Tai.
A meningitis outbreak in their underprivileged neighborhood left Sylvia Acevedo's family forever altered. As she struggled in the aftermath of loss, young Sylvia's life transformed when she joined the Brownies. The Girl Scouts taught her how to take control of her world and nourished her love of numbers and science. With new confidence, Sylvia navigated shifting cultural expectations at school and at home, forging her own trail to become one of the first Latinx to graduate with a master's in engineering from Stanford University and going on to become a rocket scientist at NASA's Jet Propulsion Laboratory.
Merci Suarez knew that sixth grade would be different, but she had no idea just howdifferent. For starters, Merci has never been like the other kids at her private school in Florida, because she and her older brother, Roli, are scholarship students. They don't have a big house or a fancy boat, and they have to do extra community service to make up for their free tuition. So when bossy Edna Santos sets her sights on the new boy who happens to be Merci's school-assigned Sunshine Buddy, Merci becomes the target of Edna's jealousy. Things aren't going well at home, either: Merci's grandfather and most trusted ally, Lolo, has been acting strangely lately — forgetting important things, falling from his bike, and getting angry over nothing.
Jilly thinks she's figured out how life works. But when her sister, Emma, is born deaf, she realizes how much she still has to learn. The world is going to treat Jilly, who is white and hearing, differently from Emma, just as it will treat them both differently from their Black cousins. A big fantasy reader, Jilly makes a connection online with another fantasy fan, Derek, who is a Deaf, Black ASL user. She goes to Derek for help with Emma but doesn't always know the best way or time to ask for it. As she and Derek meet in person, have some really fun conversations, and become friends, Jilly makes some mistakes . . . but comes to understand that it's up to her, not Derek to figure out how to do better next time–especially when she wants to be there for Derek the most.
Blended by Sharon Draper
Eleven-year-old Isabella's parents are divorced, so she has to switch lives every week: One week she's Isabella with her dad, his girlfriend Anastasia, and her son Darren living in a fancy house where they are one of the only black families in the neighborhood. The next week she's Izzy with her mom and her boyfriend John-Mark in a small, not-so-fancy house that she loves. Because of this, Isabella has always felt pulled between two worlds. And now that her parents are divorced, it seems their fights are even worse, and they're always about HER. Isabella feels even more stuck in the middle, split and divided between them than ever.
If you liked The Wednesday Wars by Gary Schmidt, try…
Tight by Torrey Maldonado
Bryan knows what's tight for him–reading comics, drawing superheroes, and hanging out with no drama. But drama is every day where he's from, and that gets him tight, wound up. And now Bryan's friend Mike pressures him with ideas of fun that are crazy risky. At first, it's a rush following Mike, hopping turnstiles, subway surfing, and getting into all kinds of trouble. But Bryan never really feels right acting so wrong, and drama really isn't him. So which way will he go, especially when his dad tells him it's better to be hard and feared than liked? But if there's one thing Bryan's gotten from his comic heroes, it's that he has power–to stand up for what he feels . . .
Donovan Curtis has never been what anyone would call "gifted." But his genius friend Noah Youkilis is actually supergifted, with one of the highest IQs around. After years at the Academy for Scholastic Distinction, all Noah dreams of is the opportunity to fail if he wants to. And he's landed in the perfect place to do it—Donovan's school. Almost immediately, Noah finds himself on the wrong side of cheerleading captain Megan Mercury and alpha jock Hash "Hashtag" Taggart. Sticking up for Noah lands Donovan in the middle of a huge feud with Hashtag. He's told to stay away from the sports star—or else.
Nobody knows comics trivia like Stanley knows comics trivia. It's what he takes comfort in when the world around him gets to be too much. And after he faints during a safety assembly, Stanley takes his love of comics up a level by inventing his own imaginary superhero, named John Lockdown, to help him through. Help is what he needs, because Stanley's entered Trivia Quest—a giant comics-trivia treasure hunt—to prove he can tackle his worries, score VIP passes to Comic Fest, and win back his ex-best friend. Partnered with his fearless new neighbor Liberty, Stanley faces his most epic, overwhelming, challenging day ever.
Levi just wants to be treated like a typical kid. As a baby, he had a serious disease that caused him respiratory issues. He's fine now, but his mom and overprotective brother still think of him as damaged, and his schoolmates see him as the same class clown he's always been. He feels stuck. So when his dad—divorced from his mom—suggests he take up boxing, he falls in love with the sport. And when he finds out about a school with a killer boxing team and a free-study curriculum, it feels like he's found a ticket to a new Levi. But how can he tell his mom about boxing? And how can he convince his family to set him free?
Rebound by Kwame Alexander
Before Josh and Jordan Bell were streaking up and down the court, their father was learning his own moves. In this prequel to Newbery Medal winner The Crossover, Chuck Bell takes center stage, as readers get a glimpse of his childhood and how he became the jazz music worshiping, basketball star his sons look up to.
NO. MORE. HOMEWORK. That's what sixth grader Sam Warren tells his teacher while standing on top of his desk. He's fed up with doing endless tasks from the time he gets home to the time he goes to sleep. Suspended for his protest, Sam decides to fight back. He recruits his elderly neighbor/retired attorney Mr. Kalman to help him file a class action lawsuit on behalf of all students in Los Angeles. Their argument? Homework is unconstitutional.
Fourth grader Zayd Saleem has some serious hoop dreams. He's not just going to be a professional basketball player. He's going to be a star. A legend. The first Pakistani-American kid to make it to the NBA. He knows this deep in his soul. It's his destiny. There are only a few small things in his way. For starters, Zayd's only on the D-team. (D stands for developmental, but to Zayd it's always felt like a bad grade or something.) Not to mention, he's a bit on the scrawny side, even for the fourth grade team. But his best friend Adam is on the Gold Team, and it's Zayd's dream for the two of them to play together.
Welcome to a neighborhood of kids who transform ordinary boxes into colorful costumes, and their ordinary block into cardboard kingdom. This is the summer when sixteen kids encounter knights and rogues, robots and monsters–and their own inner demons–on one last quest before school starts again. In the Cardboard Kingdom, you can be anything you want to be–imagine that!
Mikayla is a wrestler; when you grow up in a house full of brothers who wrestle, it's inevitable. It's also a way to stay connected to her oldest brother, Evan, who moved in with their dad. Some people object to having a girl on the team. But that's not stopping Mikayla. She's determined to work harder than ever, and win. Lev is determined to make it to the state championships this year. He's used to training with his two buddies as the Fearsome Threesome; they know how to work together. At the beginning of sixth grade, he's paired with a new partner–a girl. This better not get in the way of his goal.
Marcus Vega is six feet tall, 180 pounds, and the owner of a premature mustache. When you look like this and you're only in the eighth grade, you're both a threat and a target. After a fight at school leaves Marcus facing suspension, Marcus's mom decides it's time for a change of environment. She takes Marcus and his younger brother to Puerto Rico to spend a week with relatives they don't remember or have never met. But Marcus can't focus knowing that his father–who walked out of their lives ten years ago–is somewhere on the island.
Mascot by Antony John
Noah Savino has been stuck in a wheelchair for months. He hates the way people treat him like he's helpless now. He's sick of going to physical therapy, where he isn't making any progress. He's tired of not having control over his own body. And he misses playing baseball—but not as much as he misses his dad, who died in the car accident that paralyzed Noah. Noah is scared he'll never feel like his old self again. He doesn't want people to think of him as different for the rest of his life. With the help of family and friends, he'll have to throw off the mask he's been hiding behind and face the fears that have kept him on the sidelines if he ever wants to move forward.
Devin wants to hit it big on the internet by pulling a stunt at an NBA game―one the entire nation will be watching. Addison can't turn Devin down, but he can barely manage talking to his teachers without freezing up. How's he supposed to handle the possibility of being a viral sensation? Addi's not sure why Devin is bent on pulling off this almost-impossible feat. Maybe it has something to do with Devin's dad's hospital bills. Maybe it all goes back to the Double-Barreled Monkey Bar Backflip of Doom. Or maybe it's something else entirely. No matter what, though, it's risky for both of them, and when the big day finally comes, Devin's plan threatens more than just their friendship.
If you liked Bridge to Terabithia by Katherine Paterson, try…
Mason Buttle is the biggest, sweatiest kid in his grade, and everyone knows he can barely read or write. Mason's learning disabilities are compounded by grief. Fifteen months ago, Mason's best friend, Benny Kilmartin, turned up dead in the Buttle family's orchard. An investigation drags on, and Mason, honest as the day is long, can't understand why Lieutenant Baird won't believe the story Mason has told about that day.
Eleven-year-old Frances is an observer of both nature and people, just like her idol, the anthropologist Margaret Mead. She spends most of her time up on the rocks behind her house in her "rock world," as Alvin, her kindhearted and well-read school bus driver, calls it. It's the one place where Frances can truly be herself, and where she doesn't have to think about her older sister, Christina, who is growing up and changing in ways that Frances can't understand.
When twelve-year-old Della Kelly finds her mother furiously digging black seeds from a watermelon in the middle of the night and talking to people who aren't there, Della worries that it's happening again—that the sickness that put her mama in the hospital four years ago is back. That her mama is going to be hospitalized for months like she was last time. With her daddy struggling to save the farm and her mama in denial about what's happening, it's up to Della to heal her mama for good. And she knows just how she'll do it: with a jar of the Bee Lady's magic honey, which has mended the wounds and woes of Maryville, North Carolina, for generations.
When Louisiana Elefante's granny wakes her up in the middle of the night to tell her that the day of reckoning has arrived and they have to leave home immediately, Louisiana isn't overly worried. After all, Granny has many middle-of-the-night ideas. But this time, things are different. This time, Granny intends for them never to return. Separated from her best friends, Raymie and Beverly, Louisiana struggles to oppose the winds of fate (and Granny) and find a way home. But as Louisiana's life becomes entwined with the lives of the people of a small Georgia town — including a surly motel owner, a walrus-like minister, and a mysterious boy with a crow on his shoulder — she starts to worry that she is destined only for good-byes.
Seventh-grader Zoey has her hands full as she takes care of her much younger siblings after school every day while her mom works her shift at the pizza parlor. Not that her mom seems to appreciate it. At least there's Lenny, her mom's boyfriend―they all get to live in his nice, clean trailer. At school, Zoey tries to stay under the radar. Her only friend Fuchsia has her own issues, and since they're in an entirely different world than the rich kids, it's best if no one notices them. Zoey thinks how much easier everything would be if she were an octopus: eight arms to do eight things at once. Incredible camouflage ability and steady, unblinking vision. Powerful protective defenses.
If you liked Sideways Stories from Wayside School by Louis Sachar, try…
Twelve-year-old Lennie Mercado loves magic. She practices her invisibility powers all the time (she can now stay invisible for fifteen seconds!), and she dreams of the day that she can visit her grandfather, the Prime Wizard de Pomporromp, at his magical estate. Now Lennie has her chance. Poppop has decided to retire, and his grandchildren are coming from all over to compete in Wizardmatch. The winner inherits his title, his castle, and every single one of his unlimited magical powers. The losers get nothing. Lennie is desperate to win, but when Poppop creates a new rule to quelch any sibling rivalry, her thoughts turn from winning Wizardmatch to sabotaging it…even if it means betraying her family.
Sassy and Waldo are good dogs. They spend the day keeping their house safe. Has a squirrel ever gotten inside? No! But every day their boy, Stewart, comes home from this terrible place called school smelling like anxiety and looseleaf paper. Sassy and Waldo decide to save Stewart. But they don't let dogs into school. So Sassy and Waldo decide to get creative. They put on an old trench coat, and now everyone at Bea Arthur Elementary thinks they are a new student named Salty from Liver, Ohio. Well, everyone except Stewart.
Lions and Liars by Kate Beasley, illustrated by Dan Santat
Fifth grade is off to a terrible start when Frederick is sent to a disciplinary camp for troublesome boys. His fellow troop mates―Nosebleed, Specs, The Professor, and little-yet-lethal Ant Bite―are terrifying. But in between trust-building exercises and midnight escape attempts, a tenuous friendship grows between them. Which is lucky, because a Category 5 hurricane is coming and everyone will have to work together―lions and fleas alike―to survive!
If you liked Charlotte's Web, try…
One of the first naturalists to observe live insects directly, Maria Sibylla Merian was also one of the first to document the metamorphosis of the butterfly. In this visual nonfiction biography, richly illustrated throughout with full-color original paintings by Merian herself, the Newbery Honor–winning author Joyce Sidman paints her own picture of one of the first female entomologists and a woman who flouted convention in the pursuit of knowledge and her passion for insects.
Louie doesn't have the best luck when it comes to nurturing small creatures. So when his father brings home a sickly newborn mini donkey, he's determined to save him. He names him Winslow. Taking care of him helps Louie feel closer to his brother, Gus, who is far, far away in the army. Everyone worries that Winslow won't survive, especially Louie's quirky new friend, Nora, who has experienced loss of her own. But as Louie's bond with Winslow grows, surprising and life-altering events prove that this fragile donkey is stronger than anyone could have imagined.
Anytime Josie Shilling's large family gets too chaotic, volunteering at the local animal clinic is the one place she can escape—and she loves working with the animals. But when a box mysteriously appears on the clinic's front steps, Josie suddenly becomes responsible for seven adorable puppies! Taking care of her pig, Hamlet, last fall was a bit harder than she thought. So how is she ever going to handle a whole litter of mischievous pups and find the right homes for them all? This summer will bring big changes for Josie as she learns about growing up, letting go, and loving your pack no matter what.
If you liked All-of-a-Kind Family by Sydney Taylor, try…
Filled with mystery, humor, and adventure, the first book in this new trilogy is an unforgettable tale of adventure, family, and finding the courage to face any problem heart-first. When the Problim children's ramshackle bungalow in the Swampy Woods goes kaboom, the seven siblings—each born on a different day of the week—have to move into their grandpa's bizarre old mansion in Lost Cove. No problem! For the Problim children, every problem is a gift!
Priscilla "Cilla" Lee-Jenkins has just finished her (future) bestselling memoir, and now she's ready to write a Classic. This one promises to have everything: Romance, Adventure, and plenty of Drama―like Cilla's struggles to "be more Chinese," be the perfect flower girl at Aunt Eva's wedding, and learn how to share her best friend.
Nine years, five older siblings, a few beloved dogs, and an endless array of adventures–these are the things that have shaped Lydia's journey since readers first met her in The Penderwicks in Spring. Now it's summertime, and eleven-year-old Lydia is dancing at the bus stop, waiting for big sister Batty to get home from college. This is a veryimportant dance and a veryimportant wait because the two youngest sisters are about to arrive home to find out that the Penderwicks will allbe returning to Arundel this summer, the place where it all began. And better still is the occasion: a good old-fashioned, homemade-by-Penderwicks wedding.
The Lotterys More or Less by Emma Donoghue, illustrated by Caroline Hadilaksono
Sumac Lottery is the keeper of her family's traditions — from Pow Wow to Holi, Carnival to Hogmanay, Sumac's on guard to make sure that no Lottery celebration gets forgotten. But this winter all Sumac's seasonal plans go awry when a Brazilian visitor overstays his welcome. A terrible ice storm grounds all flights, so one of her dads and her favorite brother can't make it home from India. And then the power starts going out across the city…
While Isa is off at sleepaway orchestra camp, Jessie, Oliver, Hyacinth, and Laney are stuck at home in the brownstone with nothing to do but get on one another's nerves. But when catastrophe strikes their beloved upstairs neighbor, their sleepy summer transforms in an instant as the Vanderbeeker children band together to do what they do best: make a plan. They will create the most magical healing garden in all of Harlem.
If you liked From the Mixed-Up Files of Mrs. Basil E. Frankweiler by E.L. Konigsburg, try…
Legendary literary game-maker Garrison Griswold is back in action―this time with "Unlock the Rock." For his latest game, Griswold has partnered with the famous–and famously reclusive–mystery writer Errol Roy to plan an epic escape room challenge on Alcatraz Island. Emily and James are eager to participate, but the wave of fame they are riding from their recent book-hunting adventures makes them a target. Threatening notes, missing items, and an accident that might not have been an accident have the duo worried that someone is trying to get them out of the game at any cost.
When Candice finds a letter in an old attic in Lambert, South Carolina, she isn't sure she should read it. It's addressed to her grandmother, who left the town in shame. But the letter describes a young woman. An injustice that happened decades ago. A mystery enfolding its writer. And the fortune that awaits the person who solves the puzzle. So with the help of Brandon, the quiet boy across the street, she begins to decipher the clues. The challenge will lead them deep into Lambert's history, full of ugly deeds, forgotten heroes, and one great love; and deeper into their own families, with their own unspoken secrets. Can they find the fortune and fulfill the letter's promise before the answers slip into the past yet again?
Lucy Callahan was struck by lightning. She doesn't remember it, but it changed her life forever. The zap gave her genius-level math skills, and ever since, Lucy has been homeschooled. Now, at 12 years old, she's technically ready for college. She just has to pass 1 more test–middle school! Lucy's grandma insists: Go to middle school for 1 year. Make 1 friend. Join 1 activity. And read 1 book (that's not a math textbook!). Lucy's not sure what a girl who does calculus homework for fun can possibly learn in 7th grade. She has everything she needs at home, where nobody can make fun of her rigid routines or her superpowered brain. The equation of Lucy's life has already been solved. Unless there's been a miscalculation?
Nora Tucker is looking forward to summer vacation in Wolf Creek–two months of swimming, popsicles, and brushing up on her journalism skills for the school paper. But when two inmates break out of the town's maximum security prison, everything changes. Doors are locked, helicopters fly over the woods, and police patrol the school grounds. Worst of all, everyone is on edge, and fear brings out the worst in some people Nora has known her whole life. Even if the inmates are caught, she worries that home might never feel the same.
If you liked The Lightning Thief by Rick Riordan, try…
On the morning of her twelfth birthday, Kiranmala is just a regular sixth grader living in Parsippany, New Jersey . . . until her parents mysteriously vanish and a drooling rakkhosh demon slams through her kitchen, determined to eat her alive. Turns out there might be some truth to her parents' fantastical stories-like how Kiranmala is a real Indian princess and how she comes from a secret place not of this world.
To complicate matters, two crush-worthy princes ring her doorbell, insisting they've come to rescue her. Suddenly, Kiran is swept into another dimension full of magic, winged horses, moving maps, and annoying, talking birds. There she must solve riddles and battle demons all while avoiding the Serpent King of the underworld and the Rakkhoshi Queen in order to find her parents and basically save New Jersey, her entire world, and everything beyond it . . .
One dark night, Drest's sheltered life on a remote Scottish headland is shattered when invading knights capture her family, but leave Drest behind. Her father, the Mad Wolf of the North, and her beloved brothers are a fearsome war-band, but now Drest is the only one who can save them. So she starts off on a wild rescue attempt, taking a wounded invader along as a hostage.
Hiding with fellow refugees, Podkin, Paz, and Pook are temporarily safe in Dark Hollow Warren. But their enemies—the evil Gorm—still search for them. The rabbits' only hope may be to locate twelve magical Gifts and use them to defeat the Gorm. The fate of all rabbitkind is at stake, and danger lurks at every turn. It will take all the siblings' courage and ingenuity to find the Gifts, battle the Gorm, and stay alive. Action and intrigue infuse the second installment of a series that shows that anyone—even little rabbits—can do great things.
Love Sugar Magic by Anna Meriano, illustrated by Mirelle Ortega
Leonora Logroño's family owns the most beloved bakery in Rose Hill, Texas, spending their days conjuring delicious cookies and cakes for any occasion. And no occasion is more important than the annual Dia de los Muertos festival. Leo hopes that this might be the year that she gets to help prepare for the big celebration—but, once again, she is told she's too young. Sneaking out of school and down to the bakery, she discovers that her mother, aunt, and four older sisters have in fact been keeping a big secret: they're brujas—witches of Mexican ancestry—who pour a little bit of sweet magic into everything that they bake.
Mayka and her stone family were brought to life by the stories etched into their bodies. Now time is eroding these vital marks, and Mayka must find a stonemason to recarve them. But the search is more complex than she had imagined, and Mayka uncovers a scheme endangering all stone creatures. Only someone who casts stories into stone can help—but whom can Mayka trust? Where is the stonemason who will save them?
One month has passed since Valor broke her twin sister Sasha out of jail. But the girl responsible for her imprisonment, Princess Anastasia, has gone missing, and Valor still longs for justice. So when the queen, desperate to find her daughter, asks Valor and Sasha to track Anastasia down, they don't hesitate to accept the perilous assignment. But just as the girls team up with old friends to embark on the search, the queen vanishes without a trace. If Valor can't restore the rightful ruler, she risks getting sent back to prison . . . and tearing her newly reunited family apart.
Boy has always been relegated to the outskirts of his small village. With a large hump on his back, a mysterious past, and a tendency to talk to animals, he is often mocked by others in his town—until the arrival of a shadowy pilgrim named Secondus. Impressed with Boy's climbing and jumping abilities, Secondus engages Boy as his servant, pulling him into an action-packed and suspensful expedition across Europe to gather the seven precious relics of Saint Peter.
After discovering the truth about her spy school/boarding school—and her super-spy mom—Abby Hunter is ready for her next adventure, but what's about to happen is something she never would have guessed… Everyone at The Smith School is obsessed with Monster Mayhem, the latest reality video game craze. But when Drexel Caine, the mastermind behind the game is suddenly kidnapped, it becomes clear that the kidnappers are playing for more than just special badges.
Twelve-year-old Aru Shah has a tendency to stretch the truth in order to fit in at school. While her classmates are jetting off to family vacations in exotic locales, she'll be spending her autumn break at home, in the Museum of Ancient Indian Art and Culture, waiting for her mom to return from her latest archeological trip. Is it any wonder that Aru makes up stories about being royalty, traveling to Paris, and having a chauffeur? One day, three schoolmates show up at Aru's doorstep to catch her in a lie. They don't believe her claim that the museum's Lamp of Bharata is cursed, and they dare Aru to prove it. But lighting the lamp has dire consequences. She unwittingly frees the Sleeper, an ancient demon whose duty it is to awaken the God of Destruction. Her classmates and beloved mother are frozen in time, and it's up to Aru to save them.
It's 1863 and dinosaurs roam the streets of New York as the Civil War rages between raptor-mounted armies down South. Magdalys Roca and her friends from the Colored Orphan Asylum are on a field trip when the Draft Riots break out, and a number of their fellow orphans are kidnapped by an evil magistrate, Richard Riker. Magdalys and her friends flee to Brooklyn and settle in the Dactyl Hill neighborhood, where black and brown New Yorkers have set up an independent community–a safe haven from the threats of Manhattan. Together with the Vigilance Committee, they train to fly on dactylback, discover new friends and amazing dinosaurs, and plot to take down Riker. Can Magdalys and the squad rescue the rest of their friends before it's too late?
Charlie Hernández has always been proud of his Latin American heritage. He loves the culture, the art, and especially the myths. But when Charlie begins to experience freaky bodily manifestations—ones all too similar to those described by his grandma in his favorite legend—he is suddenly swept up in a world where the mythical beings he's spent his entire life hearing about seem to be walking straight out of the pages of Hispanic folklore and into his life. And even stranger, they seem to know more about him than he knows about himself.