Children's
50 Must-Read Middle Grade Friendship Stories
This content contains affiliate links. When you buy through these links, we may earn an affiliate commission.
Do you remember the first friend you made? What about the first one you lost? What about the friends you've had the longest, and the ones you've just met? Making, keeping, and losing friends is a real-life problem that knows no age limits, and is always hard, but like so many things when we're young, it's hardest when you've never done it before. In the 50 middle grade books about friendship below, against the backdrop of school competitions, family troubles, fairytale adventures, fighting monsters, solving mysteries, and finding themselves, you'll find kids discovering strength in new friends, tightening their bonds with old ones, and losing others completely (and forever).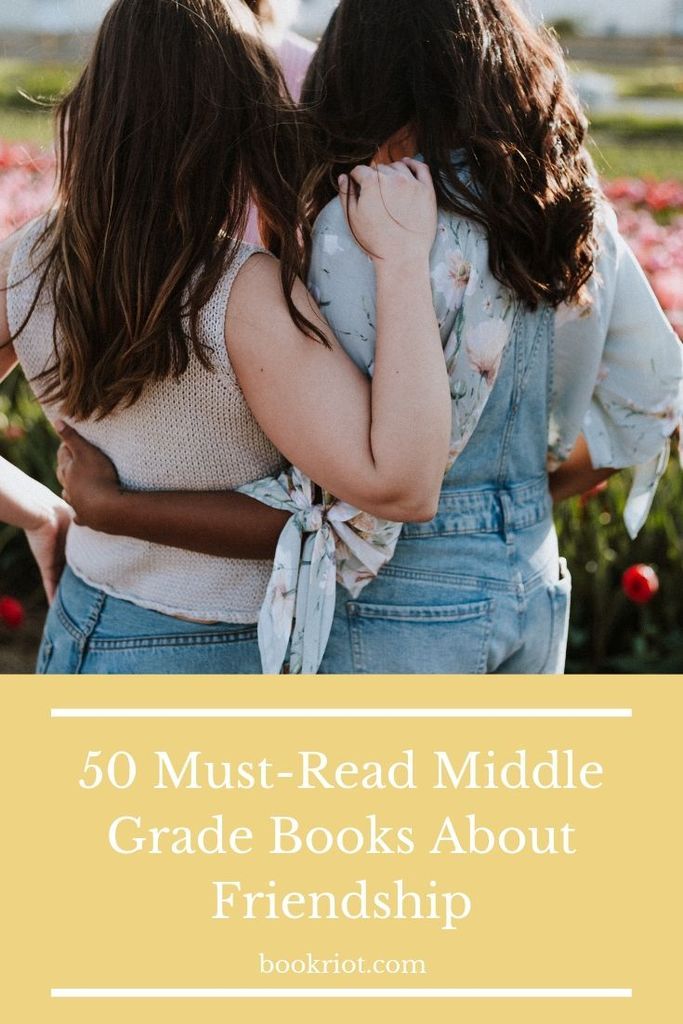 "The first day of middle school means trading in freeze tag at the pool for new schedules, fabulous outfits, and a fresh start. But for eleven-year-old Kaylan, the chaos of new locker combinations, cafeteria cliques, and potential first kisses is more than she can handle. She dreads the start of sixth grade and feels like she wants—no, needs—a winning game plan.
Luckily, Kaylan and her effortlessly chill BFF, Arianna, have a fool-proof plan for tackling transitions: a list of eleven things they need to do to totally transform themselves before they both turn twelve in November. But between making guy friends, getting detention (and makeovers!), helping humanity, and having super-candid conversations with their moms about their flaws, the first 100 days of school turn out worse than Kaylan ever imagined. Kaylan and Ari forget to focus on their friendship and soon their loyalty to the list—what was meant to help them keep it together—becomes the very thing tearing their lives apart."
"It's Amanda's 11th birthday and she is super excited — after all, 11 is so different from 10. But from the start, everything goes wrong. The worst part of it all is that she and her best friend, Leo, with whom she's shared every birthday, are on the outs and this will be the first birthday they haven't shared together. When Amanda turns in for the night, glad to have her birthday behind her, she wakes up happy for a new day. Or is it? Her birthday seems to be repeating iself. What is going on?! And how can she fix it? Only time, friendship, and a little luck will tell. . ."
"Seventh grader Addie Bell can't wait to grow up. Her parents won't let her have her own phone, she doesn't have any curves, and her best friend Grace isn't at all interested in make-up or boys. Then, on the night of her twelfth birthday, Addie makes a wish on a magic jewelry box to be sixteen…and wakes up to find her entire life has been fast-forwarded four years! Suddenly she has everything she's always wanted (including a driver's license and a closet full of cool clothes)! But Addie soon discovers that a lot more has changed than she expected—including her friendship with Grace. Can Addie turn back time and take back her wish…or has she lost the chance to experience what could have been the best years of her life?"
"Thirteen-year-old Bina has a long summer ahead of her. She and her best friend, Austin, usually do everything together, but he's off to soccer camp for a month, and he's been acting kind of weird lately anyway. So it's up to Bina to see how much fun she can have on her own. At first it's a lot of guitar playing, boredom, and bad TV, but things look up when she finds an unlikely companion in Austin's older sister, who enjoys music just as much as Bina. But then Austin comes home from camp, and he's acting even weirder than when he left."
Awkward by Svetlana Chmakova
"Cardinal rule #1 for surviving school: Don't get noticed by the mean kids.
Cardinal rule #2 for surviving school: Seek out groups with similar interests and join them.
On her first day at her new school, Penelope–Peppi–Torres reminds herself of these basics. But when she trips into a quiet boy in the hall, Jaime Thompson, she's already broken the first rule, and the mean kids start calling her the "nerder girlfriend." How does she handle this crisis? By shoving poor Jaime and running away!
Falling back on rule two and surrounding herself with new friends in the art club, Peppi still can't help feeling ashamed about the way she treated Jaime. Things are already awkward enough between the two, but to make matters worse, he's a member of her own club's archrivals–the science club! And when the two clubs go to war, Peppi realizes that sometimes you have to break the rules to survive middle school!"
"All Vera wants to do is fit in—but that's not easy for a Russian girl in the suburbs. Her friends live in fancy houses and their parents can afford to send them to the best summer camps. Vera's single mother can't afford that sort of luxury, but there's one summer camp in her price range—Russian summer camp.
Vera is sure she's found the one place she can fit in, but camp is far from what she imagined. And nothing could prepare her for all the "cool girl" drama, endless Russian history lessons, and outhouses straight out of nightmares!"
"Jess Aarons' greatest ambition is to be the fastest runner in his grade. He's been practicing all summer and can't wait to see his classmates' faces when he beats them all. But on the first day of school, a new girl boldly crosses over to the boys' side and outruns everyone.
That's not a very promising beginning for a friendship, but Jess and Leslie Burke become inseparable. Together they create Terabithia, a magical kingdom in the woods where the two of them reign as king and queen, and their imaginations set the only limits."
"Welcome to a neighborhood of kids who transform ordinary boxes into colorful costumes, and their ordinary block into cardboard kingdom. This is the summer when sixteen kids encounter knights and rogues, robots and monsters–and their own inner demons–on one last quest before school starts again.
In the Cardboard Kingdom, you can be anything you want to be–imagine that!"
Click by Kayla Miller
"Olive 'clicks' with everyone in the fifth grade—until one day she doesn't. When a school variety show leaves Olive stranded without an act to join, she begins to panic, wondering why all her friends have already formed their own groups . . . without her. With the performance drawing closer by the minute, will Olive be able to find her own place in the show before the curtain comes up?"
Click'd by Tamara Ireland Stone
"Allie Navarro can't wait to show her best friends the app she built at CodeGirls summer camp. CLICK'D pairs users based on common interests and sends them on a fun (and occasionally rule-breaking) scavenger hunt to find each other. And it's a hit. By the second day of school, everyone is talking about CLICK'D.
Watching her app go viral is amazing. Leaderboards are filling up! Everyone's making new friends. And with all the data Allie is collecting, she has an even better shot at beating her archenemy, Nathan, at the upcoming youth coding competition. But when Allie discovers a glitch that threatens to expose everyone's secrets, she has to figure out how to make things right, even if that means sharing the computer lab with Nathan. Can Allie fix her app, stop it from doing any more damage, and win back the friends it hurt-all before she steps on stage to present CLICK'D to the judges?"
The Darkdeep by Ally Condie and Brendan Riechs
"When a bullying incident sends twelve-year-old Nico Holland over the edge of a cliff into the icy waters of Still Cove, where no one ever goes, friends Tyler and Ella – and even 'cool kid' Opal -rush to his rescue… only to discover an island hidden in the swirling mists below.
Shrouded by dense trees and murky tides, the island appears uninhabited, although the kids can't quite shake the feeling that something about it is off. Their suspicions grow when they stumble upon an abandoned houseboat with an array of curiosities inside: odd-looking weapons, unnerving portraits, maps to places they've never heard of, and a glass jar containing something completely unidentifiable.
As the group delves deeper into the unknown, their discoveries – and their lives -begin to intertwine in weird and creepy ways. Something ancient has awakened… and it knows their wishes and dreams – and their darkest, most terrible secrets. Do they have what it takes to face the shadowy things that lurk within their own hearts?"
"There are no shortcuts to surviving your first day at a new school–you can't fix it with duct tape like you would your Chuck Taylors. On Day One, twelve-year-old Malú (Maria Luisa, if you want to annoy her) inadvertently upsets Posada Middle School's queen bee, violates the school's dress code with her punk rock look, and disappoints her college-professor mom in the process. Her dad, who now lives a thousand miles away, says things will get better as long as she remembers the first rule of punk: be yourself.
The real Malú loves rock music, skateboarding, zines, and Soyrizo (hold the cilantro, please). And when she assembles a group of like-minded misfits at school and starts a band, Malú finally begins to feel at home. She'll do anything to preserve this, which includes standing up to an anti-punk school administration to fight for her right to express herself!"
Harbor Me by Jacqueline Woodson
"It all starts when six kids have to meet for a weekly chat—by themselves, with no adults to listen in. There, in the room they soon dub the ARTT Room (short for "A Room to Talk"), they discover it's safe to talk about what's bothering them—everything from Esteban's father's deportation and Haley's father's incarceration to Amari's fears of racial profiling and Ashton's adjustment to his changing family fortunes. When the six are together, they can express the feelings and fears they have to hide from the rest of the world. And together, they can grow braver and more ready for the rest of their lives."
"In one day, four lives weave together in unexpected ways. Virgil Salinas is shy and kindhearted and feels out of place in his loud and boisterous family. Valencia Somerset, who is deaf, is smart, brave, and secretly lonely, and loves everything about nature. Kaori Tanaka is a self-proclaimed psychic, whose little sister Gen is always following her around. And Chet Bullens wishes the weird kids would just act normal so that he can concentrate on basketball. They aren't friends — at least not until Chet pulls a prank that traps Virgil and his pet guinea pig at the bottom of a well. This disaster leads Kaori, Gen, and Valencia on an epic quest to find the missing Virgil. Through luck, smarts, bravery, and a little help from the universe, a rescue is performed, a bully is put in his place, and friendship blooms."
"The last day of seventh grade has Jaime and Maya wondering who their real friends are.
Jaime knows something is off with her friend group. They've started to exclude her and make fun of the way she dresses and the things she likes. At least she can count on her BFF, Maya, to have her back . . . right?
Maya feels more and more annoyed with Jaime, who seems babyish compared to the other girls in their popular group. It's like she has nothing in common with Jai anymore. Are their days as BFFs numbered…?"
"While cleaning out her reclusive grandfather's house, Joplin discovers pieces of a broken platter in a cookie tin. After having the platter repaired, Joplin wishes that she could both find a friend at school, and befriend the girl pictured in the platter. The next day, Joplin befriends a boy named Barrett, and also notices a girl outside her apartment. A girl who looks remarkably like the girl in the platter…
The girl introduces herself as Sofie, and she has a terrible secret. Cursed to grant wishes for the owner of the platter for all of time, she has been trapped for centuries. Joplin and Barrett vow to help her, but freeing Sofie is more complicated than they could have imagined, and the three friends end up against a sinister foe who could put them all in terrible danger."
"This first book in The Cupcake Diaries is told through the perspective of Katie Brown. We find Katie miserable on the first day of middle school. Her best friend Callie came back from camp boy-crazy and part of a whole new group of friends. When it's made clear that Callie is in the PGC (Popular Girls Club) and Katie is not invited to join, Katie suddenly feels incredibly alone. Katie realizes if she's going to survive middle school she needs to seriously regroup and find some new friends. But how? She bites into the cupcake her mother packed her for lunch and for a second closes her eyes. The sweet treat makes her happy—finally something goes right! Looking around her table, Katie notices the other students seeming a bit lost, as well. Which gives her an idea…With three new friends Katie forms a club as a way to spread the cupcake love and earn some cupcake cash!"
"Kristy, Mary Anne, Claudia, and Stacey are best friends and founding members of The Baby-sitters Club. Whatever comes up — cranky toddlers, huge dogs, scary neighbors, prank calls — you can count on them to save the day. But baby-sitting isn't always easy, and neither is dealing with strict parents, new families, fashion emergencies, and mysterious secrets. But no matter what, the BSC have what they need most: friendship."
"If it were up to Mattie Markham, there would be a law that said your family wasn't allowed to move in the middle of the school year. After all, sixth grade is hard enough without wondering if you'll be able to make new friends or worrying that the kids in Pennsylvania won't like your North Carolina accent.
But when Mattie meets her next-door neighbor and classmate, she begins to think maybe she was silly to fear being the "new girl." Agnes is like no one Mattie has ever met—she's curious, hilarious, smart, and makes up the best games. If winter break is anything to go by, the rest of the school year should be a breeze.
Only it isn't, because when vacation ends and school starts, Mattie realizes something: At school Agnes is known as the weird girl who no one likes. All Mattie wants is to fit in (okay, and maybe be a little popular too), but is that worth ending her friendship with Agnes?"
"Lety Muñoz's first language is Spanish, and she likes to take her time putting her words together. She loves volunteering at the Furry Friends Animal Shelter because the dogs and cats there don't care if she can't always find the right word.
When the shelter needs a volunteer to write animal profiles, Lety jumps at the chance. But grumpy classmate Hunter also wants to write profiles — so now they have to work as a team. Hunter's not much of a team player, though. He devises a secret competition to decide who will be the official shelter scribe. Whoever helps get their animals adopted the fastest wins. The loser scoops dog food.
Lety reluctantly agrees, but she's worried that if the shelter finds out about the contest, they'll kick her out of the volunteer program. Then she'll never be able to adopt Spike, her favorite dog at the shelter!"
"When seventh grader Georges (the S is silent) moves into a Brooklyn apartment building, he meets Safer, a twelve-year-old coffee-drinking loner and self-appointed spy. Georges becomes Safer's first spy recruit. His assignment? Tracking the mysterious Mr. X, who lives in the apartment upstairs. But as Safer becomes more demanding, Georges starts to wonder: how far is too far to go for your only friend?"
"For three ten-year-old girls, their once simple worlds are starting to feel too big.
Painfully shy Grace dreads starting fifth grade now that her best friend has moved away. Jada hopes she'll stop feeling so alone if she finds the mother who left years ago. And Malia fears the arrival of her new baby sister will forever change the family she loves.
When the girls each find a mysterious treasure box in their library and begin to fill the box with their own precious things, they start to feel less alone. But it's up to Grace, Jada, and Malia to take the treasures and turn them into something more: true friendship."
"Frederick Frederickson has a food-chain theory about life. There are lions, like the school bully. Gazelles, like the bullied kids. There are meerkats, and the fleas that live on the butts of meerkats. Frederick's a flea.
Fifth grade is off to a terrible start when Frederick is sent to a disciplinary camp for troublesome boys. His fellow troop mates—Nosebleed, Specs, The Professor, and little-yet-lethal Ant Bite—are terrifying. But in between trust-building exercises and midnight escape attempts, a tenuous friendship grows between them. Which is lucky, because a Category 5 hurricane is coming and everyone will have to work together—lions and fleas alike—to survive!"
"Sixth grade was SO much easier for Danielle. All her friends were in the same room and she knew what to expect from her life. But now that she's in seventh grade, she's in a new middle school, her friends are in different classes and forming new cliques, and she is completely lost.
When Danielle inherits a magical sketchbook from her eccentric great aunt Elma, she draws Madison, an ideal best friend that springs to life right off the page! But even when you create a best friend, it's not easy navigating the ups and downs of relationships, and before long Danielle and Madison are not exactly seeing eye-to-eye.
To make matters worse, Danielle has drawn the head of her favorite (and totally misunderstood) cartoon villain, Prince Neptune. He's also come to life and is giving her terrible advice about how to make people like her. When she rejects him and he goes on a rampage during a school pep rally, Danielle and Madison have to set aside their differences to stop him!"
"Nine-year-old Mya Tibbs is boot-scootin' excited for the best week of the whole school year—SPIRIT WEEK! She and her megapopular best friend, Naomi Jackson, even made a pinky promise to be Spirit Week partners so they can win the big prize: special VIP tickets to the Fall Festival!
But when the partner picking goes horribly wrong, Mya gets paired with Mean Connie Tate—the biggest bully in school. And she can't get out of it.
Good gravy.
Now Naomi is friend-ending mad at Mya for breaking a promise—even though Mya couldn't help it—and everyone at school is calling Mya names. Can Mya work with Mean Connie to win the VIP tickets and get her best friend back?"
"What happens when your BFF becomes your EFF . . . EX-Friend-Forever? When seventh-grader Mango Delight Fuller accidentally breaks her BFF Brooklyn's new cell phone, her life falls apart. She loses her friends and her spot on the track team, and even costs her father his job as a chef. But Brooklyn's planned revenge—sneakily signing up Mango to audition for the school musical—backfires when Mango not only wins the lead role, but becomes a YouTube sensation and attracts the attention of the school's queen bee, Hailey Jo. Hailey Jo is from a VERY wealthy family, and expects everyone to do her bidding. Soon Mango finds herself forced to make tough choices about the kind of friend she wants to have . . . and, just as important, the kind of friend she wants to be."
My Jasper June by Laurel Snyder (September 3, 2019)
"The school year is over, and it is summer in Atlanta. The sky is blue, the sun is blazing, and the days brim with possibility. But Leah feels. . . lost. She has been this way since one terrible afternoon a year ago, when everything changed. Since that day, her parents have become distant, her friends have fallen away, and Leah's been adrift and alone.
Then she meets Jasper, a girl unlike anyone she has ever known. There's something mysterious about Jasper, almost magical. And Jasper, Leah discovers, is also lost.
Together, the two girls carve out a place for themselves, a hideaway in the overgrown spaces of Atlanta, away from their parents and their hardships, somewhere only they can find.
But as the days of this magical June start to draw to a close, and the darker realities of their lives intrude once more, Leah and Jasper have to decide how real their friendship is, and whether it can be enough to save them both."
One and Only Ivan by Katherine Applegate
"Ivan is an easygoing gorilla. Living at the Exit 8 Big Top Mall and Video Arcade, he has grown accustomed to humans watching him through the glass walls of his domain. He rarely misses his life in the jungle. In fact, he hardly ever thinks about it at all.
Instead, Ivan thinks about TV shows he's seen and about his friends Stella, an elderly elephant, and Bob, a stray dog. But mostly Ivan thinks about art and how to capture the taste of a mango or the sound of leaves with color and a well-placed line.
Then he meets Ruby, a baby elephant taken from her family, and she makes Ivan see their home—and his own art—through new eyes. When Ruby arrives, change comes with her, and it's up to Ivan to make it a change for the better."
"Twelve-year-old Asha and her best friend, Yesofu, never cared about the differences between them: Indian. African. Girl. Boy. Short. Tall. But when Ugandan President Idi Amin announces that Indians have ninety days to leave the country, suddenly those differences are the only things that people in Entebbe can see—not the shared after-school samosas or Asha cheering for Yesofu at every cricket game.
Determined for her life to stay the same, Asha clings to her world tighter than ever before. But Yesofu is torn, pulled between his friends, his family, and a promise that could bring his dreams of university within reach. Now, as neighbors leave and soldiers line the streets, the two friends find that nothing seems sure—not even their friendship. And with only days before the deadline, Asha and Yesofu must decide if the bravest thing of all might be to let each other go."
"Piper and Olivia have been best friends since…well, forever. But they're distressed to find that their new middle school schedules aren't giving them enough together-time. Luckily, an idea sparks when Piper finds a cute, sparkly notebook to disguise as her "French Class" homework. It's genius—now the two BFFs can stick together all the time. And document their adventures—you know, for anthropology's sake.
But as the two navigate the tricky new world of sixth grade, they realize that they may need to branch out more than they originally thought. Their notebook, once a life raft, begins to feel like a big responsibility. Can they grow up, without growing apart?"
Pax by Sara Pennypacker
"Pax was only a kit when his family was killed, and "his boy" Peter rescued him from abandonment and certain death. Now the war front approaches, and when Peter's father enlists, Peter has to move in with his grandpa. Far worse than being forced to leave home is the fact that Pax can't go. Peter listens to his stern father—as he usually does—and throws Pax's favorite toy soldier into the woods. When the fox runs to retrieve it, Peter and his dad get back in the car and leave him there—alone. But before Peter makes it through even one night under his grandfather's roof, regret and duty spur him to action; he packs for a trek to get his best friend back and sneaks into the night. This is the story of Peter, Pax, and their independent struggles to return to one another against all odds."
"Do you believe in unicorns? Phoebe does. She has no choice … one day she skipped a rock across a pond, and hit a unicorn in the face. Improbably, this resulted in a lasting friendship between Phoebe and the unicorn, one Marigold Heavenly Nostrils.
Come along for the unicorn ride with Phoebe, as she deals with the usual burdens of childhood (cruel classmates, gym class, piano lessons) and also some unusual ones (magic hair, candy-breathing dragons, and the legendary Shield of Boringness).
Can a precocious little girl and a self-absorbed mythical forest creature find common ground? Indeed they can, and that's how Phoebe and Her Unicorn unfolds."
Posted by John David Anderson
"In middle school, words aren't just words. They can be weapons. They can be gifts. The right words can win you friends or make you enemies. They can come back to haunt you. Sometimes they can change things forever.
When cell phones are banned at Branton Middle School, Frost and his friends Deedee, Wolf, and Bench come up with a new way to communicate: leaving sticky notes for each other all around the school. It catches on, and soon all the kids in school are leaving notes—though for every kind and friendly one, there is a cutting and cruel one as well.
In the middle of this, a new girl named Rose arrives at school and sits at Frost's lunch table. Rose is not like anyone else at Branton Middle School, and it's clear that the close circle of friends Frost has made for himself won't easily hold another. As the sticky-note war escalates, and the pressure to choose sides mounts, Frost soon realizes that after this year, nothing will ever be the same."
"Raymie Clarke has come to realize that everything, absolutely everything, depends on her. And she has a plan. If Raymie can win the Little Miss Central Florida Tire competition, then her father, who left town two days ago with a dental hygienist, will see Raymie's picture in the paper and (maybe) come home. To win, not only does Raymie have to do good deeds and learn how to twirl a baton; she also has to contend with the wispy, frequently fainting Louisiana Elefante, who has a show-business background, and the fiery, stubborn Beverly Tapinski, who's determined to sabotage the contest. But as the competition approaches, loneliness, loss, and unanswerable questions draw the three girls into an unlikely friendship — and challenge each of them to come to the rescue in unexpected ways."
"Shannon and Adrienne have been best friends ever since they were little. But one day, Adrienne starts hanging out with Jen, the most popular girl in class and the leader of a circle of friends called The Group. Everyone in The Group wants to be Jen's #1, and some girls would do anything to stay on top . . . even if it means bullying others.
Now every day is like a roller coaster for Shannon. Will she and Adrienne stay friends? Can she stand up for herself? And is she in The Group—or out?"
"On the last day of middle school, five kids who couldn't be more different commit separate pranks, each sure they won't be caught and they can't get in trouble. They're wrong. As punishment, they each have to volunteer one beautiful summer day-the last one before school-at Northbrook Retirement and Assisted Living Home, where they'll push creamed carrots into toothless mouths, perform the world's most pathetic skit in front of residents who won't remember it anyway, hold gnarled hands of peach fuzzed old ladies who relentlessly push hard candies, and somehow forge a bond with each other that has nothing to do with what they've done and everything to do with who they're becoming. All the action takes place in the course of this one day, with each chapter one hour of that day, as the five kids reveal what they've done, why they did it, and what they're going to do now."
Save Me A Seat by Sarah Weeks and Gita Varadarajan
"Joe and Ravi might be from very different places, but they're both stuck in the same place: SCHOOL.
Joe's lived in the same town all his life, and was doing just fine until his best friends moved away and left him on his own.
Ravi's family just moved to America from India, and he's finding it pretty hard to figure out where he fits in.
Joe and Ravi don't think they have anything in common — but soon enough they have a common enemy (the biggest bully in their class) and a common mission: to take control of their lives over the course of a single crazy week."
"The first kidnappings happened two hundred years before. Some years it was two boys taken, some years two girls, sometimes one of each. But if at first the choices seemed random, soon the pattern became clear. One was always beautiful and good, the child every parent wanted as their own. The other was homely and odd, an outcast from birth. An opposing pair, plucked from youth and spirited away.
This year, best friends Sophie and Agatha are about to discover where all the lost children go: the fabled School for Good & Evil, where ordinary boys and girls are trained to be fairy tale heroes and villains. As the most beautiful girl in Gavaldon, Sophie has dreamed of being kidnapped into an enchanted world her whole life. With her pink dresses, glass slippers, and devotion to good deeds, she knows she'll earn top marks at the School for Good and graduate a storybook princess. Meanwhile Agatha, with her shapeless black frocks, wicked pet cat, and dislike of nearly everyone, seems a natural fit for the School for Evil.
But when the two girls are swept into the Endless Woods, they find their fortunes reversed—Sophie's dumped in the School for Evil to take Uglification, Death Curses, and Henchmen Training, while Agatha finds herself in the School For Good, thrust amongst handsome princes and fair maidens for classes in Princess Etiquette and Animal Communication.. But what if the mistake is actually the first clue to discovering who Sophie and Agatha really are…?"
"Caleb Franklin and his big brother Bobby Gene have the whole summer for adventures in the woods behind their house in Sutton, Indiana. Caleb dreams of venturing beyond their ordinary small town, but his dad likes the family to stay close to home.
Then Caleb and Bobby Gene meet new neighbor Styx Malone. Styx is sixteen and oozes cool. He's been lots of different places. Styx promises Caleb and Bobby Gene that together, they can pull off the Great Escalator Trade–exchanging one small thing for something better until they achieve their wildest dream. But as the trades get bigger, the brothers soon find themselves in over their heads. It becomes clear that Styx has secrets–secrets so big they could ruin everything–and Caleb fears their whole plan might fall apart."
"Delsie loves tracking the weather–lately, though, it seems the squalls are in her own life. She's always lived with her kindhearted Grammy, but now she's looking at their life with new eyes and wishing she could have a "regular family." Delsie observes other changes in the air, too–the most painful being a friend who's outgrown her. Luckily, she has neighbors with strong shoulders to support her, and Ronan, a new friend who is caring and courageous but also troubled by the losses he's endured. As Ronan and Delsie traipse around Cape Cod on their adventures, they both learn what it means to be angry versus sad, broken versus whole, and abandoned versus loved. And that, together, they can weather any storm."
"Jason has just learned that his Afghan mother has been living illegally in the United States since his father was killed in Afghanistan. Although Jason was born in the US, it's hard to feel American now when he's terrified that his mother will be discovered—and that they will be separated.
When he sees his mother being escorted from her workplace by two officers, Jason feels completely alone. He boards a train with the hope of finding his aunt in New York City, but as soon as he arrives in Penn Station, the bustling city makes him wonder if he's overestimated what he can do.
After an accident lands him in the hospital, Jason finds an unlikely ally in a fellow patient. Max, a whip-smart girl who wants nothing more than to explore the world on her own terms, joins Jason in planning a daring escape out of the hospital and into the skyscraper jungle—even though they both know that no matter how big New York City is, they won't be able to run forever."
So Done by Paula Chase
"Jamila Phillips and Tai Johnson have been inseparable since they were toddlers, having grown up across the street from each other in Pirates Cove, a low-income housing project. As summer comes to an end, Tai can't wait for Mila to return from spending a month with her aunt in the suburbs. But both girls are grappling with secrets, and when Mila returns she's more focused on her upcoming dance auditions than hanging out with Tai."
"Clover and Danny are the kind of best friends who make each other better: Clover makes lists, and Danny makes fun. Clover is thoughtful and quiet and loves science. Danny is chatty and funny and loves art. They're so important to each other that Clover believes they're symbiotic: her favorite science word, which describes two beings who can't function without the other.
But then Danny comes down with a mysterious illness that won't go away, and the doctors can't figure out what's wrong with him. So Clover decides to take matters into her own hands by making lists—lists of Danny's symptoms, his good days, his bad days, and his moods. As the evidence piles up, only one thing becomes clear: Danny is only better when Clover is around. When they're separated, he's in danger.
Clover knows they need to find a cure—together. Will science be able to save Danny, or is this the one time when magic can overcome the unthinkable?"
"After her best friend dies in a drowning accident, Suzy is convinced that the true cause of the tragedy must have been a rare jellyfish sting–things don't just happen for no reason. Retreating into a silent world of imagination, she crafts a plan to prove her theory–even if it means traveling the globe, alone. Suzy's achingly heartfelt journey explores life, death, the astonishing wonder of the universe…and the potential for love and hope right next door."
"Mason Buttle is the biggest, sweatiest kid in his grade, and everyone knows he can barely read or write. Mason's learning disabilities are compounded by grief. Fifteen months ago, Mason's best friend, Benny Kilmartin, turned up dead in the Buttle family's orchard. An investigation drags on, and Mason, honest as the day is long, can't understand why Lieutenant Baird won't believe the story Mason has told about that day.
Both Mason and his new friend, tiny Calvin Chumsky, are relentlessly bullied by the other boys in their neighborhood, so they create an underground club space for themselves. When Calvin goes missing, Mason finds himself in trouble again. He's desperate to figure out what happened to Calvin, and eventually, Benny.
But will anyone believe him?"
Two Naomis by Olugbemisiola Rhuday-Perkovich
"Other than their first names, Naomi Marie and Naomi Edith are sure they have nothing in common, and they wouldn't mind keeping it that way.
Naomi Marie starts clubs at the library and adores being a big sister. Naomi Edith loves quiet Saturdays and hanging with her best friend in her backyard. And while Naomi Marie's father lives a few blocks away, Naomi Edith wonders how she's supposed to get through each day a whole country apart from her mother.
When Naomi Marie's mom and Naomi Edith's dad get serious about dating, each girl tries to cling to the life she knows and loves. Then their parents push them into attending a class together, where they might just have to find a way to work with each other—and maybe even join forces to find new ways to define family."
"Everything in Bea's world has changed. She's starting seventh grade newly friendless and facing big changes at home, where she is about to go from only child to big sister. Feeling alone and adrift, and like her words don't deserve to be seen, Bea takes solace in writing haiku in invisible ink and hiding them in a secret spot.
But then something incredible happens–someone writes back. And Bea begins to connect with new friends, including a classmate obsessed with a nearby labyrinth and determined to get inside. As she decides where her next path will lead, she just might discover that her words–and herself–have found a new way to belong."
"Mavis Jeeter is fearless and bold, but she has never lived in one place long enough to have a real best friend. Her flighty mother has uprooted them again to another new home and taken a job as a housekeeper for the Tully family. Mavis wants this home to be permanent–which means finding herself a best friend.
Rose Tully is a worrier who feels like she doesn't quite fit in with the other girls in her neighborhood. Her closest friend is Mr. Duffy, but he hasn't been himself since his dog died. Rose may have to break a few of her mother's many rules to help Mr. Duffy–and find someone who really understands her.
Henry has run away from home, but he craves kindness and comfort–and doesn't know where to look for them.
When Mavis and Rose hatch a scheme to find Mr. Duffy a new dog, their lives and Henry's intersect–and they all come to find friendship in places they never expected."
"Every day in middle school can feel like the end of the world.
Eleanor Dross knows a thing or two about the end of the world, thanks to a survivalist grandfather who stockpiles freeze-dried food and supplies–just in case. So when she reads about a Harvard scientist's prediction that an asteroid will strike Earth in April, Eleanor knows her family will be prepared. Her classmates? They're on their own!
Eleanor has just one friend she wants to keep safe: Mack. They've been best friends since kindergarten, even though he's more of a smiley emoji and she's more of an eye-roll emoji. They'll survive the end of the world together . . . if Mack doesn't go away to a special school for the blind.
But it's hard to keep quiet about a life-destroying asteroid–especially at a crowded lunch table–and soon Eleanor is the president of the (secret) End of the World Club. It turns out that prepping for TEOTWAWKI (the End of the World as We Know It) is actually kind of fun. But you can't really prepare for everything life drops on you. And one way or another, Eleanor's world is about to change."
"Twelve-year-old Charlotte Lockard and eleven-year-old Ben Boxer are separated by more than a thousand miles. On the surface, their lives seem vastly different—Charlotte lives near Philadelphia, Pennsylvania, while Ben is in the small town of Lanester, Louisiana. Charlotte wants to be a geologist and keeps a rock collection in her room. Ben is obsessed with Harry Potter, presidential history, and recycling. But the two have more in common than they think. They're both highly gifted. They're both experiencing family turmoil. And they both sit alone at lunch.
Over the course of a week, Charlotte and Ben—online friends connected only by a Scrabble game—will intersect in unexpected ways as they struggle to navigate the turmoil of middle school. You Go First reminds us that no matter how hard it is to keep our heads above troubled water, we never struggle alone."