There's something special about middle grade novels. Caught in between childhood and teen years, middle grade novels are full of adventures that encourage their readers to dream big and shoot for the moon. There's magic, family, and dealing with life changes. These books pack so much into a small package. While I'm not the intended audience, I still adore reading through these stories and buying them for all of my nieces and nephews. After all, there's nothing like sharing your favorite books with the kids in your life. Here are just a few of my recent favorites!
Omar Rising by Aisha Saeed, Narrated by Vikas Adam
Omar couldn't be more excited when he receives a scholarship to attend the school of his dreams. He has big plans for all of the extracurricular activities he's going to do at his new school. But when he learns that scholarship students aren't allowed any of these "extras," he feels angry and discouraged. Plus, they expect him to achieve ridiculously high grades to stay in the program. Through everything, Omar is determined to stick it out.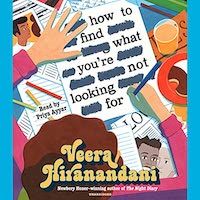 How to Find What You're Not Looking For by Veera Hiranandani, Narrated by Priya Ayyar
After the decision of Loving vs. Virginia in 1967, 12-year-old Ariel Goldberg's world is completely altered when her sister elopes with an Indian man. Now her life seems incredibly lonely as she's left to work through her feelings without her sister. It turns out, Ariel finds comfort in her own words.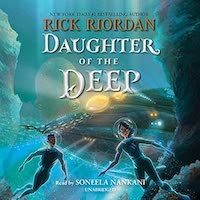 Daughter of the Deep by Rick Riordan, Narrated by Soneela Nankani
In his first novel that's NOT a mythology retelling, Rick Riordan tells a Jules Verne–inspired story centered around Harding-Pencroft Academy, a nautical high school that teaches its students a marine-life based curriculum. Ana's parents died two years ago after a tragic accident. All she has left is her brother, a Senior at Harding-Pencroft. But then tragedy strikes, turning Ana's entire world, everything she thought true, upside down.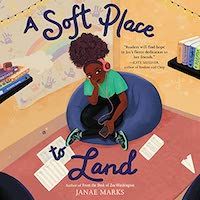 A Soft Place to Land by Janae Marks, Narrated by Imani Parks
For her entire life, Joy has lived in the same house. So when her dad loses his job and her family has to move, Joy finds herself in a new neighborhood with new neighbors and a whole new world of mystery. There's a private kids' club house, mysterious notes, and family drama — everything that makes for an incredible story.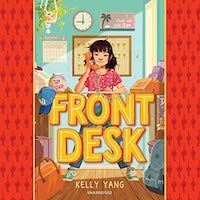 Front Desk by Kelly Yang, Narrated by Sunny Lu
Mia Tang manages the front desk of a motel while her parents clean the rooms. But her parents also hide immigrants from the motel owner Mr. Yao. And if that wasn't enough, Mia's mom wants her to focus on math. But how can Mia focus on numbers when she's in love with words? Will she ever be the great writer that she dreams of becoming?
The Shape of Thunder by Jasmine Warga, Narrated by Reena Dutt and Jennifer Jill Araya
Cora and Quinn are best friends who live next door to each other. But when there is a school shooting, their friendship is tested beyond what either of them expect. Now, they plan to figure out how to travel through time to prevent the tragedy from ever happening.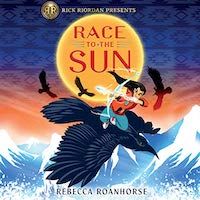 Race to the Sun by Rebecca Roanhorse, Narrated by Kinsale Hueston
Nizhoni feels like her father doesn't listen to her and she struggles to connect with him. But when a monster who looks like a regular man abducts her father, Nizhoni, her brother, and her best friend must go on a quest to rescue him. Based around Diné (Navajo) history and spiritual beliefs, Race to the Sun is an incredible adventure of a Native young woman coming into her own.
---
For more audiobook recommendations, check out the Audiobooks archive!