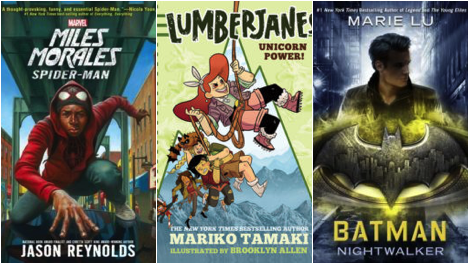 Children's
Round-Up of Middle Grade and YA Comic Book Novelizations
This content contains affiliate links. When you buy through these links, we may earn an affiliate commission.
Comics are a medium ripe for adaptation; we've been making movies and TV shows based off them for decades. Recently, I've noticed a new trend in the same vein: publishers adapting comics into novels, specifically for the middle grade and young adult market. To some, this may seem counterintuitive—comics are such a visual medium. But, as a former children's book specialist (aka the bookseller who isn't afraid to talk about children's books to kids and parents), this makes perfect sense. These novelizations can be a great gateway for comic book fans and reluctant readers. They can also go the opposite direction, introducing chapter book and novel readers to the wonderful world of comics. Whichever way, I love the cross-pollination possibilities here.
Below, I've rounded up every single middle grade and YA comics novelization I could find. Of the ones I've read, my personal favorite is the Squirrel Girl origin story by Shannon and Dean Hale. I'd love to hear your opinions on the books you've picked up, or the ones you can't wait to read. And if you know of others, please add your recommendations in the comments!
Comics Adaptations for Middle Grade Readers
Doreen Green is just your average fourteen-year old…except that she has the proportional strength and ability of a squirrel, meaning she is super fast, super strong, and super good at communicating with squirrels. The Hales really nailed the Squirrel Girl voice and humor in this origin story. Definitely my favorite of the genre.
Tony Stark must save a bunch of eco-ministers, and himself, from assassination. Colfer, author of Artemis Fowl, really delves in to the man behind the metal in this suspenseful adventure novel.
Rocket and Groot crash-land on a planet made up of strip malls and are attacked by maniacal robots and killer toilets. This is an illustrated prose novel brought to you by the creator of Origami Yoda and perfect for younger chapter book readers.
Comics Adaptations for Young Adult Readers (and older)
Each Avenger is caught in a battle with a different foe across the world, but something far more sinister is behind these simultaneous attacks and the Avengers need to find out what, or who, it is. Abnett has also written a few other Avengers prose novels focused on Iron Man and Scarlet Witch.
The Guardians are on a hunt for Groot's branches—stolen and scattered across the galaxy to be sold as saplings. But it turns out the seller is just a kid, and she is weirdly similar—in features and attitude—to Gamora. With the little delinquent in tow, the Guardians track down the little Groots, all while facing an interplanetary conspiracy and looming war.
Lois Lane is a high school student trying and failing to fit in. Each book in the series features a different mystery as well as a growing online relationship with screenname SmallvilleGuy. Wonder who that could be.
Miles Morales, aka Spider-Man, is not having an easy time; suspended from school, his scholarship is in jeopardy and his spidey-sense is on the fritz. Or…is it? Maybe there's actually a terrifying plot brewing that will put Miles and everyone he cares about in danger. Jason Reynolds, award-winning author of Ghost (and so many others) is the perfect writer for Miles Morales' story, delving into not only issues of superheroes, but issues of racism and prejudice as well.
Scott Lang is an ex-con, single father, and part-time superhero; he and his daughter have just moved to a new city, when a criminal from Scott's past catches up with him. This novel is a great combination of humor and suspense.
An action-packed novelization where Deadpool—the notorious and chatty antihero—has to round up a bunch of…PUPPIES (before they turn into monsters). Adorable and hilarious.
Black Widow series by Margaret Stohl
Children all over Europe are going missing and the Widows must team up and delve into past pains to figure out what's going on. Though Black Widow is the titular character, Natasha Romanoff and Ava Orlova, aka Red Widow, are both the focus of this series.
In an attempt to prove herself, Princess Diana breaks Amazon law to rescue a mortal. And not just any mortal, but a Warbringer. Alia is a direct descendant of Helen of Troy and thus, unfortunately, is fated to bring about bloodshed and suffering. Together, Diana and Alia must change fate and save both their worlds. An awesome story of female empowerment and friendship.
Comics Adaptations Coming Soon to a Bookstore Near You
Lumberjanes: Unicorn Power by Mariko Tamaki, illustrated by Brooklyn Allen (middle grade, out October 10 2017)
In their first novelization, the Lumberjanes attempt to climb a mountain. Sounds simple enough but, as this is the world of Lumberjanes, the mountain doesn't always exist, and disappears mid-climb leaving them stranded in the clouds. In true Lumberjanes-style, Mariko Tamaki's book is brimming with puns, feminist references, and the trials and triumphs of hardcore friendship.
T'Challa isn't Black Panther yet—he's just a twelve-year-old prince living in Africa and learning how to be a ruler, until his dad sends him to school in America. In this origin story, T'Challa must stop an ancient evil lurking in the heart of Chicago and save his friends and his school.
Batman: Nightwalker by Marie Lu (young adult, out January 2 2018)
The Nightwalkers are assasinating Gotham's elite one by one. Bruce Wayne, nearly eighteen and about to inherit a massive fortune, is next on their list. While doing community service at Arkham Asylum, Bruce meets Madeline, a murderer who is tied to the Nightwalkers in some way and is, of course, Bruce's only hope.
Runaways by Christopher Golden (young adult, out January 2 2018)
Nico, Karolina, Gert, Chase and Molly (aka the Runaways) are, well, on the run. Their parents—a group of super villains known as the Pride—and their mission to terrorize LA are supposed to be dead and buried. But a new group of super villains, Nightwatch, are planning to pick up the Pride's mantle and continue tormenting the citizens of Los Angeles. Now the Runaways have to stop them—all while dealing with puberty, romance, and the trials of adolescence.
Superman by Matt de la Peña and Catwoman by Sarah J Maas
These two novels are part of the DC Icons series (along with Wonder Woman and Batman). As of writing this post, their release dates are unknown, but if the reviews of the first two DC Icons books—not to mention these well-known authors' previous works—are any indication, these titles will be worth the wait.
Captain Marvel by Shannon and Dean Hale
Another title with an uncertain future; my guess is it will come out around the same time as the Brie Larson film (March 2019). Shannon and Dean Hale did such a fantastic job with Squirrel Girl that I'm willing to read any superhero adaptation they take on.
This trend only seems to be growing, so I've started brainstorming what could be next. It's kind of shocking, what with the new TV show and comics reboot, that no one has written a YA romance about Archie, Betty, and Veronica. And what about a middle grade adaptation of Gotham Academy? What comics do you think should be next in line for the novelization treatment?