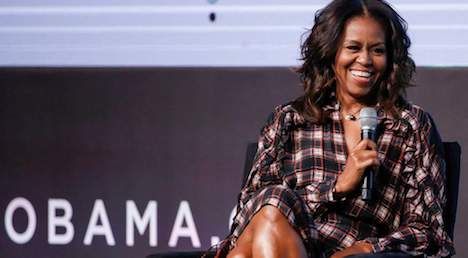 Michelle Obama's Becoming is B&N's Fastest Selling Book of the Year: Critical Linking, November 23, 2018
Sponsored by our $250 All the Books Barnes and Noble gift card giveaway!
---
Publisher Penguin Random House announced that "Becoming" sold more than 725,000 copies on its first day of release last week, the highest single-day sales of any book by the publisher this year.
Wow!
____________________
George R.R. Martin is in hiding. He's talking to me from a remote mountain hideaway whose location he refuses to disclose. It's a cabin he visits when he wants to hunker down to finish a book—and he's hard at work on "The Winds of Winter," the long-awaited sixth installment in "A Song of Ice and Fire," the fantasy series that spawned HBO's hugely popular "Game of Thrones."
The next book in the series will be coming.
____________________
In her brainy, blazing novels, Esi Edugyan flouts every cliché about Black characters in fiction. Her debut, The Second Life of Samuel Tyne, follows a Ghanaian economic forecaster in the ultra-white wilds of Alberta. Sid Griffiths, the African-American bassist in Half-Blood Blues, works in a jazz club in Nazi Berlin. And the eponymous star of her newest novel, Washington Black, is an ex-slave who floats around the world in a hot-air balloon. The book owes as much to Laurence Sterne and Herman Melville as it does to first-person slave narratives, and it has transformed the Calgary-born, Victoria-based Edugyan into an international literary star. She's been shortlisted for a shelf's worth of awards—the Man Booker and Writers' Trust prizes among them—and won the 2018 Scotiabank Giller Prize. We talked to Edugyan about the inspiration for the novel, her recent brush with fame and how she finds time to write as a parent.
Why you should read this year's Giller Prize winner (whether or not you're Canadian!).