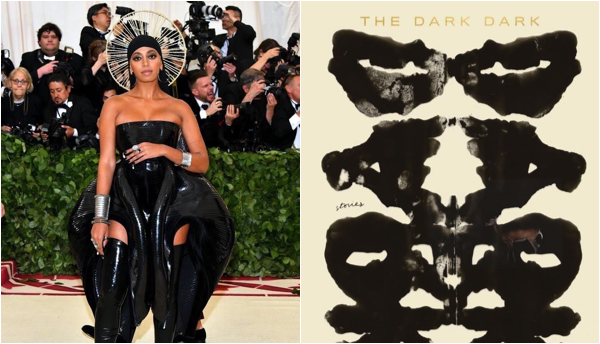 Newsletter 1
Heavenly Book Covers: Met Gala Looks Paired with Book Covers
This content contains affiliate links. When you buy through these links, we may earn an affiliate commission.
The First Monday in May. The Met Gala. This year's theme was "Heavenly Bodies: Fashion and the Catholic Imagination." There were angels, nuns, popes, iconography, and renaissance artwork.
But bookish is the new black, so here we have the best of The Met Gala looks paired with book covers. And who knows—maybe next year the theme will be literary inspired.
How Rihanna took the #MetGala theme to the next level: https://t.co/Vso5Urn4Fh pic.twitter.com/hShjHv0UkU

— British Vogue (@BritishVogue) May 8, 2018

Ariana Grande and The Bone Clocks by David Mitchell
.@ArianaGrande makes a big statement at the #MetGala. Not to mention she brings art to the Met: The print on her dress is Michelangelo's Last Judgment. See more from the night: https://t.co/qraumem8RV pic.twitter.com/u55LVcwelf

— Vogue Magazine (@voguemagazine) May 8, 2018

Solange and The Dark Dark by Samantha Hunt
https://twitter.com/Yonce_Hub/status/993749857927122944

#MetGala co-host Amal Clooney is joined tonight by her husband, George Clooney. See more from the red carpet: https://t.co/pCOsXnHEOI pic.twitter.com/JytRcMAZUd

— Vogue Magazine (@voguemagazine) May 7, 2018

SZA and The Idiot by Elif Batuman
https://twitter.com/themetgala/status/993626062046326784

Chadwick Boseman and The Empty Glass by J.I. Baker
Black Panther star @chadwickboseman is in one of the night's more avant-garde looks: an ivory cape with gold beaded crosses and a matching embellished suit.

See more from our #MetGala live blog: https://t.co/QI2DYOSQZO pic.twitter.com/dX3ozEG0wT

— Vogue Magazine (@voguemagazine) May 8, 2018

Frances McDormand just did that. #MetGala #MetHeavenlyBodies pic.twitter.com/gzixhs8ayO

— E! News (@enews) May 7, 2018

.@Migos arrives together to the #MetHeavenlyBodies red carpet. pic.twitter.com/PHIEreyyq9

— The Metropolitan Museum of Art (@metmuseum) May 7, 2018

.@Zendaya gave us modern-day Joan of Arc vibes in a silver chainmail @Versace gown with armor-like detailing.

See every look from the #MetGala red carpet: https://t.co/2pirGodjaM pic.twitter.com/HfqCEkuL0x

— Vogue Magazine (@voguemagazine) May 8, 2018

Writer and actor @lenawaithe is making a statement in her rainbow cape, symbolizing gay pride on the #MetGala red carpet. See more from tonight: https://t.co/9c2eLA8p3a pic.twitter.com/XpzdaqN31T

— Vogue Magazine (@voguemagazine) May 7, 2018

.@KatyPerry's interpretation of tonight's theme is appropriately next-level: a gold @Versace chain-mail minidress, thigh-high boots, and giant feathered angel wings, which reportedly span six feet. See more from the #MetGala: https://t.co/J1fgSED0gY pic.twitter.com/t4dWA83NuA

— Vogue Magazine (@voguemagazine) May 7, 2018

Alessandro Michele, Lana del Rey, and Jared Leto, and The Book of Chocolate Saints by Jeet Thayil
https://twitter.com/Robert0_08/status/993708364076077056

Cardi B and The Book of Strange New Things by Michel Faber
.@iamcardib is glowing as she walks the #MetGala red carpet. #CardiB #MetHeavenlyBodies pic.twitter.com/SMb8CBpYYN

— The Metropolitan Museum of Art (@metmuseum) May 8, 2018

Susie and Nick cave and The Handmaid's Tale by Margaret Atwood
https://twitter.com/Devonomicon/status/994192898659930113