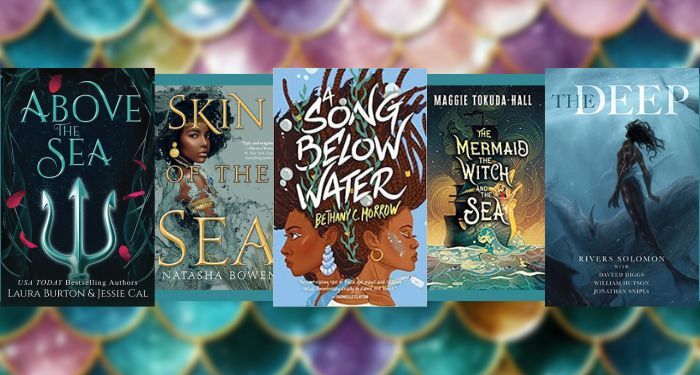 Fiction
10 Recent Siren and Mermaid Books to Dive Into
This content contains affiliate links. When you buy through these links, we may earn an affiliate commission.
Many cultures have myths of mermaids, mermaid books, or similar accountings of mythical marine creatures. In 1998, Basil H. Johnston, an Ojibwe author and scholar from Ontario, collected First Nations folktales into his book Mermaids and Medicine Women: Native Myths and Legends. Mami Wata is a protective water deity in African and African American folklore who often resembles a snake or a mermaid.
Marginalized people around the world often feel drawn to mermaids, who don't quite belong either on land or in the ocean. In 2017 on Book Riot, Leah Rachel von Essen wrote about Hans Christian Andersen's unrequited attraction for a male friend and how this possibly inspired him to write "The Little Mermaid."
Growing up disabled, I related to Disney's Ariel and her desire to walk. I've published fiction and essays and given interviews exploring this feeling. I realized many years later that I found it liberating that Ariel lives in a society where no one expects to walk. Disabled writers have also pointed out that the mermaid in Andersen's original fairy tale becomes unable to speak and feels pain with every step.
Though they've always been popular, mermaids are having a moment. In 2022, the movie The King's Daughter, based on the 1997 novel The Moon and the Sun by Vonda N. McIntyre, was released. Disney's live-action version of The Little Mermaid will come out in May 2023. Sea gods, sirens, and selkies are also popular subjects for recent YA fantasy novels. Mermaid books appear in Peter Pan retellings like Second Star to the Left, though they aren't the main characters. House of Salt and Sorrows, a recent YA retelling of "The Twelve Dancing Princesses," is set on an island where people worship nautical gods. Books that aren't fantasies often use mermaids as symbols.
These new mermaid books span genres, age groups, and cultures and range in tone from lighthearted to serious. They offer unique interpretations of mermaids and similar sea dwellers.
I also enjoy Selina Fenech's coloring books of fantasy creatures, including her Mythical Mermaids Fantasy Adult Coloring Book.
Love mermaid books? Want more? Check out mermaid comics or mermaid kids' books.