This content contains affiliate links. When you buy through these links, we may earn an affiliate commission.
Do you remember how you realized mermaids were a thing? Not a real thing (maybe), but a thing that existed in the realm of fiction? For a lot of us that first introduction came via Disney's The Little Mermaid. But do you remember your first mermaid book? I don't, but if you're in the market for one, you can find one among these twelve mermaid books for kids (from picture books to young adult novels) that feature these mythological creatures in various iterations. Some are fun and spirited, curious and adventurous, and some are absolutely vicious.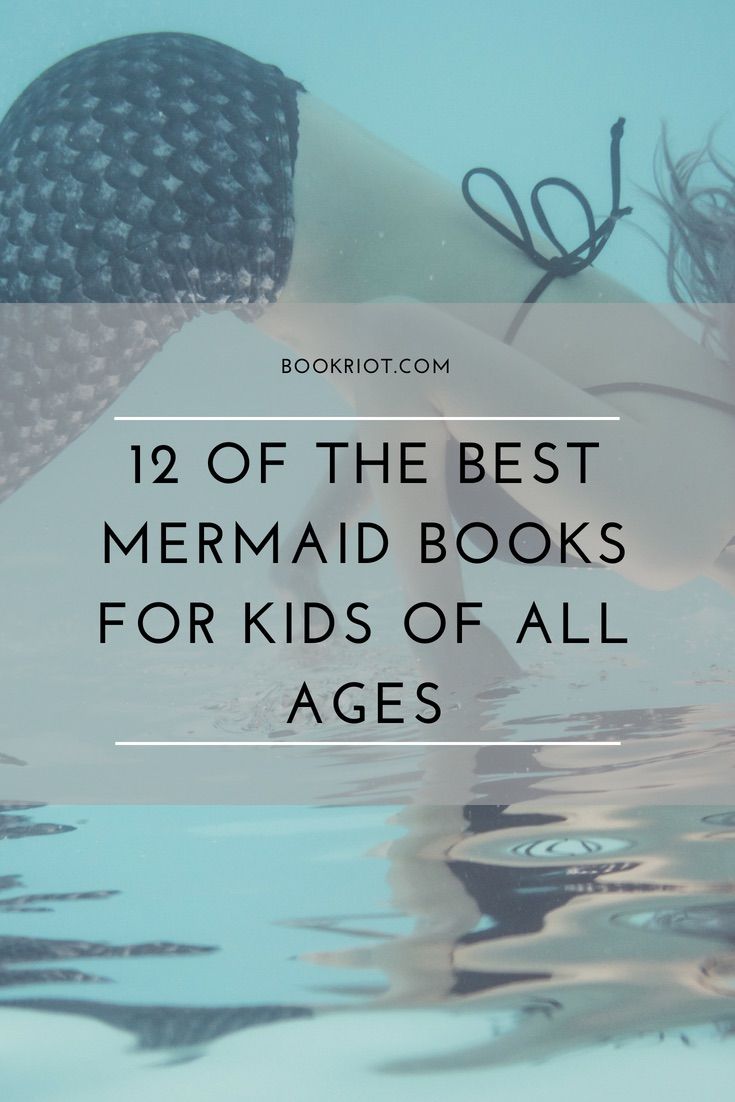 Mermaid Picture Books
Great for back to school, this super cute picture book follows Molly on her first day at mermaid school where she learns her A B Seas and listens to stories about children on land.
This Coretta Scott King award winner is about Sukey, forced into exhausting work by her stepfather, who escapes to her favorite place by the ocean. There she encounters a mermaid who offers to take her to a beautiful world under the sea, but there are no people there, and Sukey isn't sure if that would be better or worse than her world.
Among King Neptune's fifty daughters, Minnow is the least remarkable. The only interesting thing about her are all the questions she asks, and when a strange object floats down into the kingdom, Minnow wants to know what it is. But no one can answer her question, and the remarkably curious Minnow sets out on a journey to find the answer herself.
Middle Grade Mermaid Books
Beattie, Mimi, and Zelda are enjoying their summer on land when they're suddenly called back to their kingdom. Their queen has been kidnapped, and their home of Hidden Lagoon has been taken over by bad mermaids instead. In their clam car and with their talking seahorse, Steve, these three mermaids are going to save the day! Beattie, Mimi, and Zelda are funny, fashionable, and pure joy.
5. Bayou Magic by Jewell Parker Rhodes
At first Maddy isn't sure what to expect of her summer with her grandmother in the Louisiana bayou, but it doesn't take long for her to love it. The bayou is beautiful, and Maddy can see mermaid that swims in its waters. Enchanted by her grandmother's wisdom and endless stories of their ancestors, Maddy's found a place that's just right for her. But Maddy's magic also means she can sense when danger is near, and a nearby oil rig could mean the destruction of the bayou and all its magic.
You might want to read the first book in Tracey Baptiste's Jumbies series first, but no one would blame you for skipping ahead just because of the cool mermaids in book two. In Corinne's Caribbean home, children are disappearing from beaches and being snatched into wells, and Corinne is being blamed. To find the missing kids and clear her name, Corinne seeks out Mama D'Leau, the Jumbie who rules the sea, and Mama D'Leau gives her a task: Corinne and her friends journey with mermaids across the ocean to find a powerful object for her.
Young Adult Mermaid Books
7. Sea Witch by Sarah Henning
After the death of her best friend Anna, Evie's ostracized by everyone in her seaside town, but she can't blame them when her magic proved so useless in saving her. But then a girl who looks just like Anna appears offshore. Though she denies being Anna, Evie's convinced her friend has returned, and when they fall for a pair of princes, a happy ending appears to be in sight for both of them. But Anna needs Evie's help: she can't stay on land, or on two legs, without it, and in Evie's haste to save her, Evie barrels toward her own destruction in this reimagining of Hans Christian Anderson's infamous villainess.
Across the seas, Lira is known as Prince's Bane. Her fellow sirens admire her growing collection of hearts, but her mother's not impressed enough to look the other way after Lira kills one of their own. Instead the Sea Queen banishes Lira to land and demands she return with the heart of Prince Elian, the only prince on the sea who might prove to be a challenge. Determined to rid the world of sirens, Elian's killed plenty. When Lira's "rescued" by Elian and his crew, she claims to know how to secure their victory over the sirens. But Elian doesn't trust her, and if Lira can't kill him by the winter solstice, she'll never reclaim her song, her fins, or the crown. Lira and Elian are matched in determination and skill, and their reluctant interest in one another makes for a tense and exciting read.
Tristan Hart has always been a strong swimmer. So he wasn't supposed to get dragged out to sea, go missing for three days, and wash up on Coney Island with no memories except those of a silver mermaid with extra-sharp teeth. Back on land, things only become more confusing (the sudden tail doesn't help). Now Tristan has to figure out a way to explain to his best friend Layla that he's heir to an undersea kingdom, and with his grandfather nearing the end of his reign, Tristan has to fight for the throne, and for his life. Perfect for readers looking for an action-packed undersea adventure (which features, in a fun change, a young merman).
For twenty years the Palomas (who swim in mermaid exhibitions) and Corbeaus (who walk tightropes in the tallest trees they can find) have lived as rivals, their feud only escalating over the years. When a disaster strikes their small town, Lace Paloma is rescued by Cluck Corbeau, and their love could turn both their families against them. A rich romance for fans of lush and imaginative magical realism.
11. Deep Blue by Jennifer Donnelly
As the princess of the Mediterranean merfolk, Serafina knows it'll one day fall on her to rule, and she's ready to prove that she can, but the night before her Dokimi ceremony, Serafina's haunted by dreams of a returning evil. And on the day of the ceremony, her dream comes true, and her mother—Queen Isabella—is wounded in an assassination attempt. As Serafina's waters fall into chaos, she embarks with her friend Neela on a journey to find the assassin's master. With the help of other mermaids she meets along the way, Serafina might be able to keep the many mer nations from war.
12. Emerge by Tobie Easton
In the first book in the Mer Chronicles trilogy, Lia's a mermaid who's never lived in the ocean. Instead she and other Mer live and learn among humans, unable to return to the water after the Little Mermaid unleashed a curse—and war—over the sea. Since Mer are supposed to stay as far away from humans as possible, Lia's never acted on her crush on Clay Erickson. Until Clay starts dating a new girl at school, who has a dangerous secret of her own, one that could prove fatal for Clay if Lia can't save him.
---
Want adult mermaid books? We got you. Hit the comments to share your favorite mermaid books for kids.