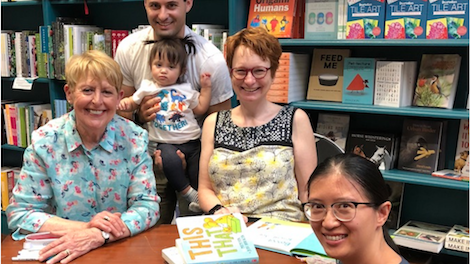 Children's
Meeting My Heroes: Mem Fox and Judy Horacek Storytime
This content contains affiliate links. When you buy through these links, we may earn an affiliate commission.
Mem Fox and Judy Horacek, the creators behind Where is the Green Sheep?, Ducks Away, This and That, and Goodnight, Sleep Tight, have a new book out: Bonnie and Ben Rhyme Again. One of the promotional events they did for the book was a storytime at Better Read Than Dead, a great independent bookshop in Newtown, Sydney. I was lucky enough to attend the storytime yesterday, along with my baby and husband (the baby was ostensibly the reason we went to the storytime but, let's be honest, we all know that going to the event was for me). It was the best storytime/author event I've ever attended, and I have been thinking about what made it so great.
The storytime was held upstairs at Better Read Than Dead in their event space. It's not a large room, but it was a great size for a storytime with 50–60 children and adults in attendance. Mem and Judy read Goodnight Sleep Tight, and they followed that with their new book, Bonnie and Ben Rhyme Again, which is a sequel to that first book. They then read two of their other books, Ducks Away and Where is the Green Sheep? The storytime ended with them reading Bonnie and Ben Rhyme Again for a second time.
There are three main factors that I think contributed to this being the best storytime/author event I've attended. First, their books are perfectly designed for reading aloud. Mem, who is an early literacy educator and advocate, mentioned this: it is important for children to know nursery rhymes and to be able to predict what will happen in a story because this helps them with reading and literacy when they start school. Goodnight, Sleep Tight and Bonnie and Ben Rhyme Again are both full of nursery rhymes (Judy joked that their new book is a form of community service), and Mem's other picture books are all fantastic to read aloud, as I've written about here. So this is unlike an author events where excerpts are read from books designed to be read silently; you are engaged in a completely different way.
Second, Mem and Judy are clearly seasoned pros at this. They have an excellent rapport, they are great with children, and because their books are so well-known, many if not all of the parents and teachers in the audience knew the books and could read along. Mem and Judy asked the audience to recite the nursery rhymes along with them, which we happily did. This created a high-energy event with good audience participation. When it came time to read Where is the Green Sheep?, the first book on which they collaborated and which parents all over Australia have memorised, they began by asking the audience a few questions: who knows the book Where Is the Green Sheep? who has read Where is the Green Sheep? over and over and over and over? who is thoroughly sick of Where is the Green Sheep? This was a nice little nod to parents and caregivers everywhere who read the same books again and again. Even though this book isn't a nursery rhyme, it is well-known enough that many in the audience were reciting the words along with Mem and Judy.
Third, the age of the audience meant it was a different kind of storytime to what I usually attend. Most of the children in the audience were aged between three and five, and the storytimes I go to the most regularly now are baby storytimes where the audience is usually under the age of two. This difference of a year or two, while nothing when you're an adult, is huge in the first stages of life. It is the difference between whether your audience needs songs and music to be engaged, can understand instructions, will sit quietly and listen to stories for half an hour, and if they need props and toys to be happy. While I love our baby storytimes with songs, peek-a-boo, maracas, and not very many books being read aloud, it was a lovely change to attend a storytime where books were read and the audience could recite along.
At the end of storytime, Mem and Judy signed books and posed for photos, generously signing as many books as we were buying/wanted signed. This was a great experience and a case where meeting my heroes exceeded my already-high expectations of the event. I'm pretty sure that going to these sorts of things is one of the best parts of having a child.