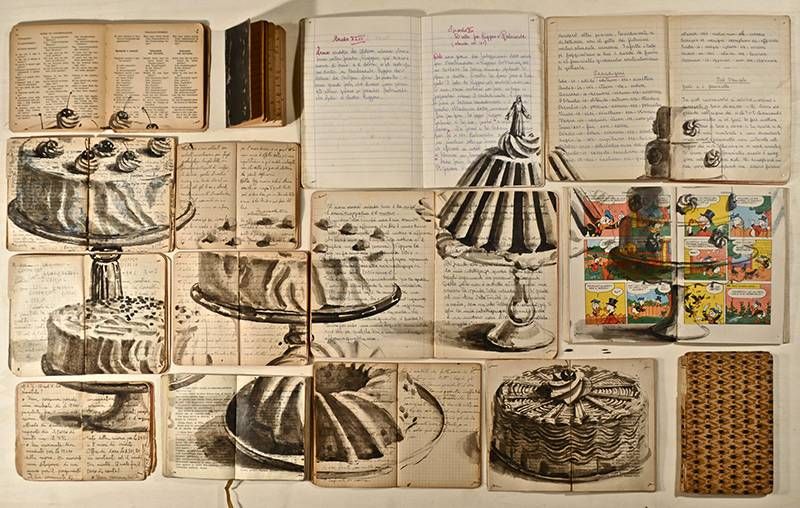 Meet an Artist Who Paints on Books
Have you seen the amazing, somewhat mind-bending work of the artist Ekaterina Panikanova? The Russian-born artist, currently living in Rome, creates textured, segmented paintings by painting on old books. The effect is glorious, rich, and deep—somehow both strange and comforting. Here are a couple of my favorites, to give you a taste.
This one really plays up the strange/familiar tension, where the hybrid of painting and book is echoed in the hybrid of tricycle and animal. I love the scale, and the way she uses what's on the pages to change and balance her composition (the figure in the top row, the blank endpapers in the bottom):
I'm not sure what I love about this one, but I do love it. The cakes are so wonderfully rendered, and the addition of a closed book, handwritten journals, and a splashily-colorful comic book add something really amazing to the mix:
And finally, here's one where the idea of using books as a surface really does something new. Freezing some of the books with their pages open, Panikanova creates a surprisingly textured painting. The way the pages furl and create ridges reminds me of the ridges and valleys in heavily-brushed oil paintings, on a larger scale and rendered in paper:
You can make what you will of the fact that the three I chose included antlers, cakes, or cakes and antlers. But aren't they incredible? You can see more at Colossal, which drew my attention to Panikanova's work, or at her website.