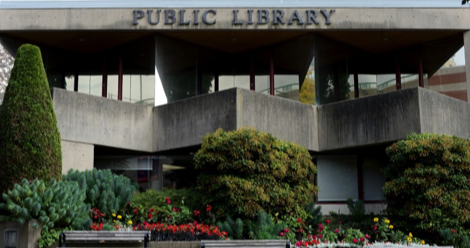 Dear Library,
We spend a lot of time together. I have always loved you, but since having my son I have come to rely on you. Several times a week I bundle my baby into the car seat or the stroller and go off in search of a library branch with a Babytime; the hours of entertainment he has had from children's librarians within a 25-kilometer radius of my apartment is worth whatever meagre piece of my taxes you get. But that's not all. I've all but stopped buying books because kids are expensive, my dudes. So instead, at least once a day I place a book on hold because it gets mentioned in casual conversation and slipping into the library app on my phone and holding the book in question just about scratches the grabby-hands urge to buy the book online instead. I also love the ebook and audiobook collections for that witching hour after the midnight feeding but before I am able to sleep again—I have inhaled a lot of YA in those hours thanks to my local library. And finally, sometimes when my husband is on-deck and I'm off the clock, I slip into the library for some of that beautiful, magical silence that is so rare in my life these days.
Conservatively, I estimate I enter a library 4-5 times a week. When I handed in my Adult Summer Reading Challenge this week, I felt like a total boss. It was like that feeling I assume cool kids had in high school (I wouldn't know): I owned that building.
I love you, library. I really do.
But as with any relationship, I sometimes screw it all up. So my dearest library, this is an apology—a series of apologies—from me to you.
1. I'm sorry for all the books I put on hold when I've been drinking. Okay, so, the thing is, when you're already a lightweight and then you take like a year off of drinking anything at all, and then you have a glass of wine or a weak gin and tonic, sometimes it hits you a little harder than you mean it to. I have developed a bad habit of curling up in my reading chair once or twice a week while my husband gets our son to bed, sipping a glass of wine, and developing wildly ambitious ideas about what I have enough time to read. I'm sorry about the time it got up to 64 books.
2. I'm sorry for using the hold service when I'm too lazy to look for a book. I admit it. I often put books on hold that are freely available just because I don't want to have to look through the stacks for it. My favourite thing is walking into the library, swanning over to the hold shelf, grabbing my expertly curated selection, and swanning out again. I'm a harried new mom. This service feels like I have a personal shopper, but it doesn't cost me anything and I don't have to try on jeans in front of someone.
3. I'm sorry that my baby screams when you try to read a second story at Babytime. He'll sit through one story, but real talk: he's there to rock out to nursery rhymes with his baby pals. Your children's librarians are his favourite band. So when the singing stops and the second book comes out, sometimes he melts down. We're working on it. (I'm not sorry, though, that sometimes he is so excited about Babytime that he screams constantly and joyfully for the first seven minutes. I'm sure it has the capacity to drive you crazy, but that shit is cute as heck.)
4. I'm sorry for the way I abuse the "Just Ordered" list in the library app. (For those whose library doesn't offer this, I can access a list of all the books the library has recently ordered and slide them in to my holds list before they're even in the library. It's magic.) Please never take away this function. I could tell you I could try harder to resist, but I would definitely be lying to you.
5. I'm sorry that my son isn't a more discrete eater. He eats at the library. A lot. He's still a breastfed baby. He doesn't like to be covered. I feel like this has helped me develop an intimate bond with the librarians, but it's possible I'm just making everyone uncomfortable.
I love you, library. I hope you still love me, too.
This post is dedicated to the fantastic librarians at the New Westminster Public Library Main Branch, who have kept me sane for the past six months.