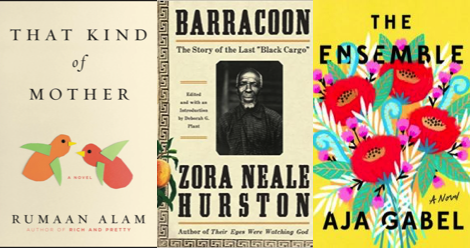 Lists
10 May New Releases To Put On Hold at the Library Right Now
This content contains affiliate links. When you buy through these links, we may earn an affiliate commission.
Wishlist upcoming releases you're dying to read. Get exclusive podcasts and newsletters. Enter to win swag. Do it all when you join Insiders. Subscribe to Book Riot Insiders!

---
There are so many great books being released, all the time. How to choose? And the lists! Library hold lists are so lonnnnnnng. As the late, great Tom Petty sang, "the waiting is the hardest part." I've got the cure for the common hold: Here are ten big books of note coming out in May to help you choose what to reserve now. (And as always, you can find me raving about a bunch more on social media. Only picking ten books is HARD.)
You read that right: a new Zora Neale Hurston book. More than eight decades after it was written, this book is finally being published. It's a true story, based on interviews with Cudjo Lewis about his abduction from Africa and his fifty years as a slave in America. Zora Neale Hurston conducted the interviews herself in 1925 and again in 1931.
This is set to be one of 2018's biggest thrillers, about a man obsessed with his ex-girlfriend, a crime, and the twisted truth about what actually took place. Not everyone is going to agree about what happened, it's sort of open to interpretation, so you might want to look at this one for your book club.
Warlight by Michael Ondaatje (May 8)
The English Patient author returns with his first novel in seven years, about two teenagers in London just after WWII who are left in the care of a suspicious person called The Moth when their parents move to Singapore.
A powerful new novel from the author of Rich and Pretty, about a woman named Rebecca who is struggling with new motherhood. She feels a connection to her new nanny, Priscilla, a relationship that forces her to confront her privilege when the nanny dies and she adopts Priscilla's baby. Suddenly Rebecca learns firsthand the differences in the world that a white child and a black child experience from a very young age.
A wonderful debut about four talented people, drawn together by their love of music, who are trying to survive in the competitive, cutthroat world of musicians, and how their reliance on one another both helps and hurts them.
Tin Man by Sarah Winman (May 15)
This novel was already nominated for a bunch of things when it was released overseas, and now it is coming to share its wonderfulness with the States. It's a beautiful novel about friendship and true love, and not, as you might think from the title, about the brainless scarecrow from Oz.
The Outsider by Stephen King (May 22)
A new novel from Stephen King—no surprises there, right? It sounds really creepy, though: It's about a small town where one of its most upstanding citizens—he's a Little League coach, English teacher, husband, and father—may have committed an unthinkably heinous crime. Count me in!
I'm kinda cheating with this one, because I wanted to let you know that on top of this book, the follow-up to Caraval, there are also exciting sequels coming in May from Victoria Aveyard, Sandhya Menon, Sylvain Neuvel, and Renée Ahdieh, in each of their respective series.
When journalist Moore was fourteen, he was the victim of a hate crime, from which he narrowly escaped harm. This is his story, a sort of investigation into his own life, about how that experience, as well as growing up in New Jersey, has shaped him.
Calypso by David Sedaris (May 29)
Humorist Sedaris is back with a new collection of essays, centered around middle age and mortality, and promising to be his most personal and hilarious yet. Love this quote from the description: "This is beach reading for people who detest beaches, required reading for those who loathe small talk and love a good tumor joke."