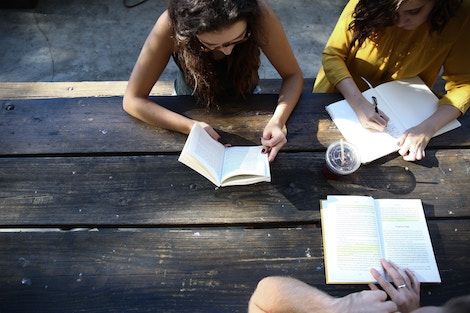 Sponsored
3 on a YA Theme: May YA Releases for Your TBR
This content contains affiliate links. When you buy through these links, we may earn an affiliate commission.
Sponsored by our giveaway of $100 to spend on YA lit!
What's Up in YA? is our biweekly newsletter about all things young adult literature, and we're giving away a $100 gift card to Amazon to support all (well, some of) your YA purchasing! Just sign up for the newsletter below to enter, and enjoy young adult new release news, interviews, backlist recommendations, and deals!
---
May is truly a great month for new releases. It's as if the book gods know that summer reading is soon upon us, and have gifted us with a billion amazing new books. Narrowing it down to a few was hard, so I'll just mention briefly here that Sandhya Menon's There's Something About Sweetie, Stephanie Garber's Finale, and Amie Kaufman and Jay Kristoff's Aurora Rising are all releasing this month…but you probably already knew that, right? Here are more May YA releases for your TBR that might not be on your radars!
Two girls from very different social circles find themselves in detention after a run-in with a sexist teacher, and decide to do something about it. They create a fake student, Amelia Westlake, and submit cartoons under her name to the school paper, calling out the injustice. As their prank escalates, the two original creators find themselves falling for each other.
Three Brooklyn teens concoct a plan to promote their dead friend and brother's music under a new rap name. What starts as a way to commemorate their friend turns complicated when his music takes off, even catching the attention of a record label. They have to confront their own secrets and the truth about the tragedy in order to make it through and hold on to each other.
National Book Award and Printz Award winner Acevedo has a new book out this month! It's about teen mom Emoni, who doesn't have the luxury of making a choice that isn't responsible for her daughter and abuela. But secretly, she dreams of working as a chef. She just might have the talent, if she can find the courage to take the risk.
The Things She's Seen by Amebelin Kwaymullina and Ezekiel Kwaymullina
From an Australian Aboriginal sibling team comes a YA novel that's part murder mystery, part ghost story. When Beth Teller dies, the only person who is still able to hear her is her heartbroken detective father. Beth has a mystery she needs him to solve, one that will take them to a remote small town and hopefully help him find justice and reconnect to the living.
They say Rosa is cursed, but she feels caught between her past and future, her home in Florida and her abuela's homeland of Cuba, and two cultures. When Rosa meets Alex, she has to find the strength and determination to break the curse and forge her own path.
Want more "3 On A YA Theme" posts? Gotcha covered.