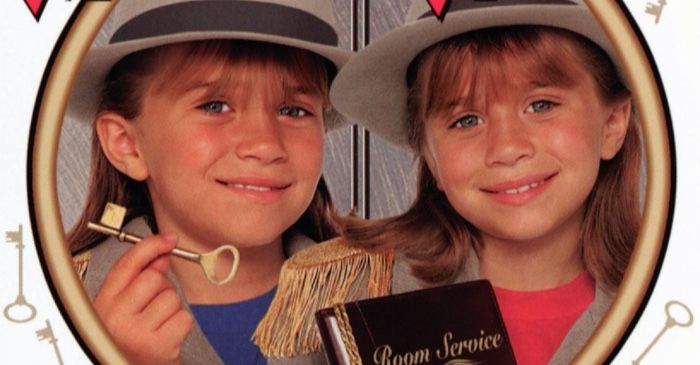 Children's
The Series We Loved: Mary-Kate and Ashley
This content contains affiliate links. When you buy through these links, we may earn an affiliate commission.
I could not get enough of book series as a preteen. I don't know if it was a product of publishing trends at the time, or my actual reading preferences. Each library trip introduced me to a new book series to love and covet. It was like a treasure hunt, trying to read the books of a series in the correct order. In the late '90s and early 2000s, teen superstars Mary-Kate and Ashley Olsen added publishing to their impressive resumes. Eight different series were published between 1997 and 2008, featuring the twins' carefully crafted personas. These books—paperback, about 150-200 pages—glittered on library racks. I was desperate to read them all, but they evaded me.
I had a friend, let's call her Morgan, who wanted everyone to know that she was the biggest Mary-Kate and Ashley fan. Her birthday cake featured the twins, grinning up in icing paper. Morgan begged to keep their faces in the freezer to look at later, which sounds sketch, but Morgan was only 7 at the time. Morgan's mother said no. Like me, Morgan was a bookworm. Morgan, however, only read Mary-Kate and Ashley books. I learned this when I went to stay with her for a few days when my parents were out of town. She showed me her bookshelf, dedicated to her collection. I was horrified and jealous. Her parents bought her a new Mary-Kate and Ashley book every time she finished one. How did they keep up? I could finish one of the books in an afternoon. Books were a rare treat in my household. We got them as gifts, borrowed them from the library. I couldn't fathom just receiving a book for finishing a different book. Didn't Morgan want to read about anything else, anyone else? No, Mary-Kate and Ashley were Morgan's life. I wonder how Morgan is doing now.
Now, thanks to the internet, I can see for myself the order of all the Mary-Kate and Ashley books were published. The number of books and series is truly overwhelming. I decided not to include the Full House Michelle books, as those were part of the Full House franchise and not published by the Olsens' company.
---
Anyone else have fond memories of collecting and reading Mary-Kate and Ashley books? What other series did you love as a kid? Let us know on Twitter or Facebook.
I previously wrote about what American Girl meant to me.
Visit our Middle Grade Archives for more nostalgia, books to read and share, and news.