Opinion
Margaret Atwood's Tasting Menu
In November, the Wall Street Journal published "Rethinking the Familiar Book Tour," a piece that argued bookstore readings were (or should be) a thing of the past. For many, this was not a new argument. For others, especially in less urban areas, this concept was a bold one. It has made me wonder about how bookstores, authors, and readers can work together to build better, more engaging book events.
---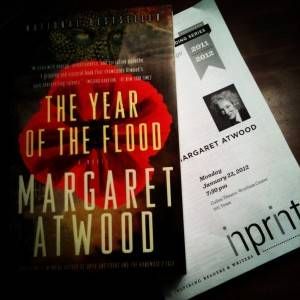 There were no sock puppets or guitars. There were jokes, though, and even a song. Margaret Atwood may have been following a more traditional format than the Green brothers, but she still put on quite a show for the 1100 people in the audience.
Atwood visited Houston as a part of Inprint's Margaret Root Brown Reading Series. She had visited before, and the response to that visit was what made them shift the series from a small museum auditorium to the larger spaces available in the city's theater district. The turnout for this event proved that they made the right choice.
Ms. Atwood began with what she referred to as a "tasting menu" of a reading, a few short excerpts from three of her more recent works. She started with the short story "Stone Mattress," which appeared in The New Yorker last month. The story contains the subtle wit that readers have come to expect from Atwood, but when she reads it, the humor is no longer subtle. The story is funny. She is funny, and she knows it. She even laughs at her own jokes as she reads. With some people this might be annoying but with Atwood it is, somehow, endearing.
The next item on the tasting menu was an excerpt from In Other Worlds, a collection of her essays and lectures on her relationship with speculative fiction. This particular essay dealt with her reading of the novel She by H. Rider Haggard. I learned very little about the novel, but I learned a lot about her development as a reader: "I did not make a distinction between great literature or any other. I just liked reading." There were more jokes and more laughter. And then she told us that she was going to sing.
The final "taste" came in the form of a chapter from The Year of the Flood. This particular chapter focused on one of the many religious festivals celebrated by God's Gardners. She read the homily offered by Adam One on Mole Day and then sang the children's hymn that followed. It was not as grand, I'm sure, as the choral performances that were included as part of the book tour for the novel's 2009 release, but it was pretty impressive, nonetheless.
The one element that was present in all of these readings, and that wove its way through the question-and-answer period that followed, was humor. She made us laugh. She made herself laugh. Atwood explained that she makes these jokes, that she uses humor in her writing in the way that she does, because the subjects that she tackles are hard. They would become intolerable otherwise. When the interviewer, author Robert Boswell, commented on the fact that she was laughing at her own reading, she was quick to point out that she also cries at all the sad scenes: "It's not all laughs, you know." And then she made another joke.
Atwood played to her audience, talking about her love of science and making geology jokes fitting for a city that has its economy based in the oil and gas industries. She discussed her accidental role as an activist and the part that Twitter has played in that. She also talked about her audience. In the beginning, she wrote for the "great reader in the sky with impeccable taste." Though her understanding of how publishing and the rest of the world works has changed since those early days (she said she could write a phone book now and it would get published), she is still writing for that all-knowing reader. There are just a few carefully chosen readers whose opinions she trusts, too.
It may not have had the production value that John Green's tour stop did, but the audience was more than pleased. Even the teenagers.
What are some of the more notable author events that you have attended? What made them stand out?
____________________________
Cassandra Neace teaches college students how to write essays and blogs about books and book-related goodness at Indie Reader Houston. Follow her on Twitter: @CassandraNeace.