News
Margaret Atwood's IndieGoGo Campaign for Fanado Gains Steam
A month ago, I covered the launch of Margaret Atwood's Fanado on IndieGoGo. The project, which is an interactive online video conference and signing service, now has just under two weeks left to meet its funding goal of $85,000 and is at about $58,000 (full disclosure: I contributed to the campaign. While I think that there are some great reasons to join me, I will allow you to make up your own mind on that score.).
Fanado is an online event space "where artists and performers can connect with fans, present to audiences, greet one-on-one, sign personalized collectibles, sell directly online, livestream and archive the event, and create personal experiences and lasting memories," says the company's latest press release. Atwood notes that she had this idea years ago, but that now technology has caught up to her vision: "If we all push together, we can connect creators of all kinds and levels with growing audiences all over the world. Let's help artists help themselves!"
Fanado's mission is "Anyone, Anytime, Anyplace;" thus the campaign will fund development of mobile apps to bring Fanado to iPads and other tablets. Individuals who want to support Fanado's "Go Mobile" campaign can choose from things like WattFan Comix (drawn by Atwood herself), content bundles, t-shirts, and special memberships. The latest bennie for the campaign comes from none other than author Paulo Coelho, who has signed on to provide 10 (three of these have already been claimed) Fanado session for $100 donors: "In addition to the $60 level items, own one of TEN ONLY 3-minute one-on-one video sessions with Paulo Coelho, world-renowned author, who will sign and personalize a digital cover of The Alchemist (more than 65 million copies sold.) Fanado records the video session and sends you the clip!"
But the funding campaign isn't even the most interesting part of the story, which includes a new literary award, conference panels, and a writerly road trip. First, a number of updates:
—Atwood attended Thrillerfest in Los Angeles, where authors Joseph Finder and Bob Mayer tried out the Fanado experience. Atwood then took a road trip ("A road trip! At my age!!" she emailed me) to San Diego with Sam Weller, Mort Castle and Amy Martin of Wattpad.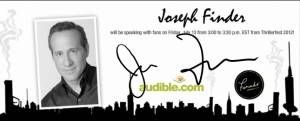 –At San Diego ComicCon (SDCC), Atwood supported the launch of Shadow Show: All-New Stories in Celebration of Ray Bradbury, the tribute volume to Ray Bradbury edited by Weller and Castle–a memorial for the esteemed, acclaimed and beloved author was held there on July 14.). Also at SDCC, Atwood interviewed SciFi author Rob Reid about his new novel, Year Zero, on a Fanado online stage.
–Fanado has announced its first seven publisher partners, which include the aforementioned Wattpad, along with Audible and Random House, all with a commitment to a one-year exclusive event stage on the Fanado beta site. These innovators will now be able to create live meet and greet events for their authors and other artists, anytime and anywhere, engaging and expanding their audiences while promoting new works.
–WIRED magazine is planning a feature story on Atwood, Fanado, and their IndieGoGo campaign.
Will Fanado meet its funding goal within the next two weeks? We'll keep you posted. Meanwhile, tell us what you think about crowdsourced funding for creative projects.
Later this week: A quick tour of Fanado's UI, complete with photos from Margaret Atwood's study and a Fanado-generated autograph just for Book Riot!