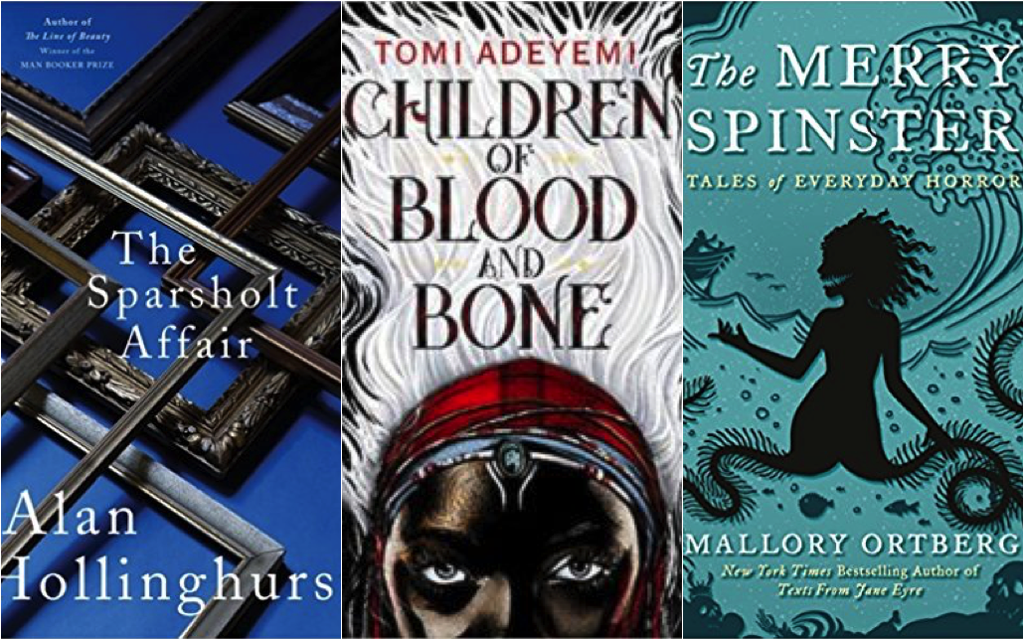 Lists
10 March New Releases To Put On Hold at the Library Right Now
This content contains affiliate links. When you buy through these links, we may earn an affiliate commission.
Live your best bookish life with our New Release Index. It's a fantastically functional way to keep track of your most anticipated new releases. It's available exclusively to Book Riot Insiders. Subscribe to Book Riot Insiders!
---
There are so many great books being released, all the time. How to choose? And the lists! Library hold lists are so lonnnnnnng. As the late, great Tom Petty sang, "the waiting is the hardest part." I've got the cure for the common hold: Here are ten great books coming out in March you should absolutely sign up for RIGHT THIS MINUTE.
BELIEVE THE HYPE. This trilogy landed a HUGE deal, and for good reason (er, at least for the first book): It's a wildly fantastical (and fantastic) tale of magic, royalty, and vengeance that tackles real issues like racism and prejudice. What an epic nerdpurr. Be ready to see this book everywhere. Oh ya, did I mention it's 600 pages long? GIANT FANTASY GOODNESS FTW.(March 6)
A heart-wrenching story of family and loss in Louisville, about a young widow, her brother-in-law, and the husband she lost. Evi was about to give birth to her and Eamon's child when he was killed in the line of duty. Now she lives with is brother, Dalton, who moved in to help her around the house while she raises her son, Noah. Told in three parts, this is an emotionally dynamic debut that will have you smiling through the tears. (March 6)
(TW for sexual assault.) This is a gorgeous, heartbreaking novel in verse about the real-life painter Artemisia Gentileschi, considered to be one of the most talented painters of her time, and the true story of how her father sued for "property damage" after she was raped by her instructor. Make no mistake, her story is brutal, as is her quest for justice, but it is also filled with hope and an important message that women's voices cannot be silenced. (March 6)
Delightful dark tales with a feminist twist from the always wonderful Ortberg. This collection features new takes on classic stories, injected with wit, mischief, and a dash of psychological horror. Perfect for fans of Angela Carter, Kelly Link, and Catherynne Valente. (March 13)
The wonderful author of Into the Beautiful North and The Hummingbird's Daughter is back with a complex family portrait about an ailing patriarch who brings his family together for one last party. (March 6)
A suspenseful psychological thriller set in Tangier. A woman is dismayed when an old friend turns up after an accident that caused a rift between them a year earlier. Then her husband goes missing, causing her to question everything around her, including the arrival of her friend. (March 20)
The author of Sons and Daughters of Ease and Plenty returns with eleven new stories steeped in mythology and full of love, loss, and longing, set all over the globe (and in Heaven itself). (March 6)
A devastating novel about hope and loss, following the lives of two girls with an extraordinary bond who are cruelly separated and their drive to be together again that spans continents. It's an unbelievably beautiful and harrowing story of friendship and devotion. Two words: WRECKED. ME. (March 6)
Go Home! by Rowan Hisayo Buchanan (Editor)
I am excited for this one, but I haven't read it yet, so I turn to the publisher's blurb: "Asian diasporic writers imagine 'home' in the twenty-first century through an array of fiction, memoir, and poetry. Both urgent and meditative, this anthology moves beyond the model-minority myth and showcases the singular intimacies of individuals figuring out what it means to belong." (March 13)
Set in England from the 1940s to present day, this is a dazzling look at the complexity of familial relations and secrets, starting with the relationship of two men at Oxford, and following along as England—and the characters—changes through war, art, sexuality, and politics. (March 13)