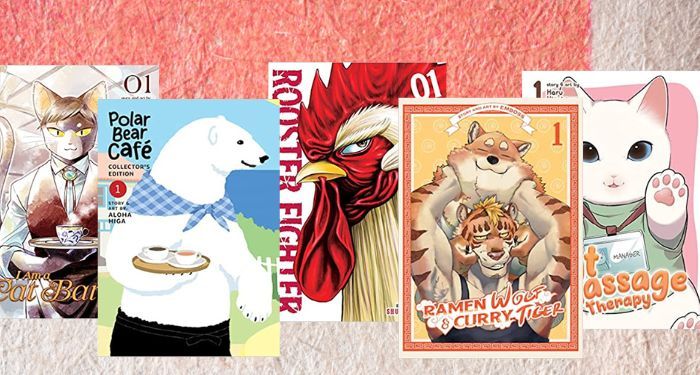 This content contains affiliate links. When you buy through these links, we may earn an affiliate commission.
I spend a significant portion of my day talking. Okay, the truth is I spend a significant portion of my day talking…to my cats. Spoiler: They don't talk back. But wouldn't it be great it they did?? I don't think there's any pet owner who hasn't wished at one time or another that their pets could talk back to them. Or that they had the ability to communicate with animals like Dr. Doolittle does. Sadly, it isn't a reality, but it is still delightful to imagine animals can communicate. You can find them doing just that in these nine fun manga with talking animals!
In the pages of these comics, you'll find animal baristas, massage therapists, foodies, fighters, spies, and more. In some, the animals talk out loud just like humans. In others they communicate in thought bubbles, like Garfield, so that we, the readers, know what they're thinking. If you're looking for a cozy comic to help you relax, or to cheer you up, these are the perfect books. They're silly and fun, and so adorable! And almost every one of them has sequels so you can keep going with their stories.
Plus, if you like animals, there are tons more manga with animals — especially cats. (For more feline fun, I recommend starting with Cat + Gamer by Wataru Nadatani!)
---
For more fun manga with animals, check out 8 of the Best Animal Manga Series Featuring Furry Protagonists and 10+ Cat Manga Purrfect for Feline Fanatics!