This content contains affiliate links. When you buy through these links, we may earn an affiliate commission.
The world could use more people like Malala Yousafzai—especially now. People who stand strong in their convictions, who value education, who believe in fighting for equality, and speak up for those who may not be able to speak up for themselves. Malala's activism, fighting for human rights and particularly girl's education, has earned her a Nobel Peace Prize—the youngest recipient in the award's history. For that, and countless other reasons, she is a person we could all aspire to be a little more like. So here are 25 inspiring Malala Yousafzai quotes just as feminist and empowering as the twenty-one-year-old activist herself.
Most of these quotes are taken from I Am Malala: The Girl Who Stood Up for Education and Was Shot by the Taliban, written by Malala Yousafzai along with Christina Lamb. The memoir recounts Malala's early life in the Swat Valley in Pakistan, her growing dedication to the fight for girl's education—even and especially as the Taliban encroached on her home—as well as the attack on her life and her subsequent recovery. If you want to learn more about Malala's life and convictions, I highly recommend it.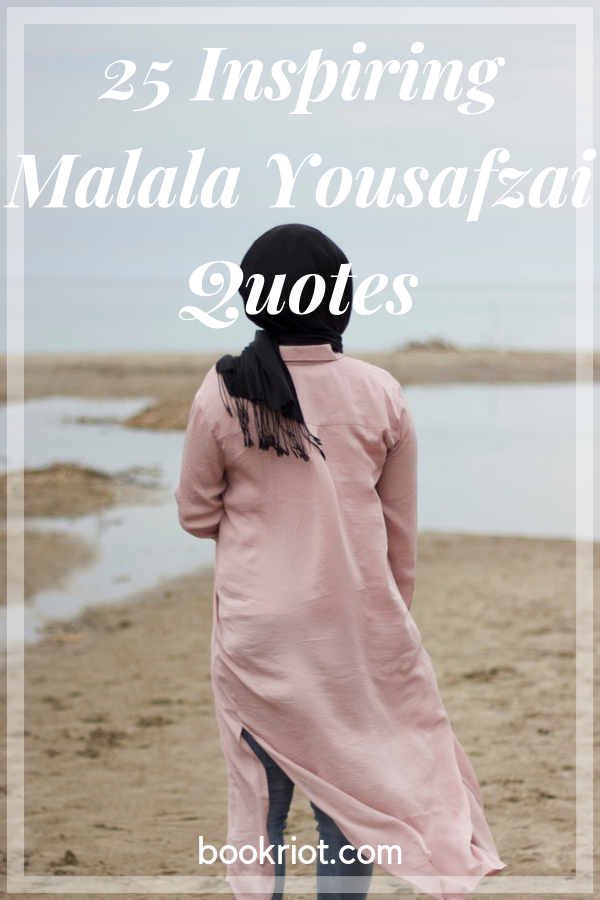 Malala Yousafzai quotes On Education
"Let us pick up our books and our pens, they are the most powerful weapons."
"When someone takes away your pens you realize quite how important education is."
"Education is our basic right. Not just in the West; Islam too has given us this right. Islam says every girl and every boy should go to school. In the Quran it is written, God wants us to have knowledge. He wants us to know why the sky is blue and about oceans and stars. I know it's a big struggle—around the world there are fifty-seven million children who are not in primary school, thirty-two million of them girls."
"Though we loved school, we hadn't realized how important education was until the Taliban tried to stop us. Going to school, reading and doing our homework wasn't just a way of passing time, it was our future."
"One child, one teacher, one book, one pen can change the world."
"The Taliban could take our pens and books, but they couldn't stop our minds from thinking."
"With guns you can kill terrorists, with education you can kill terrorism."
"Education is neither eastern nor western. Education is education and it's the right of every human being."
"Extremists have shown what frightens them most: a girl with a book."
"I don't want to be thought of as the 'girl who was shot by the Taliban' but the 'girl who fought for education.' This is the cause to which I want to devote my life."
Malala Yousafzai quotes On Women's Rights and Empowerment
"No struggle can ever succeed without women participating side by side with men. There are two powers in the world; one is the sword and the other is the pen. There is a third power stronger than both, that of women."
"In Pakistan when women say they want independence, people think this means we don't want to obey our fathers, brothers or husbands. But it does not mean that. It means we want to make decisions for ourselves. We want to be free to go to school or to go to work. Nowhere is it written in the Quran that a woman should be dependent on a man. The word has not come down from the heavens to tell us that every woman should listen to a man."
"If one man can destroy everything, why can't one girl change it?"
"I tell my story, not because it is unique, but because it is not. It is the story of many girls."
Malala Yousafzai quotes On Courage
"When the whole world is silent, even one voice becomes powerful."
"If people were silent nothing would change."
"We were scared, but our fear was not as strong as our courage."
"They thought that the bullets would silence us, but they failed. And out of that silence came thousands of voices. The terrorists thought they would change my aims and stop my ambitions. But nothing changed in my life except this: weakness, fear and hopelessness died. Strength, power and courage was born."
"Don't be afraid—if you are afraid you can't move forward."
Malala Yousafzai quotes On Politics
"You may belong to any religion or caste or creed—that has nothing to do with the business of the state."
"Ignorance allowed politicians to fool people and bad administrators to be re-elected."
Malala Yousafzai quotes On moving forward and rising above
"To me, the moral of the story was that there will always be hurdles in life, but if you want to achieve a goal, you must continue."
"I think everyone makes a mistake at least once in their life. The important thing is what you learn from it."
"Kindness can only be repaid with kindness. It can't be repaid with expressions like 'thank you'."
"I started thinking about that, and I used to think that the Talib would come, and he would just kill me. But then I said, 'If he comes, what would you do Malala?' then I would reply to myself, 'Malala, just take a shoe and hit him.'
But then I said, 'If you hit a Talib with your shoe, then there would be no difference between you and the Talib. You must not treat others with cruelty and that harshly, you must fight others but through peace and through dialogue and through education.'
Then I said I will tell him how important education is and that 'I even want education for your children as well.' And I will tell him, 'That's what I want to tell you, now do what you want."
---
Some more inspirational quotes to rekindle your spirit: Roxane Gay quotes, a more diverse list of inspirational quotes, 30 strong literary women quotes.