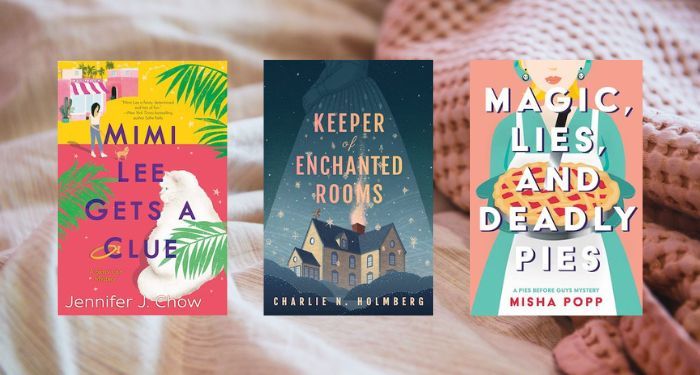 Lists
Enchantment & Intrigue: Magical Cozy Mysteries to Enliven Your Bookshelf
This content contains affiliate links. When you buy through these links, we may earn an affiliate commission.
If you haven't experienced magical cozy mysteries before, well, you should. Seriously, you're missing out. After all, genre mash-ups are amazing, and the combo of fantasy and cozy mysteries is no exception!
There's no limit to the forms magical cozy mysteries can take. Sure, the mystery element's gonna be there. But as for the magical part…that's the wild card. There are plenty of witchy cozy mysteries, but there are also cozy mysteries featuring mermaids, faeries, vampires, ghosts — you name it, I can almost guarantee someone's written it.
Of course, "magical" doesn't have to refer to the characters themselves. A cozy mystery might deliver its magic in the form of a library with portals to parallel worlds, charmed baking, or even — one of my personal faves — a talking cat. Sometimes, the story world delivers all the enchantment you could ever ask for. I mean, how can you put down a book where the protagonist is trapped inside their magical mansion?
However the magic appears, the point is that cozy mysteries with a fantasy twist are super fun. As the summertime stretches along and autumn lurks in the wings, pick up a magical cozy mystery. You won't regret it!