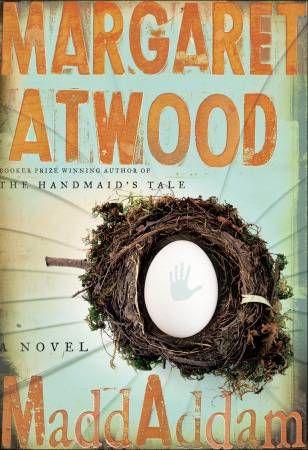 This content contains affiliate links. When you buy through these links, we may earn an affiliate commission.
Mark your calendars speculative fiction nerds, because the final installment in Margaret Atwood epic trilogy that began with Oryx and Crake and The Year of the Flood is coming to a conclusion when Maddaddam is released September 3rd.
Here is the official description:
Months after the Waterless Flood pandemic has wiped out most of humanity, Toby and Ren have rescued their friend Amanda from the vicious Painballers. They return to the MaddAddamite cob house, which is being fortified against man and giant Pigoon alike. Accompanying them are the Crakers, the gentle, quasihuman species engineered by the brilliant but deceased Crake. While their reluctant prophet, Jimmy—Crake's one-time friend—recovers from a debilitating fever, it's left to Toby to narrate the Craker theology, with Crake as Creator. She must also deal with cultural misunderstandings, terrible coffee, and her jealousy over her lover, Zeb. Meanwhile, Zeb searches for Adam One, founder of the God's Gardeners, the pacifist green religion from which Zeb broke years ago to lead the MaddAddamites in active resistance against the destructive CorpSeCorps. Now, under threat of an imminent Painballer attack, the MaddAddamites must fight back with the aid of their newfound allies, some of whom have four trotters. At the center is the extraordinary story of Zeb's past, which involves a lost brother, a hidden murder, a bear, and a bizarre act of revenge. Combining adventure, humor, romance, superb storytelling, and an imagination that is at once dazzlingly inventive and grounded in a recognizable world, MaddAddam is vintage Margaret Atwood, and a moving and dramatic conclusion to her internationally celebrated dystopian trilogy.
Last week we got the final piece of the pre-publication puzzle when Atwood revealed the cover for the new book.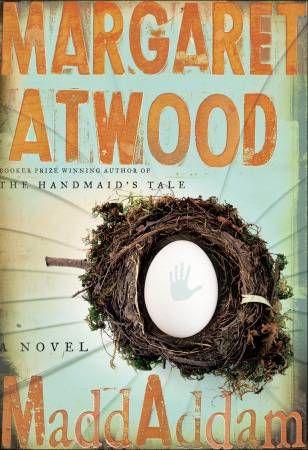 What do you guys think?
_________________________
Sign up for our newsletter to have the best of Book Riot delivered straight to your inbox every two weeks. No spam. We promise.
To keep up with Book Riot on a daily basis, follow us on Twitter or like us on Facebook. So much bookish goodness–all day, every day.