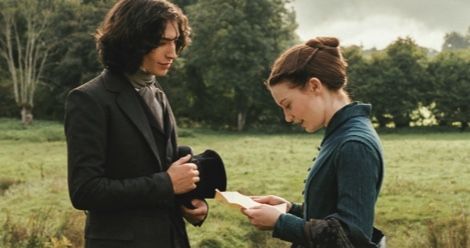 Classics
10 Quotes That Prove Madame Bovary Was a Bookworm
This content contains affiliate links. When you buy through these links, we may earn an affiliate commission.
Emma Bovary was many things—vain, depressed, thoughtless, passionate, a spendthrift—but most importantly: Emma Bovary was a reader. A book devourer. A connoisseur of the written word, #bookworm. Before she met Charles Bovary or Leon Dupuis or Rodolphe Boulanger or attended a ball or bought a nice dress, Emma was reading books, and they were filling her head full of ideas. She had certain expectations about how life was supposed to be. She imagined herself in Paris wearing beautiful gowns and attending glamorous balls. She imagined herself with a passionate, adoring husband and a large house full of nice things.
Emma tried desperately to create this life for herself. She had affairs and bought expensive clothes and spent a lot of money; she attempted to create the illusion of the life she'd read about, but no matter what she did, she was never able to find lasting happiness.
Emma's unhappiness derived from her bookish inclinations. Do you know the Louisa May Alcott quote: "She is too fond of books, and it has turned her brain"? It applies here! Emma Bovary was living in a world that stripped women of their natural character and denied their desires. Emma married Charles to escape a farm, but ended up the neglected wife of a doctor, so she pursued affairs with thoughtless men. Emma thought the world owed her more. Blame books for that! BOOKS! They make us crave something better. They make us question everything! They addle our brains and leave us unmoored in a confusing world. Poor Emma. She didn't stand a chance in 19th century France. The ideals she'd found in books were far superior to the reality she attempted to manipulate.
I blame books for all my problems too—I just can't quit them.
10 Quotes That Prove Emma Bovary Was a BookWorm
*I pulled these quotes from the Madame Bovary (Penguin Drop Caps edition) of Madame Bovary. It was translated by Lydia Davis.
A Love for Ill-Fated Women
"With Walter Scott, later, she became enamored of things historical, dreamed of studded leather chests, guardrooms, and troubadours…. At that time she worshipped Mary Stuart and felt an ardent veneration for illustrious or ill-fated women."(43)
The Satisfaction of Her Own Desires
"In Eugene Sue, she studied descriptions of furnishings; she read Balzac and George Sand, seeking in them the imagined satisfaction of her own desires."(67)
A Reader's Lament
"'I've read everything,' she would say to herself." (73)
Ought to Exercise, But…
"'My wife doesn't have much interest in that,' said Charles. 'Even though she has been told she ought to exercise, she'd rather stay in her room all the time and read.'" (96)
I Have Felt That Too!
"'Have you ever had the experience,' Leon went on, 'while reading a book, of coming upon some vague idea that you've had yourself, some obscure image that comes back to you from far away and seems to express absolutely your most subtle feelings?'
'I have felt that,' she answered." (97)
Common Heroes and Moderate Feelings
"'I think verses are more tender than prose, and more apt to make you cry.'
'Yet they're tiresome in the end,' Emma said; 'these days, what I really adore are stories that can be read all in one go, and that frighten you. I detest common heroes and moderate feelings, the sort that exist in real life.'" (97)
The Power and Importance of the Library
"'… that's why I always belonged to the lending library.'" (97)
Purveyor of Poison
"So it was decided that Emma would be prevented from reading novels. The project did not seem an easy one. The good lady took it upon herself: on her way through Rouen, she would go in person to the proprietor of the lending library and inform him that Emma was terminating her subscription. Wouldn't one have the right to alert the police if, despite this, the bookseller persisted in his business as purveyor of poison." (147)
Adulterous Women and Sisterly Voices
"Then she recalled the heroines of the books she had read, and this lyrical host of adulterous women began to sing in her memory with sisterly voices that enchanted her. She herself was in some way becoming an actual part of those imaginings and was fulfilling the long daydream of her youth, by seeing herself as this type of amorous woman she had so envied." (190)
The Heart of a Poet
"It didn't matter. She was not happy and never had been. Why was life so inadequate, why did the things she depended on turn immediately to dust?… Yet if somewhere there existed a strong, handsome being, with a valorous nature, at once exalted and refined, with the heart of a poet in the shape of an angel, a lyre with strings of brass, sounding elegiac epithalamiums to the heavens, then why mightn't she, by chance, find him?" (335)
And a Bonus, Because it Explains Everything
"She wanted a son; he would be strong and dark, she would call him Georges; and this idea of having a male child was a sort of hoped-for compensation for all her past helplessness. A man, at least, is free; he can explore every passion, every land, overcome obstacles, taste the most distant pleasures. But a woman is continually thwarted. Inert and pliant at the same time, she must struggle against both the softness of her flesh and subjection to the law. Her will, like the veil tied to her hat by a string, flutters with every breeze; there is always some desire luring her on, some convention holding her back." (103)
According to legend, when asked about Madame Bovary, Gustave Flaubert's response was "c'est moi." Now, readers, I think we can all say:
Madame Bovary c'est moi!
Want more? Try 20+ Dorothy Parker Quotes for Your Daily Schedule or 100 Must-Read Classics in Translation.