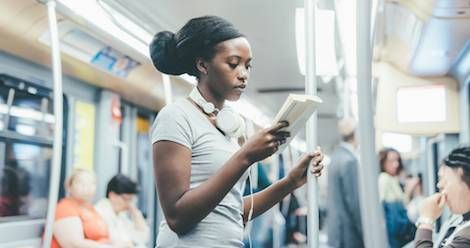 Opinion
A Case for Lower Case L Literature
This content contains affiliate links. When you buy through these links, we may earn an affiliate commission.
This is a guest post from Rachel Wagner. Rachel writes fiction, poetry, and essays. She teaches at Seton Hall University and lives in Newark, NJ with her son.
---
A friend of mine told me a while ago, while she was still in high school, that she doesn't read. When I acted surprised about it, she told me that she does read, but it's just hood books. I was like… so you read. That "just" phrasing revealed a lot to me about how readers of lower case L literature feel about their books and themselves. It's implied that certain genres of writing are not worthy of critical inspection, and that hurts Literature too because when people reading hood books or romance don't consider themselves readers, they won't venture out to other genres. This barrier alienates readers.
Lower case L literature obviously doesn't get the same respect that capital L Literature does. But why? More people buy them. They're faster to get through. They're engaging. They're accessible. Especially now, when people's attention span for reading has been shortened by the internet, literature seems like it would be a great avenue to make literary conversations and academic writing more popular.
Recently, it was taking me forever (in a good way) to get through Norman Ohler's Blitzed: Drugs in the Third Reich. Day after day, I'd pick it up and read as much as I could, but sometimes the words just blurred and I would lose the narrative. I also have a two year old, so long stretches of reading are hard to come by. Then Danielle Santiago's book Grindin' showed up from an interlibrary loan. I packed my kid up right away to go pick it up. I put Blitzed on pause and read Grindin' in a day and a half. And it felt great. I was so happy to be back in a story. It was especially nice to be immediately curious, interested, and eager to find time to read. That book made it easier to return to and finish Blitzed after a couple days.
Usually the first thing I want to do when I finish a book is go to Google and see what other people have said about it. For Literary books like Blitzed that's easy. There are tons are articles and think pieces and Twitter threads. That's true of some popular literature books too, like Sister Souljah's Coldest Winter Ever, but more often, there's close to nothing. Nothing pops up right away for Grindin', even though the writer is fairly well known. Sites like Amazon and Goodreads become the place to converse, which is great in some ways, but, again, is isolating because it's practically the only place where those conversations are happening.
Hood books have this special quality about them that allows you to just get through it. The pacing of the story moves quickly, and it's easy to lose track of time. Zane books, all of Sister Souljah's novels, the Cartel series—these books seem to physically pull you in.
Similarly, romance novels drag you in. Sophie Kinsella's Shopaholic series, for example, are genuinely fun to read. The chapter in which the narrator, Rebecca, is helping her love interest shop for suitcases was the first time I'd laughed out loud at a book since Tina Fey's memoir. The most recent romance novel I read was An Extraordinary Union by Alyssa Cole, and the writing itself felt like Literature. It crossed over to historical fiction, and used a complex situation to say something larger about American culture. These are not simple books.
The repeated use of erotic triangles that run through these genres can't be the problem, since that narrative runs through a lot of Literary books. The readership, which includes a lot of women and prisoners, could be part of the stigma. The writers, who are usually marginalized by race, gender, or both and usually not MFA graduates, may also have something to do with it. The treatment of those commonly associated with literature, though, shows exactly why these books are important right now.
Limiting the conversation that surrounds these texts that are relevant, meaningful to people's lives, has serious consequences. Megan Sweeney did work on the topic of what incarcerated women read and the popularity of hood books in prisons, and more and more with middle class white and black women as well. In "'Keepin' It Real': Incarcerated Women's Readings of African American Urban Fiction," she explains that "the genre allows readers to consider their experiences and speech patterns as worthy of representation in a book" (139). Publishing them is one piece of legitimizing the stories, but talking about them would enhance that. These stories are important and deserve critical inspection, and the more writing that gets done on these books, the better they'll become.
There's a certain kind of power in being able to pick up a book and dive right in. Lower case L literature has a magnetic quality about it. These books stand alone and are also great in between more complex books. Most importantly, they tell necessary stories.