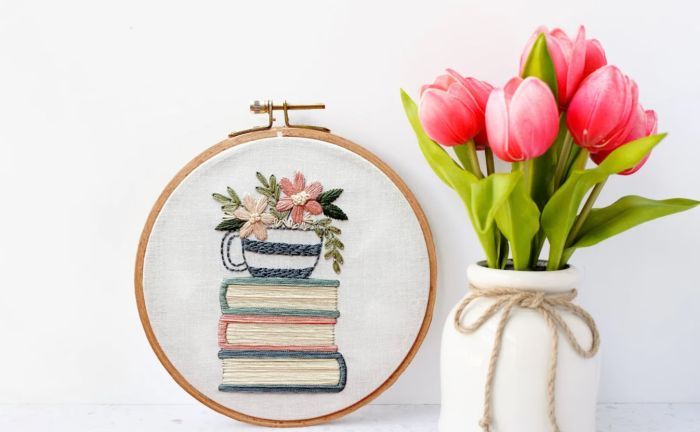 Book Fetish
Bookish Spring Decor to Brighten Up Your Space
This content contains affiliate links. When you buy through these links, we may earn an affiliate commission.
When my spouse and I moved into our home just over a decade ago, one of the most gratifying things — for me — was the act of setting up my home office, making the space my own, a sanctuary where I could write and curl up with a book and generally enjoy some alone time.
Even now, it is my favorite space in the house, filled as it is with homemade glitter art, embroidery, knick-knacks, and other pieces of artwork that announce to the world my primary interests (sex positivity, horror, comics, cats, and all the books).
One of my great joys is filling the space with new pieces that make me smile. Sometimes, that means embroidering a wreath for the door of my office. Sometimes it means sitting down with my child and painting glittery rainbows on rocks, then sticking one on my desk where I can always see it out of the corner of my eye.
As we approach spring, I feel called to make these sorts of updates to my space even more. After all, spring cleaning means…more space, right? (Wait, is that not how that works?)
So, as much for me as for you, here's a list of bookish spring decor that's guaranteed to make your home look fabulous.
And that's all I got. Excuse me while I go spend all my money (on more suncatchers). In the meantime, if you want even more bookish spring decor, check out this post of best bookish spring decor from 2021.