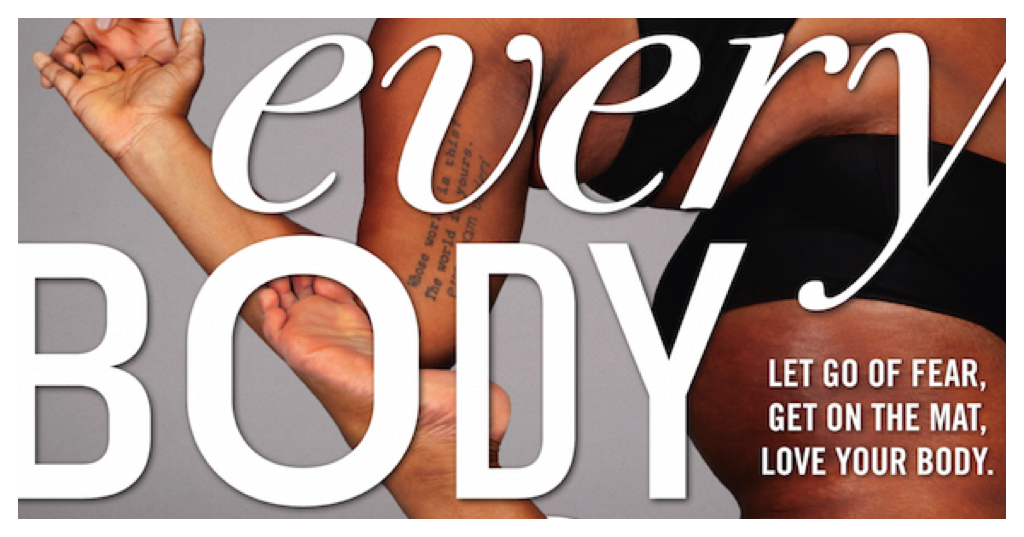 Interviews
"My love of reading is truly the love of my life": Jessamyn Stanley on EVERY BODY YOGA, Books, and More
This content contains affiliate links. When you buy through these links, we may earn an affiliate commission.
A couple of years ago, I found myself wanting to add more to my life. This was after coming to terms with my mental health challenges, as well as some of the physical challenges I had that needed to be managed in order to support my mental wellness.
It took me a year to finally make the decision, though, to walk through the front doors of the local yoga studio. Going in involved humbling myself and putting away my ego, in part because I was scared shitless about practicing something new and because I was so nervous about my fat body being seen in a space where fat bodies like mine didn't seem like the norm.
I learned quickly that "norm" was media-fueled and not reality.
My body fit into that studio and fit into the practice of yoga. It helped with my physical issues, as well as absolutely changed my relationship with my mental health.
And then I decided to take the plunge and begin the journey toward being a yoga teacher.
I don't talk about these things a whole lot on social media, in part because yoga for me is a very private, offline aspect of my life. It's where I get to step away from writing and books and being "on" on social media and instead, reengage with myself wholly for myself.
But through the course of understanding my practice and my desire to teach others yoga, I found myself seeking other yogis who didn't look like the media-produced yoga practitioner (an image, worth noting, that isn't even the originally intended student of yoga practice).
One of those amazing women was Jessamyn Stanley.
I found myself spending hours on her Instagram feed, watching her move her body into amazing shapes. I enjoyed reading her take both on yoga as a practice and her take on body acceptance, self-acceptance, and her perspective that if you don't like what you see, you're the problem. Watching her tell her story visually and through her writing made me fall even more deeply in love with my own self and my own yoga practice, as it constantly gave me more to chew on and think about through this journey. My body didn't need to be pretty nor polished when it moved into a challenging asana; what mattered was that I felt good and that I felt challenged by it. It was okay to fall and fall again — even seasoned yoga practitioners did it. No one's practice is perfect, and I had no reason to listen to my own body when I found myself on the mat.
Jessamyn's st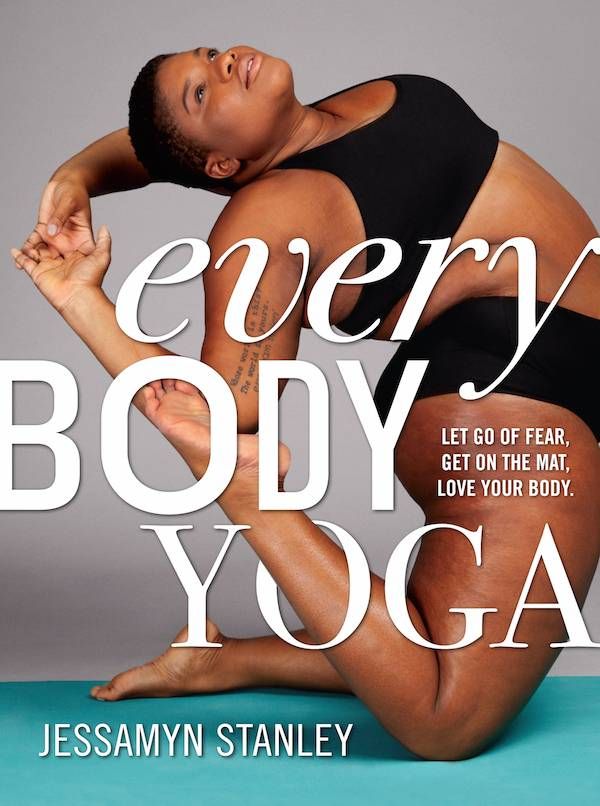 ory, though, doesn't end with her amazing social media presence. She's written a book called Every Body Yoga, which is one of the most friendly, approachable, and yet absolutely real books on yoga I've picked up. After talking about Every Body Yoga in Buy, Borrow, Bypass earlier this year and having returned to it more than once since beginning my own teacher training journey, I knew I needed to reach out and talk with Jessamyn myself.
Even if you aren't a yoga enthusiast, this is a book to pick up and a woman to keep an eye on.
And if nothing else, you'll see your reading list expanding and your smile grow a bit as you enjoy our conversation.
First and foremost: what's the quick pitch of EVERY BODY YOGA that you like to give?
Every Body Yoga is my response to the question "Dear Jessamyn, How Do I Start Practicing Yoga?" As a loud and proud fat black queer yoga instructor, I've been asked this question an endless number of times and Every Body Yoga is an opportunity to finally offer all the stories and guidance that I can't succinctly sum up in social media posts, tweets, or emails.
Can you tell us a little bit about how you got started in yoga and what brought you to share your practice on Instagram?
Like (seemingly) most people, I began practicing yoga during a very difficult point in my life. I was 24, and thus completely consumed in the elementary dramatics of being that age. I was studying in a graduate program that didn't quite fit with my ever evolving goals, as well as coping with the end of a long-term relationship. In 2011, one of my classmates encouraged me to purchase a groupon unlimited pass to our local Bikram yoga studio. I had actually tried Bikram once before, when I was in my teens- my experience was so overwhelmingly negative that I almost didn't heed my friend's advice. However, I found a great comfort in the Bikram yoga practice when I gave it a second chance- the combination of heat, repetitive sequencing, and long holds was a complete release from the stress of my daily life. I began to look forward to class in a way that I didn't really look forward to anything else- it made me feel powerful and self-assured at a time when I couldn't summon those emotions on my own. I began documenting my home practice on my Instagram account simply so I could track my progress and improve my alignment, but it's ultimately proved to be a consistent source of invigorating energy to my practice.
As someone who gained a loyal audience through social media, what made you interested in taking your story and your experiences to the more traditional print format?
In my opinion, the power of social media is rooted in short form communication- snippets, clips, photos, etc. Ultimately, it's all about brevity. It's an awesome way to give physical and/or metaphorical snapshots of moments in time. But social media isn't great for communicating large chunks of information- and to really explain how a novice can begin practicing yoga, it was clear that a book is the most appropriate method of communication for conveying all the information I wanted to offer.
One of the things that struck me about EVERY BODY YOGA was how personal it is. This isn't only a guidebook to get into or deepen a yoga practice. It's your story of finding your way from rock bottom to finding a way to work with the waves that come and go through your life. A particularly powerful story you share is about when you knew you needed to get help with your alcohol addiction. Why and how did you come to decide to become so raw with your personal life in this book?
I believe that vulnerability and authenticity are the only assets of a worthwhile yoga teacher. Every teacher who has impacted my personal practice has done so because of their bare bones honesty, humility, and humanity. There's immense pressure within the mainstream yoga world to project false versions of oneself- it's as though many western yoga teachers try to project an image of flawless behavior and ideals. But to be blunt- I'm not down with the fake shit. I think it's important for me to be honest about the real struggles of my life and yoga practice in order to create a gateway for my readers to do the same. Plus, it's important for new yoga practitioners to know that their perceived "faults" and fears are shared by other yoga practitioners- and those same "faults" and fears are the key to establishing a long lasting yoga practice.
There are a variety of bodies and ranges of motion highlighted in EVERY BODY YOGA. The image I came to yoga with — young, thin, white — was one thing that held me back from trying it for a long time, even though I fit two of those three descriptions. But your book radically alters that image and does so in a way that's actually representative of yogis. What role did you have in choosing the models who are doing the poses in your book? Did you purposefully choose not to be the model for all of the asanas?
It was always imperative that the asana be modeled by a variety of practitioners- different shapes, sizes, and colors. From the beginning, I've considered this book an opportunity to dismantle the one-dimensional image of yoga- it's not just for thin, young, white cis femmes. But it's not just about larger bodied practitioners- there are SO MANY kinds of people who are rarely shown practicing yoga asana and I wanted to paint a broader picture of the yoga world than what's traditionally seen, without focusing solely on larger bodied practitioners. Honestly, I would've been happy to abstain from modeling entirely- I feel like the world has seen enough of Jessamyn Stanley practicing yoga. But despite my embarrassment, I can't deny that fat black bodies are rarely seen and I consider my own modeling in the book to be an execution of responsibility to anyone who feels a connection with my body and its presentation.
To the general public, yoga is a series of poses (asanas), but as you explain in your book, yoga is an 8-limb path and the poses are only one part. Can you talk a bit about some of the limbs that have had the biggest impact on your life and how you came to understand the ways those pieces helped in your asana practice?
Brahmacharya, one of the Yamas, is frequently translated as chastity or celibacy. As a result, it's not unusual for western practitioners to shrug off its importance- after all, we live in a society where marriage and sexuality are popular frames for human identity. Often, modern practitioners see brahmacharya as old-fashioned or irrelevant. But over the course of my practice, I've noticed how my relationships with other people, particularly romantic and sexual relationships, have a massive impact on my life perspective. This is not always a negative impact, but the strength and force of another person's life perspective on my own can't be denied. I eventually realized that brahmacharya is an attempt to understand contentment solely within the self– not in conjunction with another human being. This internal conversation is just one of many that has dramatically altered my yoga practice both on and off the mat.
Do you have any favorite yoga books that those who are interested in starting or who have a solid practice should pick up?
Philip Golderg's American Veda
Swami Muktibodhananda's translation of Hatha Yoga Pradipika
Stephen Mitchell's translation of Bhagavad Gita
B.K.S. Iyengar's Light On Yoga & Yoga: The Path To Holistic Health
Sri Swami Satchidananda's translation of The Yoga Sutras of Patanjali
Erich Schiffmann's Yoga: The Spirit and Practice of Moving Into Stillness
You're a fat woman of color (& I suspect you're okay with me stating the obvious). How has becoming such a recognizable name and face on the internet changed your relationship with your body and your relationship with your identity as a woman of color?
From a sociological perspective, it is wild for me to see the way that others are affected by my body, especially because I don't consciously set intention to affect others. Complete strangers feel compelled to offer their unsolicited opinions about every aspect of my physical being. It would be very easy for this recognition to alter my relationship with my body and identity. However, the recognition has made me very protective of my physical, emotional, and spiritual self so that I can protect myself from being claimed by others. I think there's a pretty big gap between the "real" Jessamyn and "@mynameisjessamyn" and that gap is absolutely intentional. My identity as a queer person, as a woman of color, as a fat body- these are not just hashtags or popular demographics to discuss over coffee, they're my real daily existence. And in order to remain present and happy on a daily basis, I cannot confuse my social media presence with my actual identity.
What's one thing you wish all of those who've never tried yoga before would know about practicing? What's one thing you want all of those who do practice yoga to think about in their practice?
I wish everyone who has never tried yoga knew that yoga is a life path, not a fitness regimen. And I want anyone who practices yoga to accept the perfection of their current moment- even if the current moment doesn't look or feel anything like what they expected. Because that realization and corresponding resolution are actual yoga in action.
One of the first sections of your book sets out to answer the questions so many new yogis have or worry about — questions that you note you hear from literally everyone. Can you share a couple of the weirdest/strangest/least common questions you've gotten about practicing yoga or some of the ones you shared in the book that you think would resonate with those who've been otherwise reluctant to hop on a mat?
The Q&A portions of Every Body Yoga are probably my favorite sections in the book because I'm constantly asked the same questions about practicing yoga- "What are the spiritual benefits of yoga?" "What if my body is too weak?" "What can I expect in my first class?" "How do I find a yoga studio that knows how to work with a curvy body?", "What if I'm the fattest, slowest, etc.?"- FINALLY, all my answers to these unbelievably ubiquitous questions are in one place! However, one of the most common yet unsettling questions for yours truly is "Can I lose weight while practicing yoga?" I do answer this question in the book, but I had a lot of conflict about whether or not to answer it because I don't think weight loss is a worthwhile goal when practicing yoga. If an individual wants to change their body, find an exercise program/trainer that works. But weight loss is a superficial goal- understandable and reasonable, but superficial nonetheless. Yoga is much bigger than physical presentation, and that's something I seek to emphasize at every opportunity.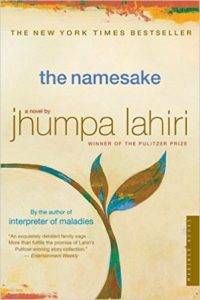 To bring this back to books more broadly, a few questions about your own reading life. To begin with the obvious, what are you reading right now? What's sitting on your to-read list that you're itching to pick up?
I'm a slow but voracious reader and I always have a million books around my house/in my bags/etc. Currently, I'm on the last few pages of Tom Perrotta's The Leftovers, and I just started rereading Jhumpa Lahiri's The Namesake. While darting through airports and sitting on long flights, I've been listening to the audio versions of Octavia Butler's Parable of The Sower, Stephen King's The Stand, and James Baldwin's Notes Of A Native Son.
What are some of your all-time favorite books?

My favorite book of all time is Middlesex by Jeffrey Eugenides- I've given away several copies because I always end up loaning my copy to friends who've never read it. The Sun Also Rises and The Odyssey have both been favorites since high school, and Marjane Satrapi's The Complete Persepolis is the standard gift I give to all the young women in my life.
A question that many book readers wrestle with is the what/how of reading while traveling. You do quite a bit of traveling as a yoga instructor. What books are your go-to for those situations? And do you go paper over electronic? Do you mix it up? Inquiring minds want to know about your bookish travel habits.
I prefer audio books for travel because I'm notorious for lugging stacks of paperbacks around the country- with audiobooks, I have a whole library at my fingertips and I can read entire books while my eyes rest behind an eye mask. But I hate reading ebooks- I stare at screens enough for social media work, and staring at screens while reading never fails to give me a headache. But if there's a book that I want to read while in transit and I don't have it on audiobook, you can bet your bottom dollar that I'll make space for the paperback version in my suitcase. My love of reading is truly the love of my life.
If you could teach a yoga session to a group that included 3 of your favorite authors, living or not, who would be in that room getting their Down Dog on with you?
This is such an awesome question and I've literally never thought about it. It would probably be three of the authors that gave me life as a child. How about Laura Ingalls Wilder, Shel Silverstein and Ann M. Martin? Those three were literal forces in my life and, on a purely selfish note, I can only imagine that sharing space with the three of them would bring energy to my inner child. Then we can all get ice cream afterwards and really make my 4th grade dreams come true.
And finally, if you could go back in time and hand young Jessamyn a book that would really change her life or make her think about things in a completely new way, what would it be and why?
A blank journal. As much as she read books, I would want to offer young Jessamyn space to release her thoughts in order to become a stronger person.