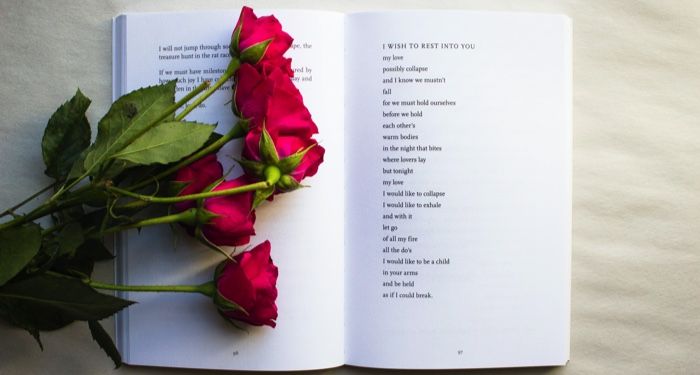 Poetry
8 Books of Love Poetry to Check Out for Your Next Romantic Read
What makes a great book of love poetry? Admittedly, this is a tough question to answer! Lucky for you, the love poetry collections listed below tackle this query with intensity and honesty. These poets explore the glorious heights of love and the wreckage of broken hearts. Their poems capture the vulnerability and tenderness of romantic longing. And, furthermore, they meditate upon the spiritual and political dimensions of love and how our romantic acts can forge a better and more just world. So, dip into these works, fall head over heels, and enjoy these varied books of love poetry.
Shakespeare's Sonnets, Edited by Katherine Duncan-Jones
First published in 1609, Shakespeare's sonnets ring out with romantic love, heartache, and longing in beautiful and inventive ways. These 154 poems have deeply embedded themselves into pop culture and have prompted many modern adaptations. Furthermore, Shakespeare challenges the heteronormative sonnet form to feature compelling M/M romance. If you're looking for an excellent edition of the sonnets, look no further than this one edited by Katherine Duncan-Jones. Her introduction is authoritative and interesting, and I love that each sonnet receives its own opposing page of well-considered and helpful notes. Thus, you can read the sonnets without interruption, but have the option to check in if you need the additional critical support.
The Subject Tonight is Love: 60 Wild and Sweet Poems of Hafiz, Translated by Daniel Ladinsky
Hafiz was a Sufi Persian poet who wrote popular and influential ghazals in the 14th century. His work is especially celebrated in Iran, where his impact is still keenly felt in contemporary culture. The poems contained within this edition, expertly translated by Daniel Ladinsky, infuse romantic love with dimensions of religious experience. In doing so, Hafiz presents a vision of love that is spiritually transformative and beautiful. If you are in a thoughtful and meditative mood, pick this one up.
The Ink Dark Moon: Love Poems by Ono no Komachi and Izumi Shikibu, Women of the Ancient Court of Japan, Translated by Jane Hirshfield and Mariko Aratani
Ono no Komachi (825–900) and Izumi Shikibu (976–1030) wrote intensely lyrical and passionate love poetry that holds a significant place in Japanese literature. Their tanka verse, a concentrated 31 syllable form of poetry, plumb the depths of romantic longing while in solitude. Take, for instance, this short work by Komachi: "When my desire / grows too fierce / I wear my bed clothes / inside out, / dark as the night's rough husk." Whoa would be the utterance you are looking for, here! Not coincidentally, both poets are included in the historical list of Thirty-Six Female Immortals of Poetry. Check out this superb volume today.
Rilke's Book of Hours: Love Poems to God, Translated by Anita Barrows and Joanna Macy
In his Book of Hours, the German modernist poet Rainer Maria Rilke details his spiritual experiences while visiting Russia in the early 20th century. For Rilke, the concept of God was one of interdependency. Thus, in the Book of Hours, the poet paints a relationship with the divine that is reciprocal and, like Hafiz above, deeply romantic. In other words, for Rilke, God needs him just as much as he needs God. For example, in "I Have Many Brothers in the South," the poet writes that "in the chasm of myself– / it seems / my God is dark / and like a web: / a hundred roots / silently drinking." Throughout this volume, Barrows and Macy do excellent work bringing out Rilke's intense lyricism in translation. This one is gold.
The Harp-Weaver and Other Poems by Edna St. Vincent Millay
Edna St. Vincent Millay has long been regarded as the free-wheeling spirit of modern American poetry, and the love poems in The Harp Weaver certainly cement that reputation. These poems run the gamut of topics, from pastoral scenes and city life, to themes of love, longing, and unrequited romance. However, Millay really kills it in her sonnets, and some of her most popular ones appear in The Harp Weaver. For example, the glorious "What lips my lips have kissed" and "I being born woman" are included in Part 4, along with other choice love sonnets. This is a Millay must read.
Love, Etc: Poems of Love, Laughter, Longing, and Loss by L.L. Barkat
L.L. Barkat's Love, Etc. is a lighthearted, breezy, and refreshing collection of love poetry. She mixes sensual romantic lyrics alongside exuberant nature poetry that shows the multifaceted dimensions of love. Additionally, the poems in this collection show how fragile love can be and how feelings of loss accentuate this reality. It is here that Barkat shines, demonstrating how love and romance are also intimately tied to grief and regret. It is a somber note, to be sure, but in Barkat's poetry, it is one to savor.
[Insert] Boy by Danez Smith
Danez Smith's debut collection, [insert] boy, is not easy reading. It requires you to stomach horrific forms of violence and bigotry, homophobia and systemic racism, and a country in which people of color fight for their lives to be recognized as valuable. However, this book appears on this list because of Smith's insistence on love's ability to heal and transform that same world. In [insert] boy Smith's physical and emotional encounters with other men are sensual, warm, and charged with promise. For example, Smith writes: ""I want to kiss you. Not on your mouth, but on your most / secret scars, your ashy black & journeyed knees, // your ring finger, the trigger finger, those hands / the world fears so much." If you liked Smith's Don't Call Us Dead and Homie, then go back and check this one out too.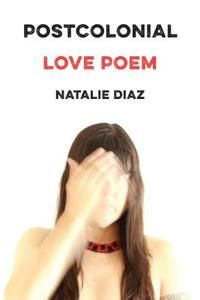 Postcolonial Love Poem by Natalie Diaz
Similar to Danez Smith's [insert] boy, Natalie Diaz's Postcolonial Love Poem explores being a queer person of color facing a national history of racism and erasure. In this collection, Diaz, an Aha Makav poet, confronts the legacy of colonization and genocide inflicted upon North American Indigenous people. In many cases, as Diaz notes, Indigenous cultures, languages, and ways of life have been overwritten by European colonizers. However, in response, Diaz centers Postcolonial Love Poem on her experience as a queer woman of color. In doing so, she upends European systems of patriarchy and heterosexism that stereotype Indigenous experience. Furthermore, her poetry is romantic and intensely intimate. Through her sensuous focus on the body and queer love, Diaz builds a space for resistance and renewal.