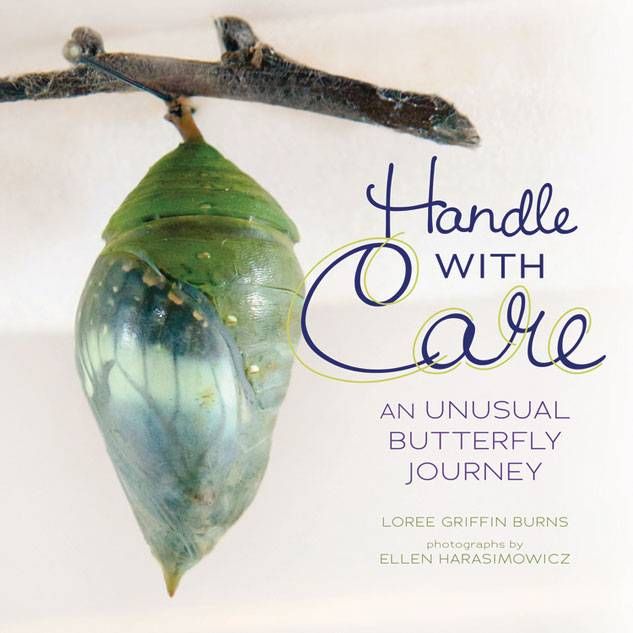 Children's
Loree Griffin Burns and Great Nonfiction for Children
This content contains affiliate links. When you buy through these links, we may earn an affiliate commission.
Do you have any idea how excellent of a reading world it is under the nonfiction for children genre? Not only are these books educational, but they're fun, filled with pictures, and don't talk down to kids, or adults. You can learn about the making of landmarks like the Brooklyn Bridge; or get to know Sequoyah, the man gave the Cherokee a written language; read a graphic memoir of a ballerina; or read about the children who marched on Washington. SO MUCH GREAT MATERIAL.
And if you're Common Core inclined, you should know that reading nonfiction books helps school children achieve the 'research and evidence based' standard, by getting them to read and really understand more formal text, which helps develop their comprehension skills. And research has shown that nonfiction has "the potential to motivate young children to read by tapping into their interest" (butterflies! sharks!) Trust me, the things they'll learn! And, honestly, you along with them.
I was lucky enough to get to know award winning, nonfiction for children author Loree Griffin Burns, who specializes in writing science based books that will have you, and your child, hooked. Most of the books are part of the excellent Scientists in the Field Series (Where Science Meets Adventure!) wherein authors write research based, scientific books for children about "people immersed in the unpredictable and dynamic natural world, making science more accessible, relevant, and exciting to young readers."
Burns' books are meticulously researched, written in an easy, conversational style, filled with professional pictures, illustrations, glossaries, notes on additional reading, and fun facts that will keep you and your young ones interested and learn a whole lot through the reading. They're seriously cool, and I can't recommend them enough.
Get started with Citizen Scientists: Be a Part of Scientific Discovery from Your Own Backyard, a book full of fun experiments with pictures and tips to get your family exploring the natural world and making helpful contributions to our general body of knowledge.
Organized by season, you can learn all about Fall Butterflying, Winter Birding, Spring Frogging & Summer Ladybirding. As a comparison, I recently discovered the excellent Summer Camp in a Box, a DIY kit made expressly for kids, with five days of fun experiments that teach them to learn to enjoy science/engineering projects (the favorites were the LED lights and red paper cup robot wars). Citizen Scientists is a yearlong extension of that idea, giving you and your kids something fun to look forward to, outdoors, all year long. Promise—unless you're a scientist or naturalist yourself, you'll most likely learn as much as your young charge.

Burns has a simple-on-paper writing process, that makes it look so easy we could all start writing our own nonfiction for children. "Each book starts with a story I can't stop thinking about," she says. "I find these stories everywhere: in newspapers or magazines, at the museum, out in the woods, in my garden. Sometimes they arrive in fairly complete form, like the newspaper article about Colony Collapse Disorder that launched the research that eventually became The Hive Detectives: Chronicle of a Honey Bee Catastrophe, and sometimes they arrive as a small, interesting nugget."
In The Hive Detectives, Burns interviews & follows bee scientists & wranglers (did you know there was such a thing??) to understand the lives of bees, and environmental concerns affecting them. Starting with beekeeper Dave Hackenburg, whose entire 20 million strong colony vanished one night in 2006 and sparked the colony collapse disorder conversation, and stopping to "taste' the lives of blue ribbon honey makers, this book answered my own questions about where all the bees went, and might even help your kids get over that squee that emanates when bees start buzzing around.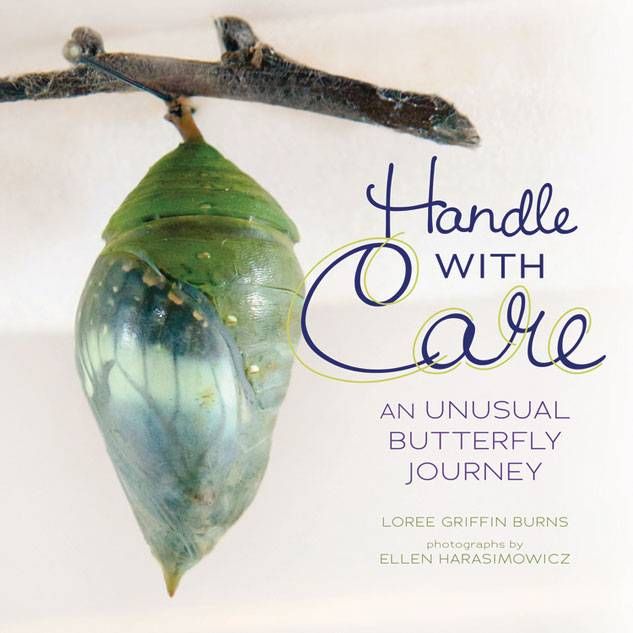 Another book that morphed from a "small, interesting nugget" came from a trip Burns took to the Museum of Science with her kids. "During our visit to the indoor butterfly garden, I spotted a pair of mating butterflies, asked a few innocent questions of the museum docent on duty, and stumbled into the world of pupae farming for the butterfly exhibit industry." That produced Handle with Care: An Unusual Butterfly Journey, a beautiful book about the life cycle of the blue morpho butterfly, and what goes down at a Costa Rican butterfly farm, with pictures of the larvae/caterpillar/butterfly at every stage of the life cycle. Perfect for teaching your young ones about this delightful insect, and for a chance for adventure/study in your own park or backyard, while handling these delicate butterflies gently. Plus—pretty pictures.
I tried to go the butterfly route with my six year old friend, but she was not having it: on her birthday she went out and gave my gifts of a butterfly book & habitat the metaphorical finger by selecting a tarantula to bring home as a pet instead. Clearly, I need to reassess, so I'm moving on to Burns Beetle Busters: A Rogue Insect and the People Who Track It.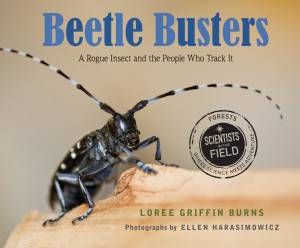 This dramatic story features the Asian longhorned beetle (ALB), a harmless insect in its native China that's currently decimating forests across North America—including the one in Burns' own backyard. So after seeing the damage firsthand, Burns talks to scientists to get to the heart of the argument: destroy the trees, kill the beetles, save the world? It's a fascinating, non biased look at an intriguing, current events discussion that kids will be sure to have a say in. Take down your favorite tree or hope it does't fall prey to the longhorn? And how creepy are these beetles, anyway?
And finally, my favorite—mostly because I'm a Southern California beach lover by birth— is Tracking Trash: Flotsam, Jetsam and the Science of Ocean Motion.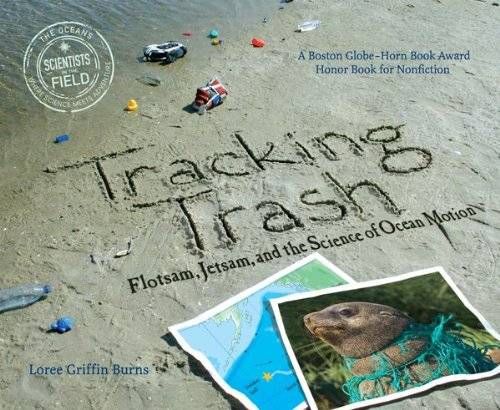 Ok, so one day, people started finding yellow rubber duckies washed up on Pacific beaches. A couple, no problem, but thousands, and they started to ask: where did they come from? How did they get here? Are there more? Is this a rubber ducky invasion??
With the help of regular old beach combers, scientists were able to track the exact cargo ship the duckies were liberated from, and in the process learn more about ocean currents, trade winds, and that nasty product of human consumption and waste: the vast garbage patches floating through our oceans, trapping plastic that literally has no where else to go. This book make me want to abandon every instance of plastic in my life, and reexamine every collectible I've picked up on beach wanderings. I'd say it'll teach you enough to want to throw our your own message in a bottle—but now we know where that would end up, and it's not pretty.
Besides being a fantastic author and educator for children, Burns is an avid reader who shared her own nonfiction recommendations for Children/Young Adults. And she's on a first name basis with most of the authors, which is fairly cool. But first, a disclaimer (cuz I asked her to pick her top 5, cuz I like nice short whole numbers): "It's really hard to pick just five!" Burns says, rightfully. "But the books I've listed stood out to me for two reasons:
1) I learned something in the pages of each one, something I hadn't known before and which I was glad to know afterwards. Do you know why the bread we buy in the grocery store is "enriched"? I didn't until I read Gail's book. It's a fascinating story that everyone who eats bread or uses flour should know.
2) I had to read each title on the list twice. The first read was just to get through the story, by which I mean that the book was so good I couldn't concentrate on anything but finding out what happened next. I was reading as a reader. The second time through I went because I'm a writer, and I had to figure out how the author hooked me so fully. I have learned a lot about the craft of writing nonfiction from reading Sy, Phillip, Gail, Sally, Liz and Steve's books."
Burns favorite five nonfiction books for kids are:
What about you? Do you a have favorite nonfiction book for children? Looking for suggestions for a special reader in your life? Post your thoughts and share!