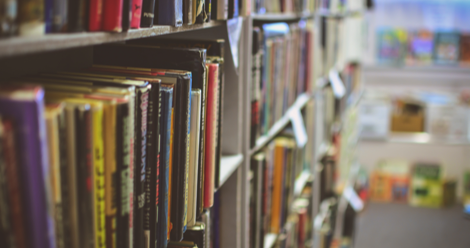 Libraries
The Top 10 Books of 2018 (According to My Local Library)
This content contains affiliate links. When you buy through these links, we may earn an affiliate commission.
2018 was a good year for books, and 2019 will most certainly be a great year for books because every year is an excellent year for books. Even though I am currently nose deep into my first book of the year (Becoming by Michelle Obama, in case you were wondering), I still have a foot holding the door to 2018 thanks to a recent email from my library sharing the most borrowed books of 2018. If you are wondering which books the patrons of the Cuyahoga County Public Library couldn't get enough of, here are the 10 most borrowed books in 2018, listed from the book with the longest wait list to the book that is currently available for check out. Can you guess what's on the list?
In the latest of the Amos Decker series, Decker and his FBI colleague stumble on a double murder that only Decker can crack, but he finds his previously infallible memory may not be trustworthy after all. (Waitlist: 143)
Enemies are planning an attack on America. While uncertainty and fear grip Washington, there may be a traitor in the cabinet, and the President himself becomes a suspect. Then he goes missing. (Waitlist: 140)
After a tragedy, Annie moves to the cottage where she vacationed as a child and learns how to heal by making a difference to the people around her. (Waitlist: 116)
Noah is finally content after marrying Maggie, and they are both thrilled by the return of Maggie's long lost daughter, Anna, but Anna's arrival changes everything. (Waitlist: 95)
After a party, Kerry Dowling is found dead at the bottom of her family pool. The immediate suspect is her boyfriend, but there is also the angry neighbor who wasn't invited to the party. Aline, Kerry's older sister, is determined to learn the truth, but she may be putting her own life in danger. (Waitlist: 20)
Finally, a book I've heard of! And it was one of my Christmas presents. Like my fellow library patrons, I was intrigued to read a story that takes place close to home about Mia Warren, her daughter, Pearl, and their relationship with their landlords, the Richardson family. (Waitlist: 16)
During wedding season in Nantucket, a lavish wedding ends in disaster, and everyone in the wedding party is a suspect. As the Chief of Police works the case, he discovers every wedding is a minefield and no couple is perfect. (Waitlist: 6)
A shooting in a Portland mall lasts eight minutes, but the effects would last forever for those who lived through it. As the survivors slowly heal, they discover another conspirator is lying in wait, and next time, there might not be a safe place to hide. (Waitlist: 4)
The Cast
by Danielle Steel
Follow Kait Whittier as she brings a dramatic family saga to screen during the launch of her first television series. (Waitlist: 1)
In the fourth book of the New York Times bestselling Under Suspicion series, Laurie Moran investigates the unsolved murder of a wealthy widow at the Met Gala. Finally, a book that is actually available to read now! (Waitlist: 0)
My takeaway thoughts from the list:
Our reading world is SO vast! Although I'm familiar with several of the authors of the list, I have only heard of Little Fires Everywhere. I wonder if Cuyahoga County readers are mostly drawn to certain authors and read whatever they publish. Will readers be open to books by the new writers on the block in 2019?
Eight out of the 10 books were written by women. YAY! Will readers still keep reading more women in 2019?
The sole author of color on the list is Celeste Ng. BOOOOO!!! I wonder if she made the list because her book takes place in Cuyahoga County's own Shaker Heights. Will reading in 2019 still lack diversity?
Cuyahoga County readers really love a good mystery. Will this trend continue into 2019?
What were the best books found at your local libraries?