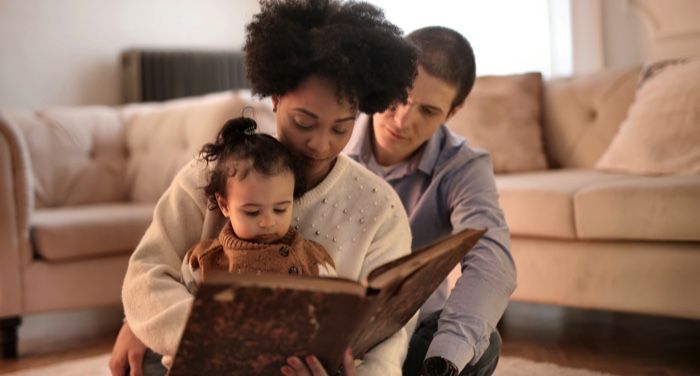 Children's
"Living Books": What Are They, and How I Use Them
This content contains affiliate links. When you buy through these links, we may earn an affiliate commission.
"Living books? What on earth are those?" Glad you asked! Living books are a major part of the Charlotte Mason educational philosophy. Rather than using textbooks, living books are preferred. So what are they? Living books are typically written by someone with a passion for the subject (generally an expert or someone with lived experience), the tone is conversational, it's well-written — beautifully written, in fact — and not overly simplified, and it manages to capture your imagination and inspire you. These books are often in story form — not dry like textbooks — and bring a topic to life. Rather than just being compendia of facts, they contain ideas for readers to think about and pursue for themselves.
In homeschooling my son, I've shifted toward a Charlotte Mason-inspired homeschool from a Montessori-inspired homeschool. While most CM-inspired homeschools and curricula are Christian, as Mason incorporated that into her lessons, we are not, and so our CM is secular. If you're looking for faith-based CM content, there's plenty out there and lots of great Instagrammers and curricula — but it's not something we do. Mason's main educational philosophy was that children are born people, and we need to educate the whole person, not just their mind. What does that mean? Their home should be an atmosphere of living and learning. They should learn about art and music, utilize shorter lessons, and have plenty of time for being outside in nature, as well as free, unstructured play. (This is a very brief, very distilled summary — if you'd like to learn more, I would recommend A Literary Education: Adapting Charlotte Mason for Modern Secular Homeschooling by Emily Cook, Modern Miss Mason by Leah Boden, and of course, Charlotte Mason's own books).
This post is written in that context, but I want to make clear that living books can be used in any household, not just in those that homeschool. They can be used to supplement whatever textbook your child is using in school, for almost any subject, and they can be used as a guide for choosing books at the library.
Examples of Living Books
It's always easier to understand what something is when you have examples, so let me show you what I mean. For science, we've been studying ecosystems and birds. Instead of looking for a textbook, we're reading books like Holiday Pond by Edith M. Patch, Nature School by Lauren Giordano, Stephanie Hathaway, and Laura Stroup, and The Burgess Bird Book for Children by Thornton W. Burgess. If my son were a little older, I'd want to read Braiding Sweetgrass for Young Adults by Robin Wall Kimmerer with him. Instead of being books of dry facts, all of these books have conversations with the reader, teach through example and story, and provide lots of information in a way that can be understood without watering it down.
That's all well and good, you might be thinking, but what about something like math? Well, thankfully, there are also living books for math — which is great because it's not a favorite subject of mine, though my son loves it. One example of a living math book is Sir Cumference and the First Round Table, as well as all the other books in the series. They make the concepts concrete instead of abstract, and bring much-needed fun to the subject.
I try to pick a variety of readers, nonfiction, and fiction that really make the topic come to life. It makes a huge difference for my son, and even for myself. Gail Gibbons's books are usually a go-to for me (I've written about this here), as well as Julia Rothman's books, and a mixture of picture books and early chapter books, for whatever we are studying.
For general literature, our living books that we'll be reading this coming year include everything from older classics like All-Of-A-Kind Family by Sydney Taylor and Brighty of the Grand Canyon by Marguerite Henry to more modern books like A Bit of Earth by Karuna Riazi and Peacemaker by Joseph Bruchac.
The best thing about choosing your living books is that everyone's lists will look differently — you might see certain themes or some of the same books come up over and over again if you search for #livingbooks on Instagram (more on that in the next section), but don't get discouraged or nervous that you're choosing the "wrong" ones — if you're following your child's lead, keep going.
But So Many of These Books Are Old!
Yes, yes they are. If you spend any time perusing Charlotte Mason homeschool pages or Instagram posts, you'll quickly notice that many CM purists don't stray much from old curricula suggestions and really favor some sort of time-gone-by. Many have a penchant for older books and some problematic classics (Little House, anyone?), and the book selections can be less-than-diverse.
Amber O'Neal Johnston (@heritagemomblog on Instagram), author of A Place to Belong: Celebrating Diversity and Kinship in the Home and Beyond, is a CM homeschooler who has illustrated that it's possible to have a CM homeschool full of living books that are diverse and inclusive — and don't have to be decades and decades old.
While many CM booklists of living books have older books — some of which are great; I'm not throwing all of them out just because they're older — there are plenty of contemporary living books everywhere you look. If they bring a subject to life, your child enjoys them, they're well-written, and the child naturally learns through reading it, that's a great place to start for a living book!
When researching living books, you'll also see the word "twaddle." I ignore that. "Twaddle" refers to books that some people might call "brain candy" — fun books, easy reading, etc. I prefer to think of any reading as good reading, especially for kids. You never know what they'll learn from a book or how they'll be inspired. While living books are wonderful and the backbone of our homeschooling, I don't think judging books he chooses is productive. That being said, I've also found that my son will often (at this point, anyway) independently choose books that would be considered "living books" over so-called "twaddle."
Living books can look like many different things, depending on what works for your child and what their interests are. They can be older books or modern books, and many different genres. They're great additions to any child's library and can help shape a child's interest in a subject in a way that traditional textbooks can't.
If you're interested in reading more about building up your child's library, check out this post on 50 must-read nonfiction books for kids, and this post on childhood favorites that have held up over time.