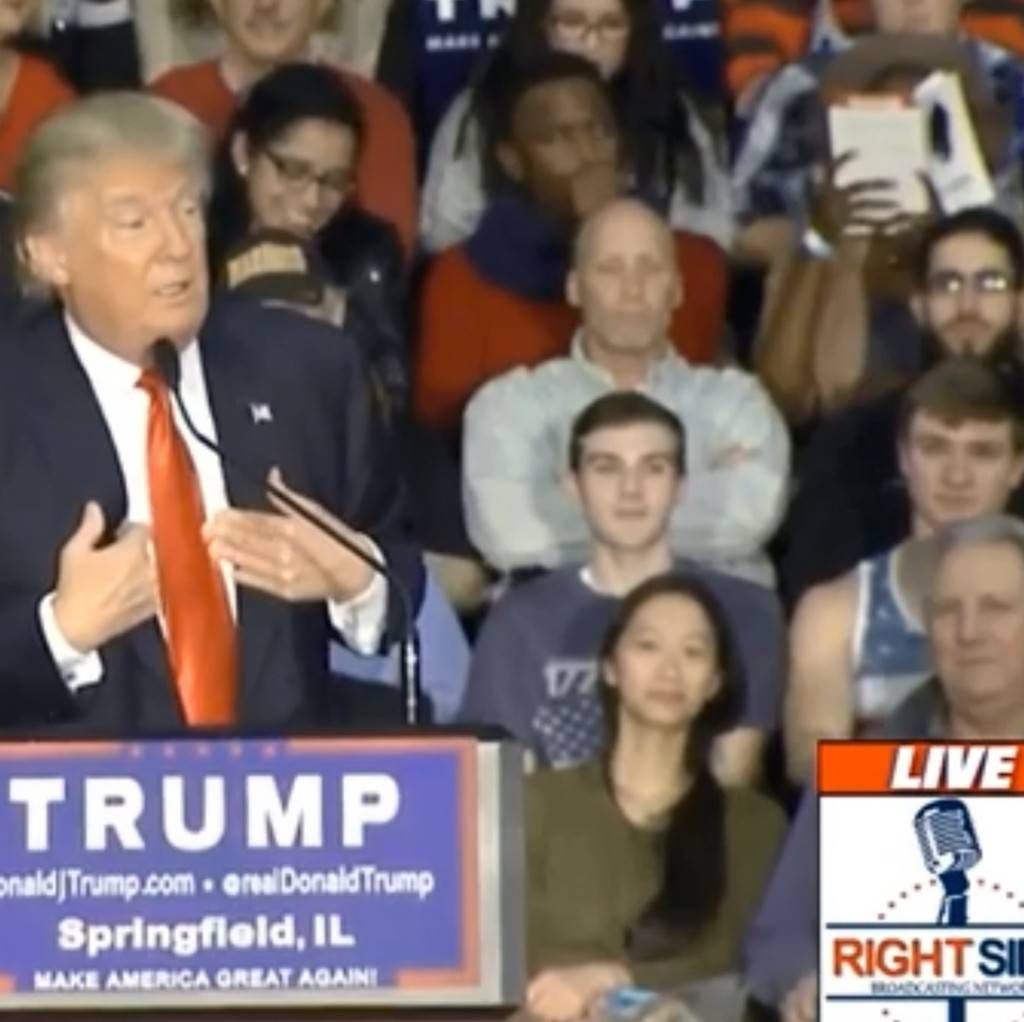 News
Living Her Best Life: Woman Reads Claudia Rankine's CITIZEN at Trump Rally
This content contains affiliate links. When you buy through these links, we may earn an affiliate commission.
In an awe-inspiring, highly relevant, admirably witty display of civil disobedience, a woman went for viral after she was spotted reading Claudia Rankine's Citizen while sitting front row at a Donald Trump rally. The footage, which was originally posted on Jezebel, shows the unbothered Black woman reading the Poetry pick for the National Book Critics Circle Award. She's suddenly tapped on the shoulder by a clearly agitated, older white man. His body language indicates that he's admonishing her for reading while Trump is speaking. The woman rejects his request and resumes reading. The situation seemed almost too picture-perfect to be real. Here was a young Black woman ignoring the words of a detached and delusional mouthpiece for Americans clinging to the institution of white supremacy and classism, a family-money-made real estate mogul turned Republican political hopeful vowing to "make America great again."
Internet detectives soon identified the woman as 23-year-old Johari Osayi Idusuyi. Idusuyi spoke to Jezebel about the exchange and insisted that it was not a set-up. The Illinois-based college student said, "I'm a young 20-year-old black woman who doesn't care about this Trump rally, and I'm pretty sure that angered her a lot." Idusuyi intended to go to the rally with an open mind, maybe gaining better insight into Trump's platform. Her seating arrangement was simply a result of asking. She said, "I think we were chosen for obvious reasons. We are minorities and there weren't a lot of minorities there. He also instructed us to sit in the middle, so we kind of already knew what this was."
Fate or a backfired plan, could there have been a more fitting usage of literature as public protest? Rankine's work deals with the many manifestations of racism and discrimination. Racism is not just overt instances of hate like a yard of burning crosses or Jim Crow-era signs that enforce legal segregation. In addition to snapshots of childhood Otherness, Rankine writes about what it means to be unapologetically Black in spaces typically claimed by a White majority. Idusuyi said that the rally was tolerable until she witnessed how protestors were treated. At one point, there was only one protester left, as her group of friends had been ejected by security. The entire crowd turned on her and started booing her. Idusuyi, deeply bothered by the mob mentality and Trump's encouragement, decided "I'm not going to waste my time listening to somebody who I can't respect anymore."
Trump's racially-charged comments have been tracked since the beginning of his aggressive campaign. At Vox, journalist Dara Lind compiled a chronological timeline of questionable Trump comments, starting with the 1973 lawsuit issued by the Department of Justice for housing discrimination. Like many of his Republican peers, Trump has never been an Obama advocate, publicly questioning the validity of the President's college education, his American citizenship, and his birth certificate. Trump's bigotry has certainly propelled his current campaign, even influencing his followers to act upon his vilification tactics. In August of this year, two brothers from Boston beat up a homeless Latino man, confirming that they were "inspired in part" by Trump. He may seem as ridiculous as the FOX news reporters appalled by the so-called war on Christmas, but not everyone thinks Trump is a joke. In part three of Citizen, Rankine reflects on racist language and its purpose. She surmises, "Language that feels hurtful is intended to exploit all the ways that you are present. Your alertness, your openness, and your desire to engage actually demand your presence."
Idusuyi's decision to read a book instead of listening to Trump is a brilliant counter-defense. She will not be exploited by Trump. Although she may have given him her time, she will not give him her attention or presence. Who could predict that this seemingly small moment could speak to the unspoken nuances of America's racial and political climate?