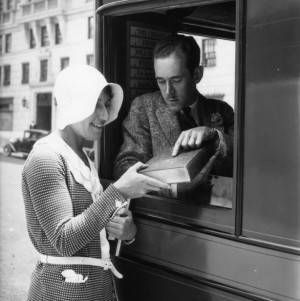 News
A Little Free Library Shaped Like a Bookmobile
Today is National Bookmobile Day in the U.S.! It's a day devoted to celebrating the libraries and librarians who take books on the road, offering access and literature to often isolated users. What could be better?
Well, what about a special National Bookmobile Day Little Free Library in the shape of a bookmobile? Yeah, that might do it.
The Aurora (IL) Public Library has a history of exciting National Bookmobile Day projects. They distributed "I Support Bookmobiles!" bracelets in 2010, for example, and debuted a Mobile Outreach Puppet Show (!) last year. And in 2012, they commissioned this video, "Why We Love Our Bookmobile":
[youtube]https://www.youtube.com/watch?v=N01iikkOPx4[/youtube]
But I'm pretty sure this year's going to take the cake. The brainchild of Outreach Services Manager Kathleen Butzen, this year's celebration features a Little Free Library painted to match the colors and design of Aurora's iconic, red-white-and-blue bookmobile.
The box was made by repurposing a cabinet from Main Library, making it even more library-tastic. But they didn't just make this adorable Little Free Library; they're going to give it away. The library is inviting donations to a project to build a children's garden next to a new branch, and donations of $10 or more enter you in a raffle to win the mini-bookmobile.
In addition to being a really creative promotion, the contest also captures something of the spirit of bookmobiles: bringing people together to support the public good and expand access to books. What a perfect way to mark National Bookmobile Day 2015.
Also, that Little Free Library is just really, really cute.
—
So how are you going to celebrate National Bookmobile Day this year?
____________________
We run a pretty sweet little bookish Instagram account, if we do say so ourselves (and we do). Come check it out.