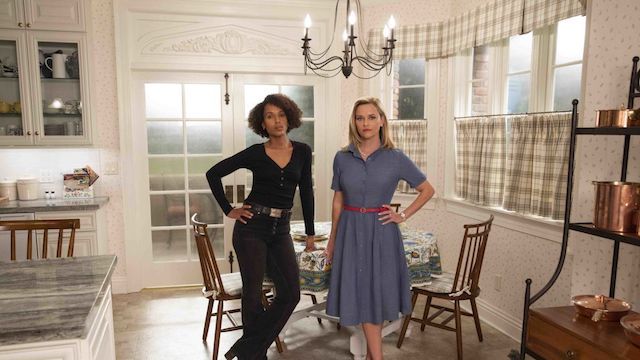 News
Holy Smoke! Here's the First Trailer for LITTLE FIRES EVERYWHERE
This content contains affiliate links. When you buy through these links, we may earn an affiliate commission.
The first Little Fires Everywhere trailer is here and it looks amazing! Reese Witherspoon, who as you know loves a literary adaptation, is starring in the Hulu original series, along with Kerry Washington, Joshua Jackson, Megan Stott, and Lexi Underwood.
Based on the best-selling novel by Celeste Ng, it's the riveting story of family, secrets, and identity in Shaker Heights in Cleveland. Elena Richardson seems to have the picture-prefect life with her husband and four children. Mia Warren is a photographer with a secret who arrives in the Richardson's neighborhood with her teenaged daughter Pearl.
When Elena decides to rent a property to Mia and Pearl, neither anticipate the shockwaves it will end up sending through their lives. Elena hires Mia as her "house helper" in an attempt to help Mia get on her feet, and the two become friends.
But things will take quite a turn. As we see in the trailer, we know at the start of the book that someone has burned down the Richardson's mansion. How did the women's friendship end up in arson?
The Hulu series adaptation is written by Liz Tigelaar, and produced by Witherspoon, Washington, and indie filmmaker Lynn Shelton. According to Washington, her casting helped make the subject of race a bigger part of the story:
"It does complicate, but it also enriches, I think," Washington said. "The book really does delve into class and sociopolitical differences and cultural differences, so I think adding the level of race to that really enriches the storytelling. We are stepping away from this binary idea we have of race in this country — of black and white — because we're also dealing with Asian American identity and immigrant identity."*
I can't wait to watch it! And my excitement for the show is almost matched by my hope that Celeste does indeed chose to wear this dress to the premiere.
Hulu dropped the first Little Fires Everywhere trailer on Friday, which you can see in all its glory below:
*Variety, Friday, January 17, 2020: 'Little Fires Everywhere' Team Talks Adapting Themes of Motherhood and Race, Importance of Inclusive Writers' Room