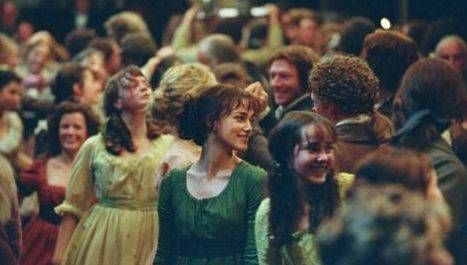 Fiction
Literature's Greatest Parties
This content contains affiliate links. When you buy through these links, we may earn an affiliate commission.
Champagne swimming pools, never-ending fireworks, midsummer bonfires, and handsome strangers: The lavish late-nights of literature.
Like anyone else who's bookishly inclined, my sleepless nights are usually due to the thought of "just one more chapter." Ahead of the festive season, enjoy a round up literature's exciting parties—parties that I'd willingly put my book down to attend.
Bilbo Baggins's Eleventy-First Birthday Party from The Lord of The Rings by J.R.R. Tolkien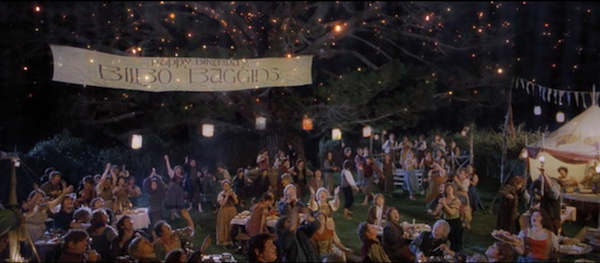 The tents began to go up. There was a specially large pavilion, so big that the tree that grew in the field was right inside it, and stood proudly near one end, at the head of the chief table. Lanterns were hung on all its branches. More promising still (to the hobbits' mind): an enormous open-air kitchen was erected in the north corner of the field. A draught of cooks, from every inn and eating-house for miles around, arrived to supplement the dwarves and other odd folk that were quartered at Bag End. Excitement rose to its height.
A hugely stressful party to plan (the sheer number of invitations caused a blockage at the Hobbiton Post Office), but worth the hassle, Bilbo Baggins's Birthday Party is just the beginning of the adventure. There's Hobbits from across the shire, dancing, presents, lanterns, food, ale, and fireworks courtesy of Gandalf.
Ending with a thoroughly confusing speech and an abrupt disappearance, Bilbo's party was one to remember.
The guests began to arrive in the mid-afternoon. They came at intervals, from far and near, in carriages, pony-traps, station flies, on foot, and, in one case, on a tandem tricycle.
Humphry and Olive stood on the steps to receive them. They were dressed as Oberon and Titania. Humphry had a silk jerkin embroidered with Florentine arabesques, black breeches, and a voluminous velvet cloak, swinging at a daring angle from a silken cord across his shoulder. He looked absurd and beautiful. And amused. Olive wore pleated olive silk over pleated white linen, with a gauze overcloak, veined like insect wings. She looked warm and wild.
Held every year on Midsummer's Eve, the Wellwoods spend the sultry evening drinking, laughing, and talking in the fairy-lit orchard. Attended by authors, scholars, anarchists, playwrights, a puppeteer, and early Suffragettes the night culminates in song and a frenzied jump over the dying bonfire. It's gloriously pagan.
A low wall of white tulips rose up in front of Margarita. Beyond it she saw countless lights in globes, and rows of men in tails and starched white shirts. Margarita saw then where the sound of ball music had been coming from. A roar of brass deafened her and the soaring violins that broke through it poured over her body like blood. The orchestra, all hundred and fifty of them, were playing a polonaise.
The most surreal party of them all: a welcome party to hell. Arriving by coffin through a fireplace, guests enter the party to find jazz played by apes and polar bears, a champagne swimming pool, live butterflies, and a marble floored ball room lit by glow worms. Yes, one has to be dead to attend, but it sounds like one hell of a night.
The Mad Hatter's Tea Party from Alice in Wonderland by Lewis Carroll.
The table was a large one, but the three were all crowded together at one corner of it: "No room! No room!" they cried out when they saw Alice coming.
"There's plenty of room!" said Alice indignantly, and she sat down in a large arm-chair at one end of the table.
Tea, riddles, musical chairs, poetry, conversations with animals—what more could one want in a party?
The never-ending Tea Party is due to Time kindly stopping himself at 6pm (tea time!) in order for The Mad Hatter to escape the murderous intentions of The Queen of Hearts. The Hatter, March Hare, and Dormouse are stuck having tea forever. No wonder they're mad.
Mr. Bingley had soon made himself acquainted with all the principal people in the room; he was lively and unreserved, danced every dance, was angry that the ball closed so early, and talked of giving one himself at Netherfield.
A highly anticipated ball due to eligible bachelor Bingley being in the area; the Bennet sisters have a ball at the Meryton Ball. But, with him he brings a snobbish stranger that turns out to be the one and only Mr Darcy. Dances are danced, shots are fired, and the pride and prejudice begins.
There were mountains of cakes and flagons of pumpkin juice and Butterbeer on every surface; Lee Jordan had let off some Dr Filibuster's Fabulous No-Heat, Wet-Start Fireworks, so that the air was thick with stars and sparks; and Dean Thomas, who was very good at drawing, had put up some impressive new banners, most of which depicted Harry zooming around the Horntail's head on his Firebolt, though a couple showed Cedric with his head on fire.
Defeating a dragon is an excellent excuse for a party, and the Gryffindors really know how to party. Most forget about this party due to the glamour and melodrama of The Yule Ball, but you can't beat a classic Hogwarts House Party with your mates.
Gatsby's Summer Party from The Great Gatsby by F. Scott Fitzgerald
In his blue gardens men and girls came and went like moths among the whisperings and the champagne and the stars.
Champagne and oranges, fairy lights, marquees, an orchestra, cocktails, girls in gowns, and jazz until the sun comes up. Made even more intriguing with the absence of Gatsby himself, everyone longed to be there. It's no wonder Nick Carraway romanticised the Summer evening he spent in attendance at one of these infamous parties. Like one of the anonymous girls from the city, I'd like to get rip-roaring drunk on Gatsby's champagne, dance on the grand piano, and finish the night in the fountain.