Lists
Literary Love Quotes For Your Wedding
This content contains affiliate links. When you buy through these links, we may earn an affiliate commission.
When my best friend got married, all the reception tables were decorated with framed quotes about love—some were sweet and some were ridiculously (and hilariously) perfect for the couple, but they all added such a sweet and personal touch to the venue. And obviously for a book nerd, bookish quotes would make the perfect touch. Whether you're looking for some cute quotes to adorn your table decorations or wedding website or the perfect ceremony reading, these literary love quotes for your wedding will have you covered. Get ready for a perfectly bookish celebration!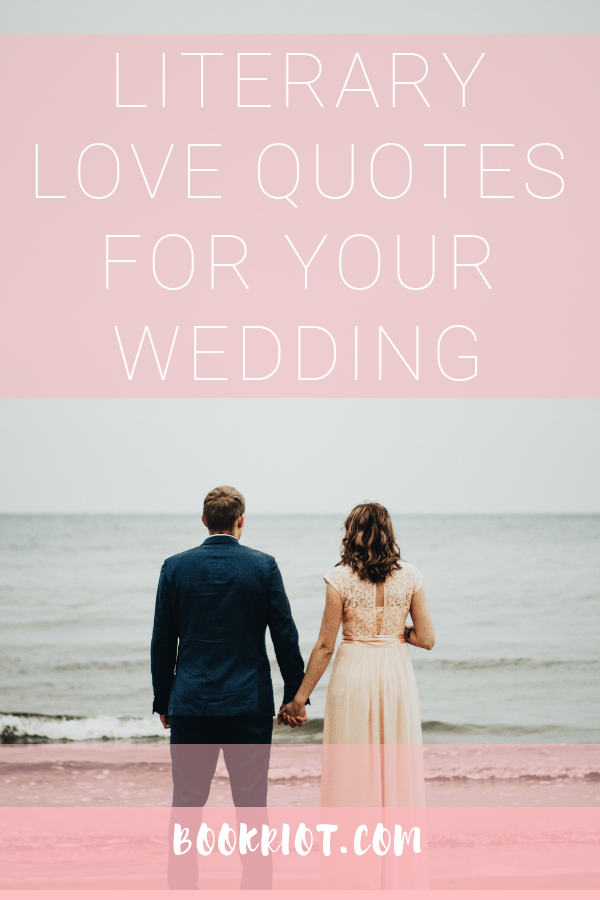 "You pierce my soul. I am half agony, half hope…I have loved none but you." ― Jane Austen, Persuasion
"The way I feel about him is like a heartbeat―soft and persistent, underlying everything."― Becky Albertalli, Simon vs. the Homo Sapiens Agenda
"Your soul sings to mine. My soul is yours, and it always will be, in any world."― Laini Taylor, Daughter of Smoke & Bone
"As much as I had wanted a love story out of a movie, I know now that movies can only hope to to capture this kind of love."― Nina LaCour, Everything Leads to You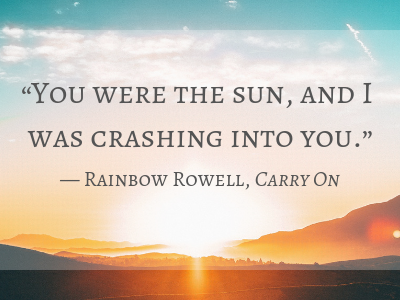 "You were the sun, and I was crashing into you."― Rainbow Rowell, Carry On
"I fell in love the way you fall asleep: slowly, and then all at once." ― John Green, The Fault in Our Stars
"All my life I thought that the story was over when the hero and heroine were safely engaged—after all, what's good enough for Jane Austen ought to be good enough for anyone. But it's a lie. The story is about to begin, and every day will be a new piece of the plot. " ― Mary Ann Shaffer, The Guernsey Literary and Potato Peel Pie Society
"Have enough courage to trust love one more time and always one more time."
― Maya Angelou
"you might not have been my first love
but you were the love that made
all other loves seem
irrelevant" ― Rupi Kaur, author of Milk and Honey
"To feel the love of people whom we love is a fire that feeds our life."
― Pablo Neruda (Love Poems)
"To love another person is to see the face of God." ― Victor Hugo, Les Misérables
"You are loved. If so, what else matters?" ― Edna St. Vincent Millay (Selected Poems of Edna St. Vincent Millay)
"Dumbledore would have been happier than anybody to think that there was a little more love in the world." ― J.K. Rowling, Harry Potter and the Half-Blood Prince
"I could not tell you if I loved you the first moment I saw you, or if it was the second or third or fourth. But I remember the first moment I looked at you walking toward me and realized that somehow the rest of the world seemed to vanish when I was with you." ― Cassandra Clare, Clockwork Prince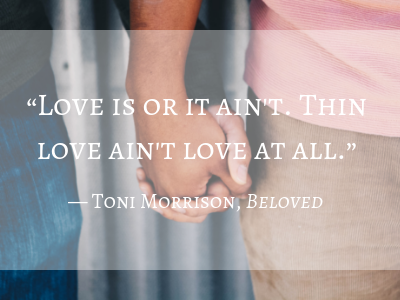 "Love is or it ain't. Thin love ain't love at all." ― Toni Morrison, Beloved
"To charge someone with love is a great responsibility; there will be an equal yet unexpected reaction." ― Malinda Lo, Ash
"i carry your heart with me (i carry it in my heart)" ― e.e. cummings, Selected Poems
"Love can move people to act in unexpected ways and move them to overcome the most daunting obstacles with startling heroism."
― Khaled Hosseini, A Thousand Splendid Suns
"I do love nothing in the world so well as you—is not that strange?"
—William Shakespeare, Much Ado About Nothing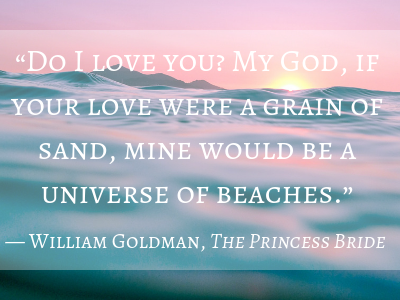 "Do I love you? My God, if your love were a grain of sand, mine would be a universe of beaches." ― William Goldman, The Princess Bride
"If you remember me, then I don't care if everyone else forgets." ― Haruki Murakami, Kafka on the Shore
"In case you ever foolishly forget: I am never not thinking of you."
― Virginia Woolf, Selected Diaries
"For where all love is, the speaking is unnecessary. It is all. It is undying. And it is enough." ― Diana Gabaldon, Outlander
"Why do I love him?…I don't think love has a reason…I think love comes first and then the reasons follow." ― Chimamanda Ngozi Adichie, Half of a Yellow Sun
"If it is true that there are as many minds as there are heads, then there are as many kinds of love as there are hearts." ― Leo Tolstoy, Anna Karenina
"The beauty of a living thing is not the atoms that go into it, but the way those atoms are put together." ― Carl Sagan, Cosmos
"If you live to be a hundred, I want to live to be a hundred minus one day, so I never have to live without you." ― A.A. Milne, Winnie the Pooh
"I love you more than I hate everyone else." ― Rainbow Rowell, Landline
"I love you more than my own skin." ― Frida Kahlo, author of The Diary of Frida Kahlo: An Intimate Self-Portrait
"Love makes your soul crawl out from its hiding place." ― Zora Neale Hurston, author of Their Eyes Were Watching God
For more ideas, check out: 25 of the best book quotes about falling in love, bookish wedding readings, 50 swoon-worthy love quotes from books, and the most beautiful bookish wedding quotes.