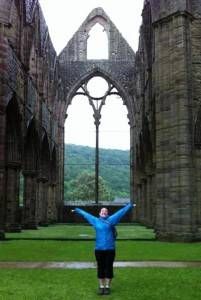 Hi, BookRioters! I've been away for a while and I've missed each and every one of you. I had the exciting opportunity to take sixteen students (aged 18-26) from the college I teach at to a university in Wales for a summer study program. It was a fantastic experience all 'round, but perhaps the best part was learning about how literary Wales is and how good it is at celebrating the literature it produces.
This makes Wales an ideal destination for book nerds everywhere. Like the town of Hay-on-Wye, which has a population of 1500 but over 30 bookshops (and hosts a writer's festival every year that attracts huge names). You can follow a literary tour of Wales by checking out all the different writer's plaques that have been erected to mark significant points in the literary development of Wales (big names with plaques include Dylan Thomas and Roald Dahl). You can check out Tolkien's Wales, visit Tintern Abbey (portrait of the author doing same accompanies this post), or make a pilgrimage to Dylan Thomas's boathouse (where I lay in the sun and read Under Milk Wood).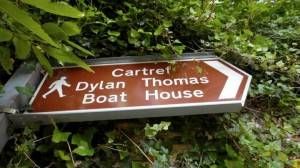 The Welsh really get passion for words, expression, and literature. Culturally, the tradition of the Eisteddfod, a Welsh festival of music, literature, and performance, dates back to 1176. The largest is the National Eisteddfod of Wales, where poets compete for the prize of chair at a festival attended by 160,000 people (there's music and other cool stuff too, but imagine 160,000 people even being near poetry). But the coolest thing for me was finding out about all these great community writing groups and readings and events that really speak to the depth of engagement with literary culture in Wales. (This blogger may have spread her own poetic wings — in a very minor way — at one such event.) The support for people who want to create or even just enjoy words is something I usually only experience in specific settings — book conferences or writer's festivals. In Wales, that feeling seemed to be everywhere.
Wales has experienced a tremendously successful cultural revival in recent years, and a great deal of government financial support enables a lot of great cultural product to be produced. It speaks to the value of literary culture in developing, supporting, and retaining a strong sense of national identity.
If you love words, Wales is a pretty magical place. If you're a literature prof and book blogger, it's really freaking hard to leave.